Summer in Vermont is kind of like a rubber band. Over the winter, the tension and anticipation of warmer times to come build as the cold stretches on. Then, just like that, there's a release, and the state's shortest season seems to fly by in the blink of an eye.
Because the season is so short and sweet, we take our summer shenanigans pretty seriously and cram as much into those blissful three-ish months as we can. That approach extends to any number of recreational pursuits, but especially applies to music. From early June through September, there's hardly a weekend without at least one outdoor music festival — and often several are happening.
2014 is no exception. This summer's calendar is chock-full of festivals large and small, offering a cross-section of styles and genres to suit virtually any musical taste. What follows is a primer on some of the festivals that will provide the soundtrack to this summer in Vermont.
Ben & Jerry's Concerts on the Green
Shelburne Museum, various dates
The long-running Concerts on the Green series at Shelburne Museum is something like Vermont's answer to Tanglewood, only without the classical music. Instead of Mozart, Beethoven and Bach, visitors to the museum's pastoral lawn will be treated to the contemporary sounds of folk-soul crooner Ray LaMontagne with Jason Isbell and the Belle Brigade (May 28); renowned roots-rockers Tedeschi Trucks Band and the London Souls (June 6); blues-rock icon John Hiatt and the Robert Cray Band (July 10); mandolin ace Chris Thile's reunited old band Nickel Creek (July 25); and pop-bluegrass darlings Old Crow Medicine Show with Hurray for the Riff Raff (July 29).
Burlington Discover Jazz Festival
various locations, May 30 to June 8
The state's largest and most prominent music festival needs little introduction. For more than 30 years, the Burlington Discover Jazz Festival has ranked among the most respected and prestigious jazz festivals in the country. For 10 days, the Queen City becomes a virtual jazz club, with all manner of sounds — jazzy and otherwise — emanating from countless nightclubs and stages large and small. This year's headliners include Tony Bennett, Maceo Parker, Big Chief Donald Harrison, Ron Carter and Benny Golson, Regina Carter, and Eddie Palmieri Latin Jazz Band. And that's just the tip of the iceberg, as numerous performers of local, national and international acclaim descend on Burlington to get our jazz hands swinging.
Rattling Brook Bluegrass Festival
Belvidere Center, June 21
Now in its 31st year, the tiny Rattling Brook Bluegrass Festival is among the longest-running musical events in Vermont. This one-day hootenanny — or is it a hoedown? — will feature fine local picking talent, including the Reunion Band, Bob Amos & Catamount Crossing, Big Spike Bluegrass, Cardigan Mountain Tradition, the Woedoggies and the Modern Grass Quintet. Also, we're told, amazing French fries.
The Frendly Gathering
Timber Ridge, Windham, June 27 and 28
The Frendly Gathering is a festival started by a group of pro snowboarders who live by the cheeky motto "There is no I in frends." There is, however, an I in Delta Spirit, Deer Tick and Lake Street Dive, all of whom will take the stage at this year's fest. There's no I in Shakey Graves, but he'll be there, too, along with an eclectic mix of regional and local bands and DJs. They include the likes of Twiddle, Kat Wright & the Indomitable Soul Band, Jatoba, Gold Town, Quiet Lion and Disco Phantom, among many others.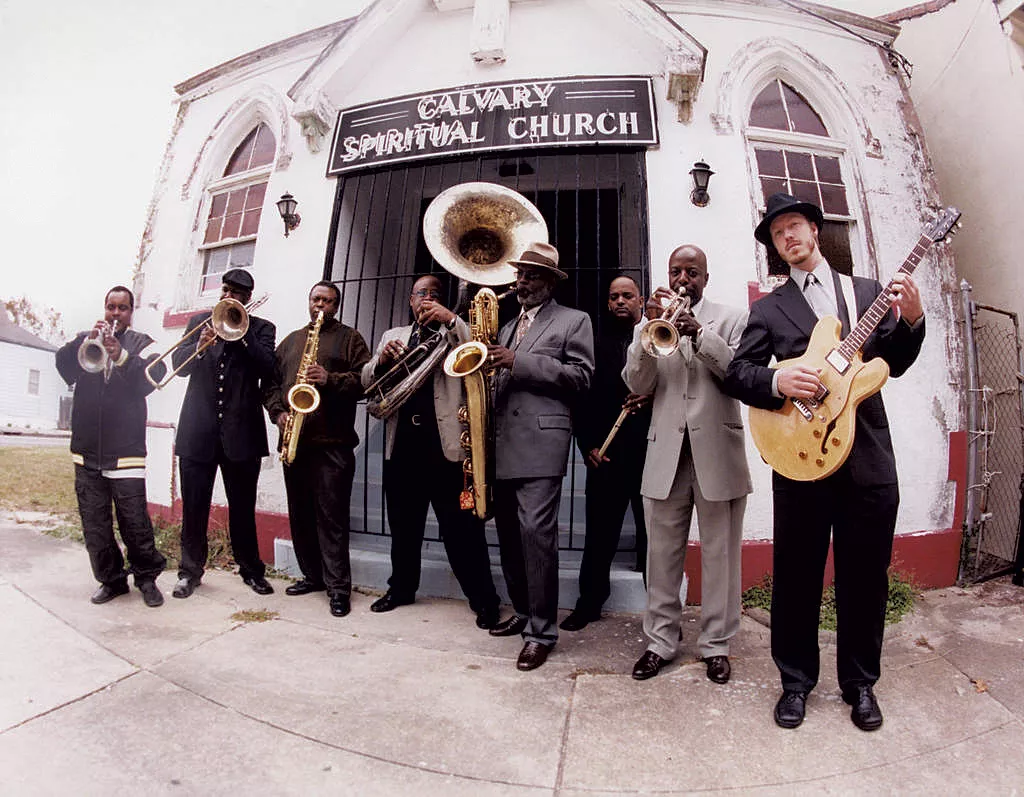 Dirty Dozen Brass Band, who will perform at SolarFest
SolarFest
Forget-Me-Not Farm, Tinmouth, July 18 to 20
SolarFest at the Forget-Me-Not Farm in Tinmouth is more than just a music festival. Entering its 20th year, the three-day party is also an exposition and celebration of sustainable-living practices. And what better way to educate yourself on the latest in green gizmos and gadgetry than to a soundtrack from the likes of Barika, the Dirty Dozen Brass Band, Eastbound Jesus and Waylon Speed?
NVM Metal Fest
Prospect Mountain,Woodford, July 25 and 26
As we well know in Vermont, the hills are alive with the sound of music. But on July 25 and 26, the hills around Prospect Mountain Nordic in Woodford will be alive with sounds that might give the entire von Trapp family nightmares. That's because the folks from online radio station New Vermont Music (nvmradio.com) are hosting the NVM Metal Fest, a two-day concert featuring some 14 independent metal bands from New England and the East Coast. Those include Half Past Human, Indecent Exposure, King Pariah, Red Equals Meltdown and headliners Dragon's Bane. Proceeds from the fest benefit the Sunrise Family Resource Center in Bennington and the Music Empowers Foundation, a national organization that helps bring music education to impoverished kids.
The Manifestivus
Pransky Family Farm, Cabot, July 25 to 27
For 11 years now, Manifestivus in Cabot has billed itself as a "local festival with a global vibe." This year that worldly aesthetic takes a spicy turn with a Latin-themed fest dubbed "La Fiesta Loca." Our Spanish is rusty, but that roughly translates to a lineup of bands and DJs who cross south-of-the-border sounds with more northerly pursuits, including Grammy-nominated Latin band Locos Por Juana, jazz trumpeter Charles Lazarus and jazz-funk fusion band the Nth Power. From the local scene, expect appearances from Latin jazz band Afinque, Afrofunk outfit Afri-VT, rockers Electric Sorcery and all-girl rocksteady favorites Steady Betty, among others.
The Precipice: A 2-Day Happening
Burlington College, August 1 and 2
At press time, many details about this year's Precipice were unavailable. But we know from chatting up sources that the former "3-Day Happening" is indeed happening, and we're happy about that. This year it will be a slightly slimmed down, two-day fest. Last year, the festival moved from the Intervale to a previously underutilized field behind Burlington College on North Avenue. And it was magical. Curated by the folks from Radio Bean, those three days in late July arguably made for the most comprehensive and wonderful showcase of the local scene we saw all year. We expect more of the same this time around in early August. Stay tuned.
The Valley Stage Music Festival
Blackbird Swale, Huntington, August 9
Fueled by a renewable-energy source courtesy of Green Mountain Power, the Valley Stage Musical Festival in Huntington is yet another local event with ideals as lofty as the high harmonies emanating from the stage. The ninth annual VSMF has a family-friendly atmosphere, tasty food and great, rootsy tunes — this year from the Defibulators, Hot Flannel, the Crunchy Western Boys, Cricket Blue and headliners the Deadly Gentlemen.
Lake Champlain Maritime Festival
Waterfront Park, Burlington, August 7 to 10
Celebrating the area's rich nautical heritage, the Lake Champlain Maritime Festival is a sprawling, and mostly free, weekend-long event highlighted by numerous boating demonstrations and expositions along Burlington's waterfront. It also boasts some excellent music when the sun goes down. This year's lineup includes jam giants Umphrey's McGee (August 7); punk icons the Offspring, Bad Religion, Pennywise and the Vandals (August 8); pop-Americana favorites the Avett Brothers (August 9); and legendary blues guitarist Buddy Guy.
Vermont Music Festival
Lareau Farm, Waitsfield, August 23
The Vermont Music Festival is a music festival. In Vermont. Gentle teasing aside, the daylong fest at Lareau Farm in Waitsfield has become one of the most enjoyable and down-home events of the summer, featuring great food, a Wiffle ball tournament and, of course, local music, including an epic late-night acoustic jam session. The lineup for this year's festival had yet to be announced at press time. Given that past years have seen the likes of Bow Thayer, Afri-VT, Steady Betty, Tammy Fletcher, the Eames Brothers, Abby Jenne and Afinque, it's a safe bet that the fifth annual Vermont Music Festival will offer plenty of locavore treats for the ears.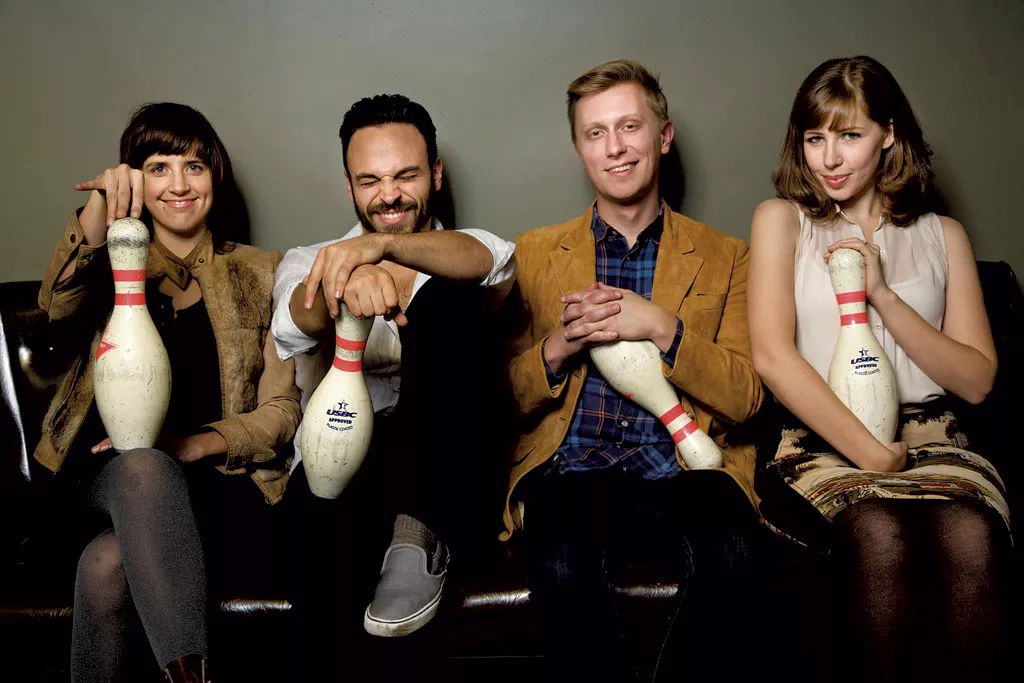 Lake Street Dive, who will perform at Grand Point North
Grand Point North
Waterfront Park, Burlington, September 13 and 14
In Vermont, summer ain't over until Grace Potter and the Nocturnals say it is. That's just the kind of pull the state's highest-profile rock diva has. So, for the past few years, the band's two-day blowout at Waterfront Park in Burlington has served as an unofficial swan song to Vermont's shortest season. And what a blowout it is, featuring a mix of top-notch national talent playing alongside some of the best local acts on the festival's twin main stages. This year, headliners include Lake Street Dive, Dr. John, the War on Drugs and Trampled by Turtles. They'll be joined by a slew of locals, such as Swale, Anders Parker, Lowell Thompson, Gold Town, the High Breaks, Caroline Rose and Villanelles.