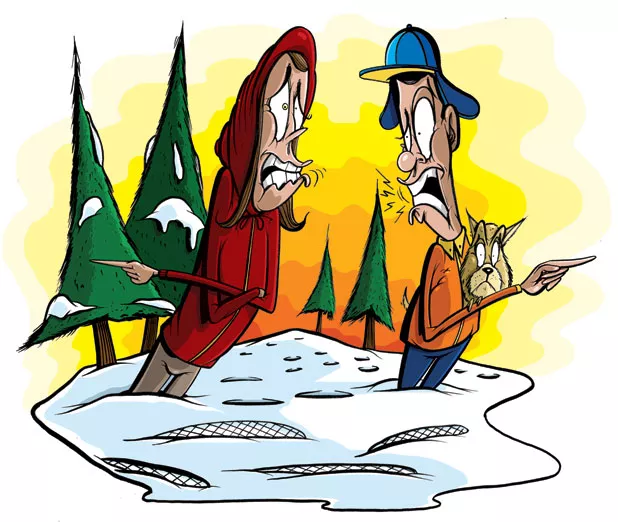 It seemed like a good idea at the time. On a sunny, mild, mid-February day, the earth sealed up in a thick crust of old snow, my husband and I set out for a hike up Camel's Hump.
We're both generally late risers and slow decision makers — we prefer to think of ourselves as spontaneous free spirits rather than poor planners — so it was well after noon when we began our winter hike.
We don't have snowshoes or cross-country skis, so we laced up our L.L.Bean boots and stuffed a backpack with gobs of extra layers. As a treat for a friend who doesn't hike, we offered to bring along his dog, a fluffy little pooch whose boundless energy makes up for her short legs. For sustenance, we carried a small water bottle, a box of Wheat Thins and a hunk of cheese, plus a baggie of meaty treats for the pup.
We usually take the popular Burrows Trail up Camel's Hump. But this time, when we arrived in Huntington, my husband suggested we try out the longer, more winding Forest City Trail. Why not? I thought, and the dog seemed game, too. So off we went.
The first few hours, we experienced a winter wonderland. The sun peeked through the trees and lit up the snow. The pup was in doggie heaven, bounding and leaping several feet ahead of us.
But as we climbed higher, the clouds rolled in. We were losing light, and I was getting cold. Why hadn't we reached the top yet? The trail, which had been neatly cut into the snow for the first part of the hike, had suddenly branched out into interlocking snowshoe tracks. We lost track of the blazes on the trees.
We began to panic when we noticed that the usually happy-go-lucky pooch was anxiously pawing at the snow, burrowing herself into the drifts as if seeking shelter. Out of nowhere, another hiker appeared like a mirage in the trees. We asked him which way to the top; he said he didn't know and then disappeared. It began snowing.
I suddenly knew, without a shred of doubt, that we were going to die up there. Worse, I realized that our friend's sweet dog would, too.
We pulled ourselves together and, after some frantic searching, fumbled our way back to the trail that would lead us down the mountain. After an unsuccessful attempt at carrying the dog in the pack, her little head bobbing around and sticking out at the top, my husband zipped her into his coat, carrying her snug against his warm chest. We ran that way, shouting to each other for regular updates on the pooch's condition, the whole way down.
After speaking last week with Pete Antos-Ketcham, director of operations for the Green Mountain Club, I discovered we had pretty much been doomed from the start. The three of us were lucky to make it out unharmed. We broke almost every rule he wisely suggests for safely enjoying winter trekking.
No. 1: Don't travel alone. The GMC recommends trekking with at least four people in winter so you can keep an eye out for each other and spot any signs of hypothermia. "I tell folks to watch out for the 'umbles,'" Antos-Ketcham advises. "Pay attention for mumbling, fumbling and stumbling."
No. 2: Layer your clothes. (My husband and I did OK with this one.) "You want to have the ability to get in and out of layers easily so you can keep yourself comfortably cool and not perspire too much," says Antos-Ketcham.
No. 3: Stay hydrated. "When people get cold, they don't think to take a big swig of water," he says, and notes that dehydrated people are more likely to get hypothermia. Antos-Ketcham recommends filling water bottles with warm water and storing them upside down in your pack — water freezes from the top down.
No. 4: Know where you're going. It's much easier to get lost in the winter, especially on the Long Trail, where blazes are white. "It was designed and maintained as a summer trail," Antos-Ketcham explains.
No. 5: Wear snowshoes or skis. Summer hiking boots won't keep your feet dry and warm — unless, like my industrious husband, you line them with trash bags. They also leave "post holes" in the trail, making it difficult for people behind you to navigate.
No. 6: If it's really cold, it's better to hike at lower elevations with tree cover. "Every 1000 feet you go up, you can anticipate a 3-to-5-degree decrease in temperature," Antos-Ketcham says.
A native Vermonter, Antos-Ketcham learned early not to mess around outdoors in cold weather. When he was in fifth grade in the late '80s, his Boy Scout troop went camping in December to "test ourselves," he recalls. Before they settled in for the night in their lean-tos, the troop leaders told the boys to put on every stitch of clothing they'd brought to stay warm.
In the middle of the night, the boys woke up completely drenched. They had sweated through all their layers and were freezing. Shivering, they built another fire and sat around it miserably until the sun came up and they could go home.
"I still wonder to this day if any of the other scouts on that trip went on another winter trip ever again," Antos-Ketcham wrote in an article for GMC. "Luckily for me, I learned a thing or two about winter camping before I went out and 'tested myself' again."
These days, Antos-Ketcham is winter's biggest fan. Despite the extra challenges — indeed, because of them — he says he loves winter trekking. For one thing, visibility is better. "The air is colder and clearer; the leaves are off the trees; you get so many views," he says. And trails are less crowded in winter. "For those people who appreciate the opportunity for solitude, you can't beat it."
Still, Antos-Ketcham takes winter seriously. When he's teaching GMC's winter-trekking courses, he says, "I don't like to offer information to scare people, but it demands a higher level of respect. And that's the final bottom line: The margin of error is much lower than in the summertime."
In 2008, when Michael Sheridan was a sophomore at Champlain College, he and some friends hiked up Mt. Mansfield with their snowboards. Their plan was to drop in from the chin and ride down Stowe. But when they got to the summit, blinded by a complete whiteout, they dropped down the wrong side of the mountain. Hours later, they reached the bottom, but nothing looked familiar. They hiked around for an hour or so, searching for civilization, crossed a stream where some of them got wet, and finally stumbled on an unplowed access road and some vacant summer cabins.
"After no luck in finding a phone or a person on the creepy, deserted road, we managed to flag a car down a few miles out and learned that we were almost a two-hour drive back to Stowe, which is when mild panic set in," Sheridan writes in an email. "It felt like the 'Twilight Zone.' We had no cellphone service, were soaking wet, and it was getting late into the afternoon in the middle of nowhere, while this old couple in a Prius drove off."
Sheridan says "an act of God" eventually brought a man in an SUV, a Champlain College alum, who piled them into his car and drove them to Smugglers' Notch.
After all that, the haggard riders took the last lift up at Smuggs, hiked over to Spruce Peak, which had been closed for a week, and rode down a few feet of untouched powder to the parking lot where they'd left their car.
"All in all, it ended up being worth it for that one end run," Sheridan writes. "I don't remember what the man's name was who gave us a ride, but I'm pretty sure he saved our lives."
The Green Mountain Club offers regular outings and workshops throughout the winter; Antos-Ketcham's next Cold Weather Trekking course is Wednesday, January 23, 6:30 to 8:30 p.m. at GMC headquarters in Waterbury. The GMC's 17th Annual Snowshoe Festival and Winter Party is February 2, starting at 8:30 a.m. in Waterbury. greenmountainclub.org
The print version of this article was headlined "Close Call".