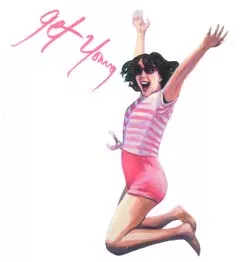 (Hardly Art, CD)
Perusing reviews of Pretty & Nice's latest, Get Young, astute readers will probably notice a running theme. Critics ranging from online hipster mecca Pitchfork Media to the lowliest of blogs preface their remarks with a commentary on the gathering storm — or is it a waning storm by now? — of retro and new wave influences in modern indie-rock. Depending on personal taste, they may view the trend as scourge or salvation. Critical assessments of the recent Hardly Art signees, positive or negative, bear the earmarks of that bias.
It's an excusable — if predictable — folly. As frequently noted, front man Holden Lewis does sound like Elvis Costello at times. But more than his vocal timbre, it's his approach that warrants the comparison, in a way that's often overlooked. Exhibit A: Ritalin-deprived album opener "Piranha." Lewis alternately coos and sneers his way around a spastic little melody and a cleverly schizophrenic arrangement. Like much of the disc, this track almost feels as though Pretty & Nice cherry-picked discarded segments of previously written songs and smashed 'em together till they roughly fit. But the result is not nearly so artless. If anything, the abrupt changes — here and throughout the album —are as exhilarating as the hairpin turns they evoke.
Most critics deem "Tora Tora Tora" the album's centerpiece. And it certainly could be. It is also most frequently cited as embodying the band's supposed Devo influence. Sure, whatever. Like the Costello comparison, invoking Devo does an adequate job of painting (by numbers) the song's feel. But it sells the band's ingenuity short.
Take for another example the following track, "Pixies." Of the album's scant 28 minutes, it's the only tune that even sniffs the four-minute mark. But in the course of that relatively short span, Lewis and Co. unleash more hooks —not to mention a wider variety of them — than most bands do in an entire album.
Or consider "Peekaboo," which provides a welcome — and surprising — wistful interlude before the disc gives way to the manic, driving groove of "Nuts and Bolts." Or the sneaky Nintendo riffs hidden in "Hideaway Tokyo." Or the bouncy electro-trance of "Grab Your Nets." Or the dual grand finales, "Gypsy" and "Wandering Eye."
The point is this: Pretty & Nice is obviously a product of their influences. Just like every other band ever. What sets them apart from the hordes of skinny-jeans-wearing throwbacks is an ability to wield those influences creatively — not mimic them — breathing new life into aging idioms with a curious charm too often lacking in the increasingly bland indie-rock arena and the musings of those who write about it.
Pretty & Nice plays The Monkey House this Thursday with Emperor X and The Robot Ate Me.