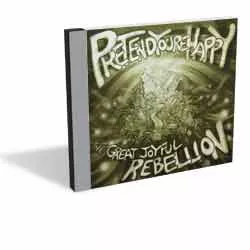 (DIY Bandits, CD)
Full disclosure: I've had an up-and- down relationship with Pretend You're Happy. To recount, in January 2009 I thoroughly panned a woeful performance by the Brattleboro-born collective at Burlington's Radio Bean. That review was followed two weeks later with a comparatively glowing critique of the group's self-titled debut full-length. So it was with no small degree of uncertainty that I approached their latest offering, The Great Joyful Rebellion. Based on previous experiences with the band, it would either be transcendent or terrible, with almost no in-between.
So, which is it?
I'm happy to report the record falls closer to the former category — and I don't even have to pretend. An ambitious project more than two years in the making, The Great Joyful Rebellion is indeed joyously rebellious. While it may fall just short of "great," it is a compelling work, often cinematic in scope, that finally does justice to the enigmatic songwriting talents of PYH honcho Jeremiah Morelock. From start (the Ennio Morricone-esque "Prelude 1 — Fantasy") to finish (the gleefully goofy "Finale — Joy Forever"), PYH lure the listener down the rabbit hole with a mind-bending array of psychedelic indie-rock. It sounds like what might happen if They Might Be Giants hooked up with DeVotchKa, or if Dr. Demento went on a Kool-Aid bender with the Polyphonic Spree. Sound weird and wonderful? It is.
"Hail to the Dream" is a heady blend of celebratory pop-punk bombast and marching, orchestral pomp. "The Song I Sing" begins as a sweet 3/4 duet between Morelock and flautist Joanne Morelock, whose schizophrenic arrangement owes debts to Sufjan Stevens and, at the song's sinister, metal-hued conclusion, Gwar. Really.
What made Pretend You're Happy's debut enjoyable was how the band embraced its imperfections. While that record was also ambitious, the collective's flaws humanized the recording. It was relatable precisely because they aimed high, fully aware they could likely never attain such lofty artistic goals, but defiantly tried anyway. On The Great Joyful Rebellion, however, Morelock and company shoot for the moon and almost unfailingly land there. It is a polished record that challenges the listener to stay in stride. The blemishes that defined their debut are gone, replaced by keen attention to detail and forceful idiosyncrasies that ultimately elevate the record from a quirky charmer to a legitimate artistic triumph.
The Great Joyful Rebellion by Pretend You're Happy is available at diybandits.com.