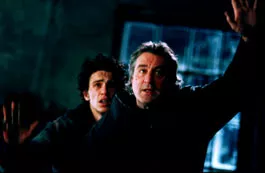 The soundtrack of City by the Sea should have included "My City in Ruins," the Bruce Springsteen song about urban decay in Asbury Park that's since been adopted as a 9/11 anthem for New York. The Jersey Shore community stands in as Long Beach, an equally decrepit town on Long Island that is the theoretical setting for the high-profile movie opening nationwide this weekend. Both Atlantic Ocean resorts were once prosperous and bustling. A more layered script might have traced the decline of the place to illuminate what's happened to the people, but the story remains simplistic and tediously predictable.
Director Michael Caton-Jones uses Long Beach — with its deserted boardwalks and abandoned, graffiti-covered pavilions populated by junkies — as mere backdrop. Veteran Manhattan homicide cop Vincent La Marca, played by Robert De Niro, grew up there. Now a middle-aged detective, he's haunted by bad karma and a history of bad decisions.
His father was executed in 1959 for the kidnapping and accidental death of a baby. When La Marca's marriage to Maggie (Patti Lupone) fell apart, he left behind a son who is almost a stranger to him 14 years later. The kid, Joey (James Franco), disappears after becoming the prime suspect in a deadly drug deal. His remorseful dad must figure out what to do.
At the same time, La Marca is sorting out his relationship with Michelle (Frances McDormand), a lover who wants more commitment and more insight into his troubled past. Initially, he's the kind of guy who doesn't share.
Otherwise, characters always say precisely what's on their minds, leaving little to the imagination. Mundane dialogue, by screenwriter Ken Hixon, makes such a straightforward approach even duller. The cast is blameless, however. De Niro and McDor-mand in particular are so talented that viewers may root for them to transcend their clunky lines.
After City by the Sea premiered at the Montréal World Film Festival last week, De Niro was 45 minutes late for his own press conference, which was held at the Desjar-dins shopping plaza and open to the public. Journalists fumed, but hordes of fans cheered his eventual arrival. He was accompanied by Caton-Jones, who worked with him on This Boy's Life — also about fathers and sons — in 1993.
Apparently, few of the assembled reporters had actually seen the movie. So they tossed out inane questions like: "How do you like Montréal?" "How do you like the film festival?" And even, "How do you like this press conference?" One person wanted the actor to recite his famous lines from Taxi Driver. "No. I can't," De Niro replied, while giving the guy a distinctly you-talkin'-to-me look.
The funniest query was rather impertinent: "Colleagues of yours, like Clint Eastwood and Michael Douglas, have love interests in their pictures who are practically teenagers. Yours are always the right age. Are you that secure in your sexuality?"
De Niro didn't miss a beat in offering a brief reply: "Yeah. I am."
That was about as clever as it got. Although an icon, DeNiro's not especially articulate. "Things are slowly coming back to normal," he said, when asked about the mood in New York City after the World Trade Center attack. "It's what happened, you know. That's it."
And that was it.
short takes According to Variety, Stowe-area screenwriter John Fusco has signed "a seven-figure deal" for a remake of Billy Jack. That 1971 drama follows the adventures of a "half-breed" Vietnam veteran who travels the Arizona desert protecting wild mustangs, Native Americans and an adolescent runaway. Its star, Tom Laughlin, wrote and directed the original. He'll be an executive producer for the version by Fusco, who also penned the upcoming Hidalgo, featuring Fellowship of the Rings hunk Viggo Mortensen . . . Vermont filmmaker Nora Jacobson spent the summer editing her work-in-progress, Nothing Like Dreaming, from 60 hours of footage down to almost four. She now must cut that by half to qualify for theatrical distribution. Meanwhile, the Norwich writer-director has put out a casting call for extras to perform in a nightclub scene that might be used during closing credits. The shoot will take place at the Middle Earth Music Hall in downtown Bradford from 2 to 4 p.m. on Saturday, September 7. E-mail info@offthegridpro ductions.com for details.