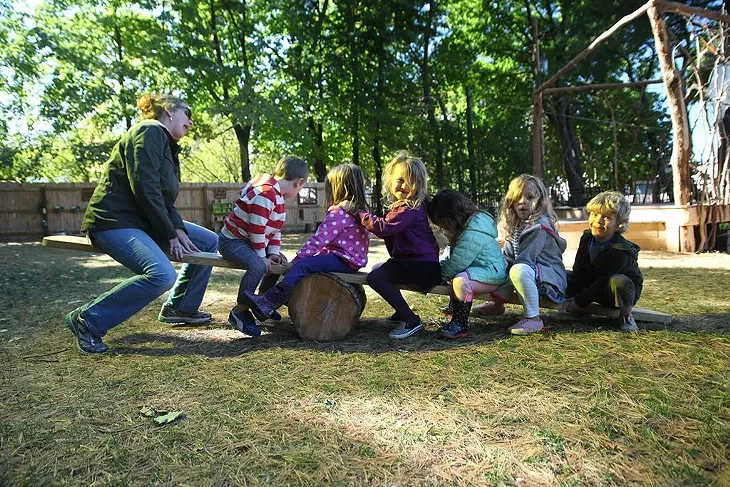 9 slides
Davis Studio's new preschool program follows an arts-based curriculum, but that's not the only thing that makes it unique. Nestled behind its new home — a stately colonial on Shelburne Road where the studio relocated last spring — is an elaborate play area. Highlights include a mud/snow kitchen, Daisy the bright yellow sailboat, a claw-foot bathtub, and a musical corner with chimes and a hanging wooden xylophone.
Long maroon curtains made of weatherproof material hang from a tall branch, inviting young visitors into the fenced-in space. In the center, a large wooden platform surrounded by a tangle of artfully woven branches is the perfect spot for dramatic play or group read-alouds.
The aesthetically appealing play area is a collaboration between Davis Studio founder Teresa Davis and former preschool teacher Tara Gravelin, a proponent of open-ended adventure play and mom to two young boys, one of whom attends the Davis Studio preschool. After brainstorming with Davis over the summer, Gravelin searched places like Craigslist and ReSOURCE in Burlington for items to liven up the space. Gravelin's dad, a contractor in Hinesburg, helped with cutting down trees and moving logs, digging deep holes, and mulching play areas to provide soft landings for busy bodies.
The space, which took three weeks to construct, has already provided kids with countless hours of fun.