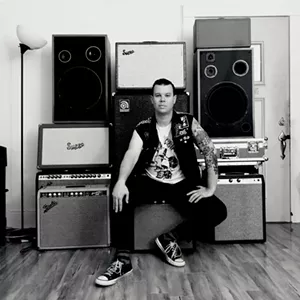 (Self-released, digital download)
It's 1997, and I'm desperate to impress a girl. I should be smart enough to know it won't work, but I'm not — I have another decade or so of love lessons to learn. Foolishly, I accept an invitation to accompany said girl to the Vans Warped Tour. It goes ... badly. If 1997 Chris hadn't gone to that ill-fated, really shitty show — where he formed a powerful dislike for blink-182, the astoundingly drunk fans of the Mighty Mighty Bosstones, and songs with lots of "Yeah! Yeah! Yeah!" stuff going on — 2018 Chris would love Bad Choices Make Good Stories, the debut record from Burlington pop-punk project Preece.
As it stands, here in this dystopian future, I kind of dig this record anyway, despite it very clearly being a love letter to pop-punk music. Front person Sean Preece — who took the easy way out on his band name — usually plays drums with local rockers the Welterweights. But he has long dreamed of making a record re-creating the sounds of his late '90s and early '00s adolescence. He teamed up with Jer Coons — the dude behind Future Fields and the bassist for Madaila — who fosters a similar love of that classic Descendents sound, and the two set forth with a specific intention.
From the opening track "Take Our Time" to the ferocious closer "Don't Know Why," Preece (the band) hit all the benchmarks of the genre. The guitars are snarling and pumped right up in the mix. Vocals have that telltale conversational melody so intrinsic to pop-punk's core, delivering the requisite angst and elation in abundance. I can hear the skate park in the distance and smell the crappy parking-lot weed like it was yesterday. 1997 Chris shakes his fist, but 2018 Chris feels oddly nostalgic.
Preece (the guy) plays the lion's share of the instruments throughout these 11 tracks. The album evokes a sense of devotion to the music, much of which can be attributed to Preece's songwriting and his authentic knowledge of the form. Coons' production work is key, too. The engineer manages a crisp sound that escapes the homogenized tones of blink-182's buzz-rock radio stuff. The record jumps out of the speakers. But melodic aggression is the name of the game, and Preece never falters.
Fellow Welterweights Kelly Ravin and Lowell Thompson show up to lend a hand — the former to rip a nasty guitar solo on "Remind You," the latter singing harmony vocals on the catchy-as-hell "Tomorrow Today." Rough Francis drummer Urian Hackney even gets in on the guitar action, in addition to some engineering work. Preece pulled out all the stops, and Bad Choices Make Good Stories has a palpable labor-of-love vibe.
Maybe if that '97 Vans Warped Tour debacle didn't happen, this record would hit me like I know it will hit so many of my friends, who cherish their Bouncing Souls records. But if pop punk is your thing, Preece has the album for you. Check it out at preece.bandcamp.com.