sarah tuff dunn
Horses at pasture.
UVM Morgan Horse Farm, 74 Battell Drive, Weybridge
It was one of those June mornings where you forget the frigid Vermont winter — blue skies, lawn mowers buzzing, crisp air — as my elementary-school-aged children, Dillon and Harper, buckled themselves into our Toyota Tacoma. I was nervous, though. It was my first time driving the new truck, and my husband, Carlton, had warned me to be very careful. (He had already hopped on his bike to make the 25-mile journey from our Shelburne home to Weybridge.)
Relief. We arrived at the UVM Morgan Horse Farm intact. "I only see one horse," said Harper, 8, before noticing a statue of an imposing mare we later learned was named Figure. "OK, I only see two horses, and one of them is metal," he quipped.
As we neared the entrance, where Carlton waited in his bike clothes, Harper spied an assemblage of horse bones arranged on a wall. "All right, Mom, now I see three horses — and one is a skeleton."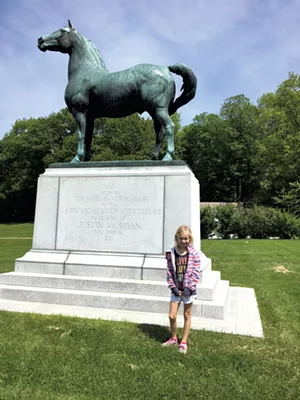 sarah tuff dunn
Dillon with a statue of Figure
Make no bones about it, though: The 215-acre UVM Morgan Horse Farm — which the U.S. government gifted to the University of Vermont in 1951 — has more than 40 Morgan horses, making a family day trip to Weybridge, and neighboring Middlebury, a worthwhile jaunt on a summer's day.
Our exploration began at the gift shop, where we shelled out $14 total for admission, and 10-year-old Dillon ogled the horsey knickknacks. A seven-minute movie followed, during which we learned that 80 percent of today's worldwide Morgan horse population (some 75,000 of the trotters) can be traced back to Weybridge.
It all began in 1789, when a schoolteacher in Springfield, Mass., received a colt named Figure as payout on a debt — and what a payday it was. Figure turned out to be the Michael Jordan of his time; his ability to outrun, outjump and outdo all other equines earned him an impressive reputation. Figure and his offspring also displayed their prowess in other ways. One Morgan horse, named Black Hawk, impregnated more than 1700 females. (Later we blushed during the breeding part of the tour that ditches euphemisms in favor of straight talk about teasing, mounting and the like.)
sarah tuff dunn
Ribbons inside the barn
For now, we happily pranced behind our guide, Heather, as she clicked off the movie and showed us around the lush property. In the spacious stables, we learned the difference between mares, stallions, geldings, colts, fillies and foals.
The farm names and organizes its animals alphabetically. We laughed as Abington guffawed loudly in a manner that indicated his routine had been interrupted, then let ourselves outside to take a look at Zephyr, a bay colt born in April. Believe it or not, anyone can pay $2 for a raffle ticket to win this $30,000 prize horse. The drawing takes place on October 31 — talk about a payday. We heeded Heather's advice against sticking our fingers through the fence, lest Zephyr mistake them for carrots.
Then we wandered among the black locust trees, listening to the goldfinches and wishing we had brought some bread and cheese to spread out on one of the shaded picnic tables. Instead, we bid adieu to the farm and rumbled over the Pulp Mill Covered Bridge, originally built in 1883 and rebuilt in 2012 after the ravages of Tropical Storm Irene, for lunch at Noonie's Deli in Middlebury.
"That was about two or three times more interesting than I thought it would be," said Carlton, in between bites of tuna melt.
Sweet-toothed Harper didn't even need his meringue fix at nearby Otter Creek Bakery to give us back some sugar. "No, Dad," he said. "That was about a million times more interesting!"
Find more information at uvm.edu/morgan. The property is open daily from 9 a.m. to 4 p.m. through October 31, with tours available on the hour from 9 a.m. to 3 p.m.