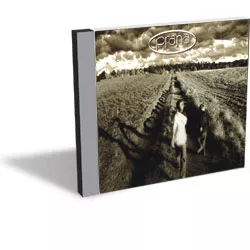 (Self-released, CD)
Music critics are a skeptical bunch, but sometimes you just gotta believe — in the promise of something genuine, spirited and sincere. Sure, five Queen City kids calling themselves "Prana" — the Sanskrit translates to "vital life" — might seem a bit hokey. But the band traverses genres so fluidly, one wonders if there's a bodhisattva in the mix. Indeed, from its high-gloss trappings to its ambitious, 13-track set (coproduced by Lane Gibson), Moments is suffused with worldly, veteran craftsmanship. At times ablaze and strikingly soulful, Prana's radio-ready debut is one hit shy of a tour bus out of Burlington.
"Precious" is a confident opener that charges fearlessly toward stadium rock. Rather than warm the engine, vocalist Paul Poltz strains to reach elusive notes, while ace guitarist Sam Crawford fires through leads.
Moments is littered with little gasp-producing, well, moments — such as Josh Glass' pitch-perfect piano work that closes out "Me & You." Or Colin McCaffrey's textured viola intros. Few acts can spike Americana with bluesy solos, then deftly turn to a touching ballad. But Poltz and guest vocalist Amber deLaurentis bring "The Circle" to compelling heights, orbiting each other in a neoclassical duet that you just don't see coming.
Up-tempo filler such as "I Ain't Got No Where to Go" moves the recording pleasingly along, while "Yesterday People" is a romp so cheery that you forgive its Samples-esque stylings.
Still, it is the band's blue-collar suite that proves magnetic. Solemn and affecting, "The Factory" resonates with song writer Carlos Francisco's haunting candor. "I'm gonna die in this factory, like my father before me," moans Poltz. The remarkable empathy here belies Prana's young years — a bruising nostalgia we're meant to feel collectively. In a fitting riposte, "E'Port Carlos & The Factory Workers" restores hope in the guise of an acoustic, feel-good anthem lifted squarely from the Billy Joel songbook. Saturated with soaring hooks, it's got a chorus you'll hum for days.
Moments closes with "All for You" — a breezy instrumental that coasts for nearly five minutes before Poltz returns to quietly finish up. With their folk-hero persona and a big stage sound, Prana's vitality isn't in question. Like forefather Bruce Springsteen, these earnest storytellers succeed as much on the merit of their convictions as on the yarns they spin. You just gotta believe.
Prana gives an in-store performance at Barnes & Noble in South Burlington this Friday.