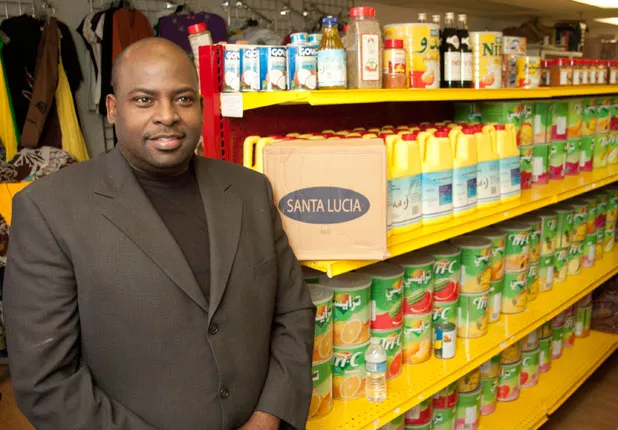 Matthew Thorsen
Abdi Dhere
Omar Abdullahi lives in a dairy state now, but he hasn't been drinking much Vermont milk. The Winooski resident prefers Nido, a milk powder made by Nestlé, which reminds him of his native Somalia, where it's too hot to keep the fresh stuff.
When he craves Nido and other tastes of his homeland, Abdullahi comes to Nadia International Halal Market on Main Street in Winooski. The market belongs to an Iraqi, Yahya Areef, and is run by his sons, Areef and Ahmed. Right next door, Banadir Market, owned by Somali Bantu Abdi Dhere, caters to Africans.
Because of the Colchester-based Vermont Refugee Resettlement Program, more Muslim newcomers settle in Winooski every year. Though caseworkers can help immigrants by providing interpreters, homes and job placement, familiar flavors are beyond their scope.
Areef Areef and his family are here to help. In their native Baghdad, the family owned a large supermarket that Areef compares to Shaws or Price Chopper. After receiving death threats from Muqtada al-Sadr's Mahdi Army, he left Iraq, and the business, for Amman, Jordan, in June 2006, where he and his father built a small market. Months later, the Shia militia murdered his uncle and other relatives and burned down the store.
The market that Areef and his father built in Amman still stands. But on August 29, 2007, Areef and his family arrived in Vermont as refugees.
Early on, circumstances were less than ideal. The Winooski home in which Areef was placed was "horrible," he recalls. Things began to look up when he met Samosaman owner Fuad Ndibalema at the Islamic Society of Vermont in Colchester. A job delivering and selling the Congolese pastries enabled Areef to pay for his own dwelling with plenty of room for his wife and three children, now ages one month to 11.
By then, Areef's father and brother, Yahya and Ahmed Areef, had also landed in Winooski. The time and location were finally right to open a small store similar to the one in Jordan, Areef says, and on New Year's Day, 2011, the trio did just that.
Yahya, once wealthy enough to own four homes in Iraq, is Nadia's primary owner. He takes care of purchasing and keeping the books, but leaves much of the day-to-day work to his sons. After school, Ahmed Areef's eighth-grade son, Aeman, and the brothers' high-school-aged cousin, Ahmed Abdulkhaleiq, pitch in.
The younger generation plays an important role, since English is the language of most transactions, even with Arabic-speaking customers. Areef, with his short, curly ponytail and habit of smoking in front of the store, can answer all but the most linguistically complex questions in halting English, which improves as he relaxes. The more conservatively styled, equally stocky Ahmed says he struggles to speak with the same facility as his teenage son.
Not that conversation is necessary to appreciate Nadia. A perfunctory look through the store reveals treasures previously unavailable in Vermont.
One refrigerator case is piled with various flavors of manakeesh, a flatbread covered in pesto-like za'atar, cheese, or minced lamb and tomatoes. Nearby are stacks of haloumi and akhawi cheese. Haloumi is made from sheep or goat milk, while akhawi, from whole cow's milk, tastes like mozzarella after a dose of steroids. Aeman recommends cutting it up with tomatoes and mint.
Areef, for his part, likes to pair his salad with one of the many teas he sells. He's particularly fond of Alghazaleen tea, a brand of Ceylon flavored with bergamot like Earl Grey. Arabic coffee is a big seller, too, he says. The biggest difference between these beans and those packaged in the U.S. is the presence of aromatic cardamom.
The culture of taking tea, deeply rooted in the Middle East, comes with a refined snacking ritual. Aeman recommends mixing honey-sweet date syrup with creamy tahini and spreading it on pita or long, bubbly Afghan breads.
When asked how to use orange blossom and rosewater — staple flavors of Middle Eastern desserts — the assembled gentlemen are less certain. "Just put with some sweet," says Areef. "Not a lot. The women cook it. I don't know." Teenager Ahmed Abdulkhaleiq says he occasionally drinks the flavorings straight.
When no women are around, men in search of sweets can dip into the freezer case where Areef keeps several pizza-sized boxes of kanafeh. The rose- and pistachio-scented dessert is composed primarily of goat cheese wrapped in kataifi pastry. At just over $16, it's the most expensive item at Nadia Market.
The freezer holds other prepared foods, such as falafel and breads; frozen fish, including whole tilapia; and various meats, such as goat, chicken, beef and lamb. These are bargains: A package of four lamb shanks is $12, the price of a single shank at most grocery stores.
Fresh cuts can be found in a meat case in the back. Ahmed will happily portion out a chunk of beef neck by the pound, and he has a table saw to take apart bone-in chunks. He says it's all halal meat, most of it from a New Hampshire company called Poultry Products Northeast.
According to Areef Areef, fellow Middle Easterners aren't the only ones who flock to the store for sheep slaughtered according to Islamic law. "I have a lot of customers from Somalia," he says. "They like goat. The Jews like our meat, too."
Though Areef complains that the store is "not very busy yet," Nadia looked like the set of a Benetton ad last Tuesday. Somali and Sudanese men and women stopped in for Nido, goat meat and spices. A Nepalese woman picked up a bag of basmati rice, prompting Areef to brag, "If you're from Iraq or Somalia, this is better than Costco." He means the rice, but it's clear that the store itself, offering everything from halwa and Turkish delight to cumin-flavored fava beans, is the ultimate clearinghouse for this community's needs.
It doesn't concern Areef that another halal market is doing business just feet away. "He doesn't have the same stuff," the Nadia manager says of Banadir Market. "All [of my] stuff is Middle Eastern and some stuff of Europe. My neighbor, he has all the stuff from Africa."
Well, maybe not all the stuff. But Banadir Market does have hundreds of bags of grains and legumes stacked on former supermarket shelves that still display the prices of canned cat food. Abdi Dhere, who opened Banadir a year and a half ago, says he enjoys healthy competition with the new market on the block and respects the Areefs as businessmen.
After all he's been through, Dhere's live-and-let-live attitude isn't much of a surprise. A native of Jilib, he grew up farming in that rural town, then traveled to Banadir to become a nurse. As part of the Bantu minority, Dhere was accustomed to ethnic violence, but he finally left Somalia for a Kenyan refugee camp after he was shot twice in the leg. In 2004, he was accepted for residence first in Chicago, then in Vermont, where he had some family. Shortly after he arrived here, Dhere had a stroke that paralyzed his right side. He was 38.
Friends and family asked Dhere "why [I] don't apply for Social Security," he recounts. "I said, 'Leave it. I need to work.'" He believes his faith and his desire to raise money to bring his six children to America pushed him to recover. He worked as a translator for the Refugee Resettlement Program, then started his own taxi company, which entailed working 15-hour days, seven days a week.
Dhere still works every day, but, as he listens to music behind the counter of his store, he says he's pleased with his accomplishments. "Now I can say I'm not lower class, I'm middle class," he says. "Maybe someday I'll be first class. If not, my children will be, because they have my blood and will work hard."
Once his six Somali children join him in Winooski with his 3-year-old, American-born son, Dhere has another business plan: He wants to open a restaurant. "We are very, very, very sorry we don't have a restaurant," he says of the local Somali community. "No American can see what Somali Bantu food looks like ... They will understand when we have a restaurant."
For now, Americans and native Africans alike can buy ugali soor, a Somalian staple similar to polenta. They can pair it with stews made from fish or goat, seasoned with a potent-smelling spice blend called xawaji. A blood-dotted freezer in the back holds the meats; shelves offer cow peas, mung beans and sorghum flour, along with pasta inspired by the Italians who colonized Somalia in the 19th century.
Perhaps the nation's history of suffering justifies some attention to relaxation. Two large cases in Dhere's store are filled with glass pipes in the shapes of scorpions, naked women and elephants. He says these items join the food and African clothing at his customers' request: "It's what the population needs," Dhere explains. "Whether it's American, whether it's Somali Bantu, if it's Iraqian. Whatever they need, I'll see if I can get it for them."
It's this sentiment that spurred both Dhere and the Areef family to open their stores. Though Areef Areef has had to grow accustomed to having less than he did in Iraq, he says, he loves Vermont for its citizens: "They want to help all the people to smile." Dhere says he has every intention of dying in the Green Mountain State and hopes that his children will, too.
It's clear these new Vermonters are here to stay — and, with any luck, so are their flavors.