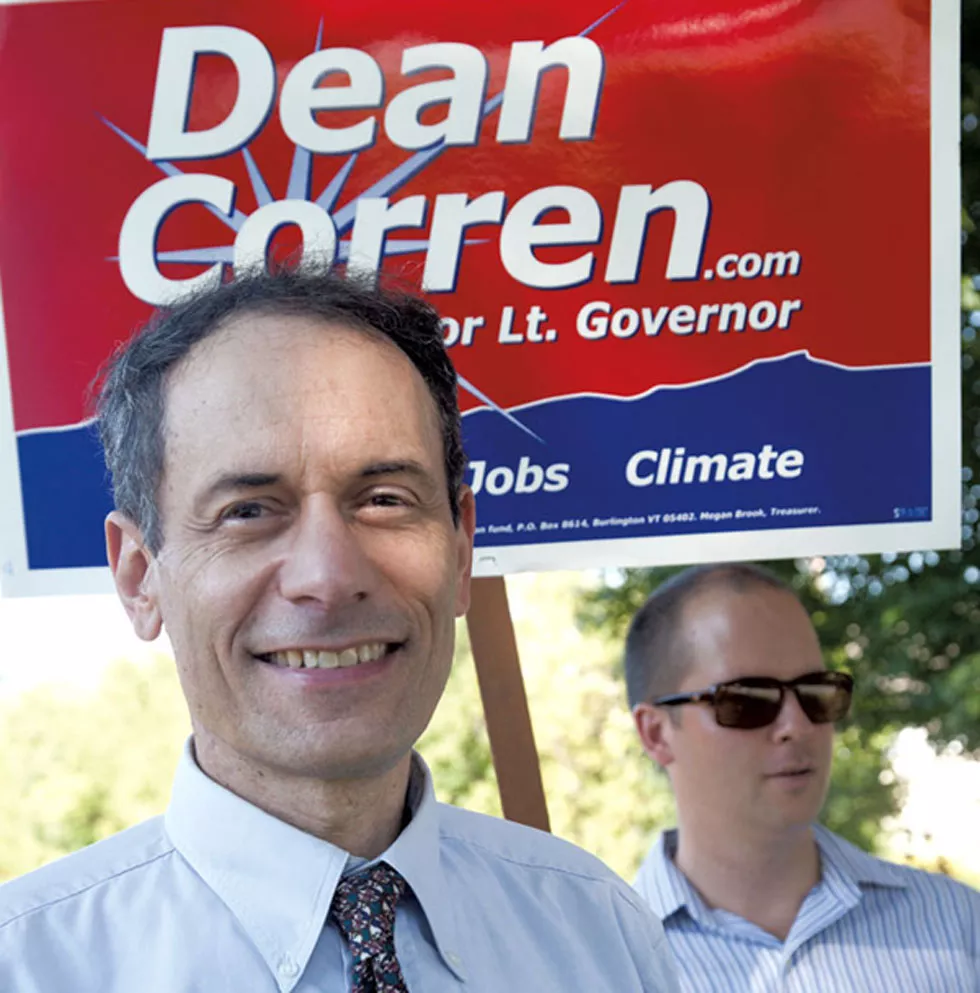 Vermont's campaign for lieutenant governor has been billed as the hottest race of this admittedly cool election cycle. But does anybody really care who holds the largely ceremonial post?
"The reality is the office of the lieutenant governor has virtually no power," admits incumbent Lt. Gov. Phil Scott, a Middlesex Republican who's served as number two for nearly four years. "I had more power as a senator."
The LG's formal responsibilities are few and far between: He or she presides over the Senate, breaks its tie votes, helps make committee assignments and, most importantly, stays alive in case the governor doesn't.
"But," Scott adds, "If you know how to work with people, there are still many things you can accomplish."
Exactly what he's accomplished and whether his Progressive/Democratic challenger, former Burlington state representative Dean Corren, would do more are the questions of the campaign.
"I think the people aren't getting their money's worth out of their office," Corren says of the $62,000-a-year, part-time gig. "I think he could be doing a lot more to help address [Vermont's] serious challenges. If I'm elected, people will see a much more active lieutenant governor."
Corren's hardly the first to make that pitch.
Nearly every two years since Republican Brian Dubie snagged the post for his party in 2002, an up-and-coming Democrat — from Peter Shumlin to Matt Dunne to Steve Howard to Cassandra Gekas — has promised to do more. But so far, voters haven't been convinced.
"I wanted to talk about transforming that office into a bastion of action on behalf of the poor and on behalf of workers and middle-class families," says Howard, a former state representative who ran against Scott in 2010 and now heads the Vermont State Employees Association. "But I could have run naked down Church Street, and nobody would've cared."
This time, Howard concedes, might be different.
"It's the only game in town, so it is going to get attention," he says. "The press is going to want to make it a race because there are no other races in town."
See: this column.
So what, exactly, has Scott done with the office?
Other than performing his constitutional duties, the incumbent struggles to articulate specific accomplishments, though he says he's helped out in crises — for instance, when Tropical Storm Irene inundated the state three years ago — and has been "able to open doors and create dialogue." His real strengths, such as "bringing people together and trying to find solutions to some of the issues," don't lend themselves to campaign talking points, he maintains.
"There are a whole host of things that happen on a day-to-day basis that I don't go out and hold a press conference on," he says.
Perhaps the most visible feature of Scott's tenure is what he calls his "Vermont Everyday Jobs Tour," in which he spends a day working at a grocery store, country club or fuel delivery company. Scott says his days pitching in at Kingdom Creamery, Porter Hospital and a St. Albans apiary have provided important intel about how to make government work better for businesses.
"I wouldn't have ever gotten to know those folks," he says. "And now they feel they can call me."
But the way Corren sees it, "It's a stunt. It's self-promotion. It doesn't benefit Vermont."
That's not the challenger's only beef. He says Scott has failed to contribute to Vermont's ongoing health care reforms, "doing nothing but spreading uncertainty."
Rather than providing a voice of "balance," as Scott describes his position, Corren says the incumbent is "providing a voice of 'no.'"
Even in his official responsibilities, Corren says, Scott is lacking. As a member of the Senate's three-member Committee on Committees, the LG plays a role in picking committee chairs. Corren blames him for appointing Sen. Bob Hartwell (D-Bennington) — who has said he's skeptical that humans are to blame for climate change — to head the Senate Committee on Natural Resources and Energy.
"There would not be a climate-change denier sitting as chair of natural resources," Corren says. "That's a wholly unacceptable situation."
Counters Scott, "I'm sure he realizes there are two Democrats on the Committee on Committees. So when he's pointing a finger at me, he's pointing a finger at all three."
For the record: Those two Dems, Sen. John Campbell (D-Windsor) and Sen. Dick Mazza (D-Grand Isle) have endorsed Scott.
So what would Corren do that Scott isn't doing?
"I'd be meeting with members of the public. I'd be going around the state, talking about health care. Also, meeting with employers, really chronicling the needs of small, growing businesses," he says.
And in the Senate, he adds, "I would be involved in a wide range of legislation. I would have positions and I would be involved in the process. It would not be hands-off at all."
What does Scott think of his challenger?
"I don't know him all that well. He seems very aggressive and — we'll see. I've been warned by many that he's going to get very negative," the LG says. "And I keep saying, 'I'm not going to go there.' It's just not worth it to me. I'm just going to be me and let my 14 years of public service speak for itself."
Nothingburger King
Nearly a year after Vermont Health Connect went live, Gov. Shumlin suffered yet another setback Tuesday in his attempt to make the federally mandated health insurance exchange work as advertised.
This time, he announced at a hastily scheduled morning press conference in Winooski, the site will go dark — perhaps for weeks — while a new contractor works to fix the thing before open enrollment begins in November.
"I'm focused on that goal like a laser," the gov said.
Of course, Shumlin's been saying much the same since his administration revealed last September that elements of the website wouldn't roll out as planned. His laser, it seems, might also need to go to the shop.
With precisely seven weeks until Election Day, Tuesday's announcement could hardly have come at a worse time. It's the latest bomb to drop at the governor's beleaguered Agency of Human Services.
Five weeks ago, Shumlin fired the agency's secretary, Doug Racine, in the messiest personnel move of the governor's tenure. Two weeks ago, the commissioner of AHS's troubled Department for Children and Families, Dave Yacovone, stepped down — though both he and the governor insisted the departure was voluntary.
And at Tuesday's press conference, Shumlin effectively sidelined the man responsible for Vermont Health Connect's rollout: Department of Vermont Health Access Commissioner Mark Larson. For months, Larson has reported to Lawrence Miller, the gov's all-purpose fix-it man. Now, Miller will formally run the show, while Larson tends to the rest of the department's business — whatever that is.
The turmoil at AHS is like manna from heaven for the Vermont Republican Party. Only problem is, the state GOP doesn't have a real gubernatorial challenger. It has Scott Milne, easily the least impressive major party nominee in recent Vermont history.
Ever since he signaled interest in the race while traveling in North Africa, the Pomfret developer and travel agency prez has consistently underwhelmed. His fundraising is anemic, his policy proposals are MIA, his debate performance has been mediocre and his media strategy is nonexistent.
On Monday, he added another problem to the list: As the Burlington Free Press' Nancy Remsen first reported, campaign manager Brent Burns, a former executive director of the Vermont GOP, has left Team Milne, citing personal reasons.
"I've been working high-stress jobs for a long time. Sometimes you realize you're not performing at your best and you need to make a change," Burns told Seven Days. "I really do believe we have a good team in place, and I think Scott has a good shot."
At Saturday's gubernatorial debate at the Tunbridge World's Fair, Milne struggled to answer even the most predictable of questions, such as: what changes he'd institute at DCF to protect vulnerable children and how he'd keep young people from leaving the state.
To the former, Milne said he's "not an expert on this," and to the latter, he meandered on about how his own kids had come home to work on his campaign and how defeating Shumlin would send a message to someone about something. (Urgent Memo to 24-Year-Old Vermonter Living in Brooklyn: Shumlin's gone! It's safe to come home!)
Milne's insistence that he'd soon release his long-awaited health care reform proposal and a plan to address rising property taxes presented Libertarian candidate Dan Feliciano with the opportunity to land the hit of the debate:
"[Shumlin] just criticized Scott for not having details on his platform, and yet we don't have any ideas about how this single-payer health care system is going to be funded and what it's going to look like," Feliciano said, referring to Shumlin's signature policy initiative. "So I'm wondering right now what's going to come first: Scott Milne's platform or the health care budget finance report."
Shumlin himself cracked a smile at the remark — and he should. With Feliciano outperforming Milne at every turn, the two are sure to split the anti-Shumlin vote. Recognizing the opportunity, the governor has taken to name-dropping Feliciano as if the Libertarian is his running mate.
In a sense, he is.
Shumlin shouldn't get too cocky, though. Two recent polls showed his lead slimmer than expected. A Rasmussen Reports automated poll conducted last month had Shumlin ahead by just 12 percentage points, while a subsequent New York Times/CBS/YouGov online survey had him leading by 11. To be sure, both polls had their methodological failings — omitting Feliciano, for one thing — but, together, they send an unmistakable message: A majority of Vermonters would favor a governor who isn't Shumlin.
If only they had a better choice.
Media Note
As we reported last April, the corporate overlord of three Vermont newspapers — the Brattleboro Reformer, Bennington Banner and Manchester Journal — has fallen on tough times. Back then, New York-based Digital First Media had just scrapped its vaunted digital content center, dubbed Project Thunderdome, and laid off 50 employees.
Industry analysts predicted DFM's hedge fund owner was preparing to sell off its papers, but the publisher of the company's Vermont publications said: not so.
"Everything you hear about struggles is hearsay," Ed Woods told Seven Days at the time. "There is absolutely no truth to any spinoff."
Sure enough, DFM put 51 newspaper buildings up for sale last month, including the Reformer, Banner and Journal offices. And on Friday, it announced it was open to selling any and all of its 76 dailies and 160 weeklies.
What does this mean for the newspapers of southern Vermont? Editors of the Banner and Reformer, for which I used to work, deferred to Woods for comment, but Woods did not respond.
Hopefully he'll get back to any interested buyers.
INFO
Listen to Paul Wednesdays at 8:10 a.m. on WVMT 620 AM.
Blog: sevendaysvt.com/offmessage
The original print version of this article was headlined "Power(less) Grab"