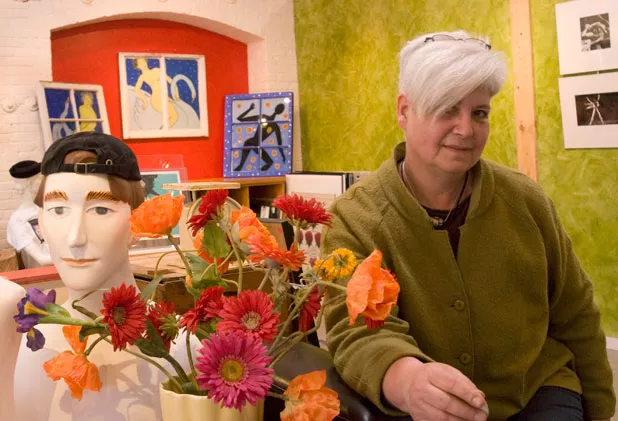 Matthew Thorsen
Liza Cowan
These are tough times for businesses, large and small. And in Vermont, running a business that relies on selling art is a particular challenge. When Pine Street Art Works owner Liza Cowan realized the gallery could not go it alone financially, she chose to diversify rather than surrender. She redeveloped the handsome exposed-brick interior into what she's calling the Pine Street souk — a South End version of a Middle Eastern bazaar. But it's not about exotic foodstuffs.
When she sought subtenants to help her pay what she describes only as a "reasonable" rent, Cowan says, she wanted retailers who were "compatible and not competitive." That mission was accomplished when AO! Glass and Waste Free Living joined her in the space. "Your success is my success" could serve as the resident merchants' motto, Cowan suggests. The three women-run businesses don't just share a partly partitioned, 2000-square-foot portion of a former bristle factory; they also share ideas for attracting more customers to their own outlets and to the general area.
Cowan has reconfigured her gallery/accessory shop, too: The mini-emporium sells notecards, vintage magazine covers, jewelry and Burlington's famous Flash Bags, as well as original artwork and items from Cowan's collection of Jell-O-related graphics. The gallery's current exhibit features Tim Matson's circa-1970s photos of the Pilobolus dance troupe, which performs at the Flynn this week.
AO! Glass, which takes its name from the husband-and-wife team of Rich Arentzen and Tove Ohlander, offers Scandinavian-style glassworks as well as art classes for kids and, soon, adults. Ohlander, a Swede who moved to Vermont in 2006, says she finds Burlingtonians "very optimistic about solving the future" but less carefree when it comes to shopping for art.
Cowan makes the same assessment. Pine Street Art Works, which she opened on a whim when the space became available, has failed to meet her expectations. "I had a lot of confidence I could choose good art" for the gallery, says Cowan, who worked as a painter and photographer in New York before moving to Burlington in 2001. She notes that she's sold at least one piece from each of the 20 shows staged at PSAW during its four years of operation.
But that wasn't nearly enough to keep her business viable. Like other gallery owners before her, Cowan discovered that Burlington is not an easy town for art entrepreneurs. "People here love art, but selling it is a struggle. It's not like New York City, where shopping is a contact sport," Cowan observes. She attributes consumer resistance partly to "Yankee thrift" and to what she says is the city's failure adequately to promote the Pine Street retail corridor.
"The city says it's so proud of the thriving art community in the South End, but no one here can make a living from selling art," Cowan declares. She cites an absence of public signage pointing the way to the district and shoddy "cityscaping" along her stretch of Pine Street, which lacks sidewalks and greenbelts. The city also doesn't sufficiently highlight the art zone on its website, Cowan adds.
Bruce Seifer, a business specialist in the city's Community and Economic Development Office, takes issue with Cowan's contentions. The city promotes the South End commercial strip in a variety of media, Seifer says, citing posters at Burlington Airport, spreads in municipal publications, full-color web displays and technical advice provided to local businesses, including AO! Glass and Waste Free Living. Some nearby enterprises, such as Lake Champlain Chocolates, have managed to attract squadrons of shoppers "because they market effectively," Seifer says.
Holly Rae Taylor, owner of Waste Free Living, says she's certain customers will come flocking to her "green general store" following its grand opening later this month. "Burlington is a hotbed of activity for art, agriculture and green living, and my business is at the nexus of all that," Taylor declares. The 41-year-old Whiting native and Marlboro College graduate sells handmade compost bins under her Maven Vermont Products brand, along with eco-sensitive housewares and takeaway containers made of sugar-cane fiber.
Cowan and Ohlander are equally upbeat about the prospects for the new souk. What Seifer says in regard to the retail zone in general may also apply specifically to the shared space at 404 Pine Street: "It's something organic that grows over time."