With five minutes left in the first half of their game against the Boston Breakers, the Vermont Chargers were having a hard time finding the fire. They lost 3-0 in an earlier match of the indoor soccer tournament at the University of Vermont. And so far in this game, the players had not put a single point on the board.
But then Chargers veteran Scott Goyette found a hole in the defense and laced a pass across the pitch. Teammate Zeb Carlson motored into position at the left side of the goal and — with a flick of his joystick — angled it past the goalie.
Carlson threw back his head and let out a roar. The crowd joined in. The Chargers went ahead, 1-0.
It was a moment for the highlight reel. But in this game and others like it playing out at Patrick Gymnasium last Saturday, there was something different: All the players at the Zach Stamatis Memorial Cup were passing and defending the ball in motorized wheelchairs. The tournament, which the Chargers have hosted since 2012, is named in honor of a teammate who died after being struck by a car.
Goyette and Carlson are members of the Burlington-based team formed four years ago to give men, women and kids with severe disabilities a chance to play competitive sports. Many had spent years watching from the sidelines as siblings and friends played football, baseball, basketball and soccer. With limited use of their upper bodies, they weren't able to join traditional wheelchair sports, which require strong arms and grips.
With the advent of "power soccer," members of the Chargers got their turn. The team is one of about 60 power soccer teams nationwide.
"I was pretty much the spectator until I started playing this," said Goyette, 45, who grew up in a South Burlington sports family but, due to a birth injury that left him mostly paralyzed on the left side, had been unable to participate. "We're not just people in chairs. We're athletes out there playing."
The Chargers practice weekly in a Burlington community gym and often at UVM. Some players travel as long as an hour each way to hone their skills as part of a team.
"People with disabilities tend to be isolated from the mainstream," said Nate Besio, a 37-year-old Colchester resident and one of the team's founding members. "It's a matter of getting out there."
As a boy growing up in Jericho, Besio excelled at nearly every sport. He played shooting guard in basketball, hit baseballs in Little League and was an avid swimmer. But at age 14 he dove into the shallow end of a swimming pool while playing tag with friends. The accident left him paralyzed.
Besio's troubles didn't end there. A year later, he contracted a severe form of meningitis that put him in a coma and damaged his skin and the tissue beneath. Doctors had to amputate his arms, perform grafts on the skin across his face and restore his hearing with cochlear implants.
Equipped with a sharp mind, prosthetic arms and a motorized wheelchair, Besio persevered. He earned a bachelor's degree in psychology from St. Michael's College and an MBA from SUNY Albany. He got married and works part time at the Vermont Center for Independent Living.
Besio played goalie in last Saturday's contest, and, like his teammates, he knew the stakes going into halftime. If they could maintain their 1-0 lead, the Chargers would move on to the semifinal round, with a shot at the Stamatis Cup. If they lost, they would land in the cellar of their own house.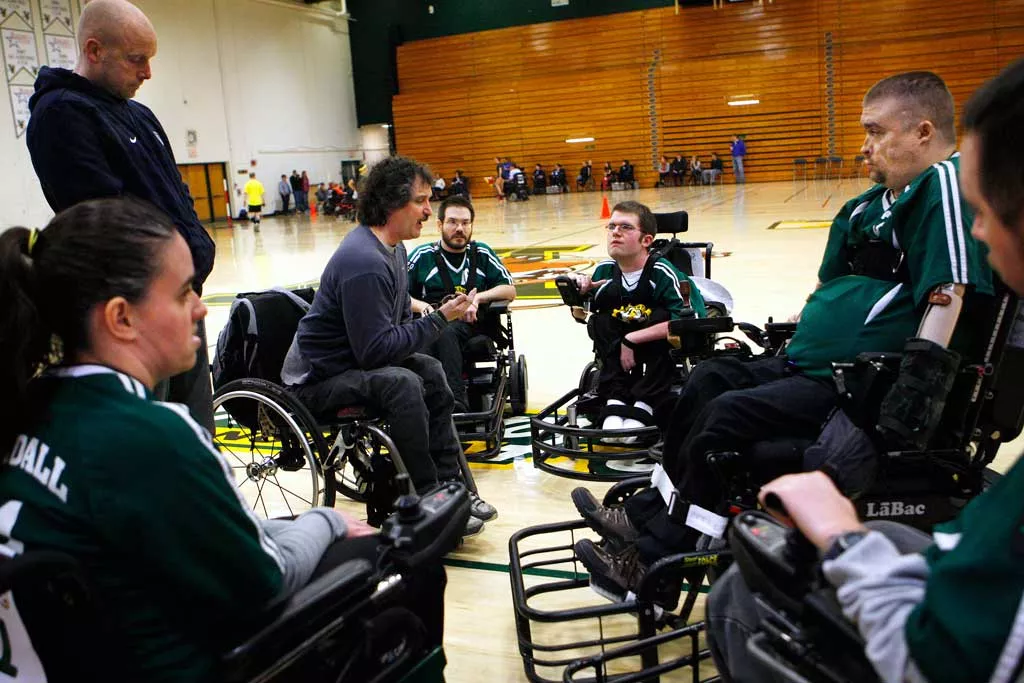 Ashley Conti
Coach Sandy Craige talks to the team
Courtside, their coach, Sandy Craige, huddled the players around his wheelchair. As they grabbed water and wiped sweat from their foreheads, he urged them not to underestimate their opponents. "We have to step up to that next level," Craige said.
Another man with close-cropped hair and athletic build stepped into the circle. Jesse Cormier, head coach of the UVM men's varsity soccer squad, works with Craige and his Chargers regularly on their technique. After making eye contact with each player, Cormier warned that the group seemed to be carrying disappointment from the earlier shutout.
"Don't sit back," said Cormier. "Take risks; that's when things happen."
Forward Kyle Grant lives by that advice. Grant has brown hair, glasses and cheeks that redden at talking with a reporter. At 17, he's the youngest player on the team and one of the most severely disabled. Grant has myotubular myopathy — a rare disease that hampers the use of his muscles. He has limited use of his arms, is unable to walk and uses a ventilator to help him breathe. A senior at Vergennes High, he can't participate in teen activities his classmates take for granted.
"His peers have jobs, driver's licenses and girlfriends," said soccer mom Betsy Grant. Kyle is a strong student and a talented artist, she said, and taking to the court as a power soccer player has boosted his confidence. Early on, it became clear that Kyle had an extraordinary ability to move his chair in the precise movements needed for power soccer. His teammates dubbed him "the Phenom." He wears No. 3, a tribute to his Nascar hero, the late Dale Earnhardt Sr. He dreams of someday working on high-powered engines.
Most of the Chargers pilot 300-pound motorized wheelchairs that sit low to the ground and use steel guards to pass the oversize ball and defend against collisions. The machines can move so quickly that officials conduct a speed trial before each game to make sure no player has souped up his or her ride to exceed the 6.2 mph speed limit.
Katie Randall knows something about speed. The 29-year-old Winooski after-school teacher is one of two women on the Chargers roster. She joined two years ago after a team associate saw her zooming through the hallways while volunteering at Fletcher Allen Health Care and recruited her.
Randall remembers watching her two young brothers playing football and baseball while her cerebral palsy kept her on the sidelines.
On Saturday, she found herself again on the sidelines after a concussion she suffered at work when her chair accidentally tipped over. But doctors told her she could get back in the game soon, and she wasn't going to miss the chance to cheer her teammates on.
Her hair drawn into a ponytail, Randall said with a smile, "I want to get out there so bad."
Postscript: The Chargers kept charging Saturday, beating the Boston team and then a Québec squad in the semifinal round. In the championship final, they faced the Chariots, the Massachusetts team that had shut them out in the first round. The teams dueled to a 1-1 tie in regulation play, and then went on to a penalty-kick shootout, which the Chargers won 3-2. The Stamatis Cup stays in Vermont.
To play or volunteer, or to donate to the Vermont Chargers, contact Nate Besio at 310-2912 or nbesio@gmail.com.