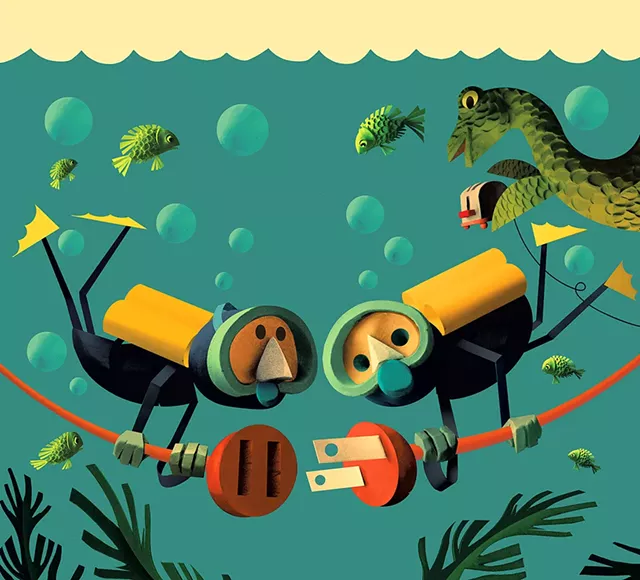 Last week, a company that wants to build a major electricity transmission line through Lake Champlain submitted a proposal for one of the biggest renewable energy contracts ever put out to bid in New England. The same day, Gov. Phil Scott plugged the project.
He has good reason: If the company behind the shovel-ready plan, known as the New England Clean Power Link, wins the billion-dollar-plus contract in Massachusetts, the line will almost certainly be constructed, and its owners will deliver on a promise to pay Vermont $283.5 million for the privilege of running thick, high-voltage cables under the lake.
At least five entities submitted bids for transmission projects around New England to meet last Thursday's deadline for the Massachusetts Clean Energy contract, which calls for enough power to light 1 million Bay State homes over 20 years. Proposals include transmission projects on land and in water in Maine, New York, Vermont and New Hampshire.
When the contract for the lucrative deal is awarded early next year, the decision could help determine which of more than half a dozen electricity transmission concepts in the Northeast actually get built — and which die on the drawing board.
Development of power infrastructure is increasingly a high-stakes and competitive game. Hedge funds contribute equity for "merchant lines," which then deliver wholesale power and charge a toll to the utilities that buy it.
Vermont is well positioned to be an energy pass-through. The state sits between Canada, a major producer of wind energy and hydropower, and both metro New York and southern New England, major consumers of renewables. At least three lines — including the New England Clean Power Link — are proposed to go under Lake Champlain. All together, they could light up more than 2.4 million households — almost 10 times Vermont's residential power consumption. As energy lawyer Richard Saudek put it, that's "a lot of juice."
Two other proposals call for above-ground transmission lines that would run through New Hampshire: The hotly contested Northern Pass is routed through that state's scenic White Mountains; and the Granite State Power Link would cut through Vermont's Northeast Kingdom before crossing into New Hampshire.
Yet another bidder wants to build a 370-mile cable that would go under the Atlantic Ocean, heading south from New Brunswick and Nova Scotia to Plymouth, Mass.
"It's a wide-open competition for the large bucks," said Saudek, in which contract winners are most likely to break ground.
Scott emphasized that unlike some of its challengers, New England Clean Power Link is fully permitted and ready for construction — it's "a well-designed, innovative transmission project that the Green Mountain State looks forward to hosting," Vermont's Republican governor said in a statement. "The project will be buried in Lake Champlain and along existing rights-of-way, greatly reducing community and environmental impacts. The transmission line enjoys very broad support throughout state and local government, as well as from businesses and homeowners."
Echoing the governor was the chief executive of the company that would build the New England Clean Power Link. "The permits are in place, and we have the support from the State of Vermont, which has been extremely strong," Donald Jessome of Transmission Developers Inc., a subsidiary of the New York City global private equity firm Blackstone, told Seven Days.
In addition to its proposed New England Clean Power Link, TDI has obtained permits for a line on the New York side of the lake — a $2.2 billion project that would carry electricity to New York City. TDI plans to apply for a major renewables contract in the Empire State in September. If it wins the bid, the company anticipates it would begin construction in 2018 or 2019 on Lake Champlain.
A third proposed lake transmission project, called the Green Line, would lay cable underwater and come ashore near New Haven, Vt. But on May 31, National Grid — a TDI competitor — asked state regulators to pause the review of that project. In bidding for the Massachusetts contract, the company pitched its other power project: the Granite State Power Link.
The switch could signal that National Grid will ultimately build in the Northeast Kingdom and not in Lake Champlain. So far, business groups in the economically depressed NEK appear receptive to the aerial line, which would carry triple the power of the lake's Green Line — 1,200 megawatts compared to 400 — making it potentially more lucrative.
In that scenario, the Addison County town of New Haven would be the biggest loser. Saudek represented the town in negotiating a pact that would have obligated National Grid to pay $4 million up front for a new fire station and town garage, plus $1.4 million annually for 40 years if the Green Line were built.
Two Vermont utilities, Green Mountain Power and the Burlington Electric Department, have objected to the Green Line in the permit process. The utilities are worried that when it connects to the grid in New Haven, the transmission line could interfere with their ability to send power over the same system, according to filings at the Public Utility Commission.
National Grid vice president for corporate affairs James Gould said his company remains committed to the Green Line but needs time to address technical issues. "We still think it's got a lot of promise," he said, adding that National Grid hopes to actively pursue the permit again by early 2018.
So far, Vermont environmentalists aren't putting up major roadblocks to any of these projects, reasoning that the submerged transmission lines would carry renewable power and reduce carbon pollution. The Conservation Law Foundation negotiated TDI's pledge to pay $283.5 million over 40 years to fund Lake Champlain cleanup and renewable energy development.
In this case, what is "helpful to the environment and the communities in Vermont," in the words of CLF senior attorney Sandy Levine, would help Scott fulfill his campaign promise to clean up the lake.
Scott's declared gubernatorial opponent, environmentalist James Ehlers, has lobbied for a dedicated cleanup tax.
Vermont's appeal as an energy conduit is expected to grow in coming years.
Southern New England states are already in the market for renewable power being produced at Canadian hydroelectric dams and wind farms. In 2008, Massachusetts passed a state law setting targets to reduce carbon emissions, and Connecticut, Rhode Island and New York also have mandates.
Meanwhile, some coal and nuclear plants that once supplied power to New England, including Vermont Yankee, have shut down, and other power plants are aging out.
That change spells opportunity, explained Joe Rossignoli, director of U.S. business development for Waltham, Mass.-based National Grid.
Power company Hydro-Québec is the most obvious source of green energy and is involved in a number of the bids for the Massachusetts power contract.
Charlotte-based Josh Bagnato, TDI vice president for project development, predicts the New England Clean Power Link will indeed be built and will one day carry vast amounts of southbound power. "It's like a superhighway for electric current," he said.
What does building such a thing entail? Vermonters will get a sneak preview this summer, when the Vermont Electric Power Company, aka VELCO, replaces a set of submerged transmission cables between Grand Isle and Plattsburgh, N.Y., that date back to the 1950s. Construction barges are already assisting with preliminary work, and a large cable-laying vessel is being assembled in New York. The new cables will be placed in the water next month.
The permit for the New England Clean Power Link that Scott favors calls for an enormous barge — so big it would be brought up the Champlain Canal in pieces — to lower two six-inch lines of copper cable side by side.
In depths below 150 feet, the cable would settle on the bottom and bury itself in abundant sediment. At depths above 150 feet, a plow digs a trench and the cable is buried.
Matthew Thorsen
Chris Sabick
"It's gonna be pitch-black, no daylight and probably a pretty constant 35 to 40 degrees," said Lake Champlain Maritime Museum archaeologist Chris Sabick, describing the deeper sections of the route.
Sabick has worked as a consultant to help TDI and National Grid's plans comply with state law and avoid shipwrecks, including ones of historic interest, such as workhorse schooners that once plied the Champlain Canal. In the 19th century, the 120-mile waterway was one of the country's busiest trade routes.
Now, geography and energy economics have put Lake Champlain on the map again.
Would failure to win the Massachusetts contract sink the New England Clean Power Link and Vermont's easy cleanup cash along with it?
Maybe not, said VELCO's Kerrick Johnson, vice president of strategy and communication. He thinks its owners could potentially find other contracts.
"I still think it would be likely they would seek to monetize their investment somehow," Johnson said. "They have permits; they have a proposal. These are valuable."
Proposed Transmission Lines
New England Clean Power Link
Description: A 154-mile line from Alburgh to Ludlow, with 98 miles under Lake Champlain and 56 buried on land

Price: $1.6 billion

Megawatts: 1,000

Status: Permitted; construction could occur in 2018 or 2019

Owner: Transmission Developers Inc.

Champlain Hudson Power Express
Description: A 330-mile buried line from the N.Y.-Canadian border to metro New York City, with 100 miles through Lake Champlain

Price: $2.2 billion

Megawatts: 1,000

Status: Permitted; construction possible in 2018 or 2019

Owner: Transmission Developers Inc.

Vermont Green Line
Description: A 60-mile line through Lake Champlain from Beekmantown, N.Y., to New Haven, Vt.

Price: $600 million

Megawatts: 400

Status: Permit review by Vermont Public Utility Commission on hold

Owner: National Grid

Granite State Power Link
Description: A 168-mile overhead line from Canada into the Northeast Kingdom to Londonderry, N.H.

Price: $1 billion

Megawatts: 1,200

Status: Backers expect to apply for permits in late 2017 or 2018.

Owner: National Grid and Citizens Energy

Northern Pass
Description: A 192-mile line from Canada into New Hampshire.

Price: $1.6 billion

Megawatts: 1,090

Status: Some permits in hand; decision on critical permit expected from N.H. in September

Owners: Eversource and Hydro-Québec