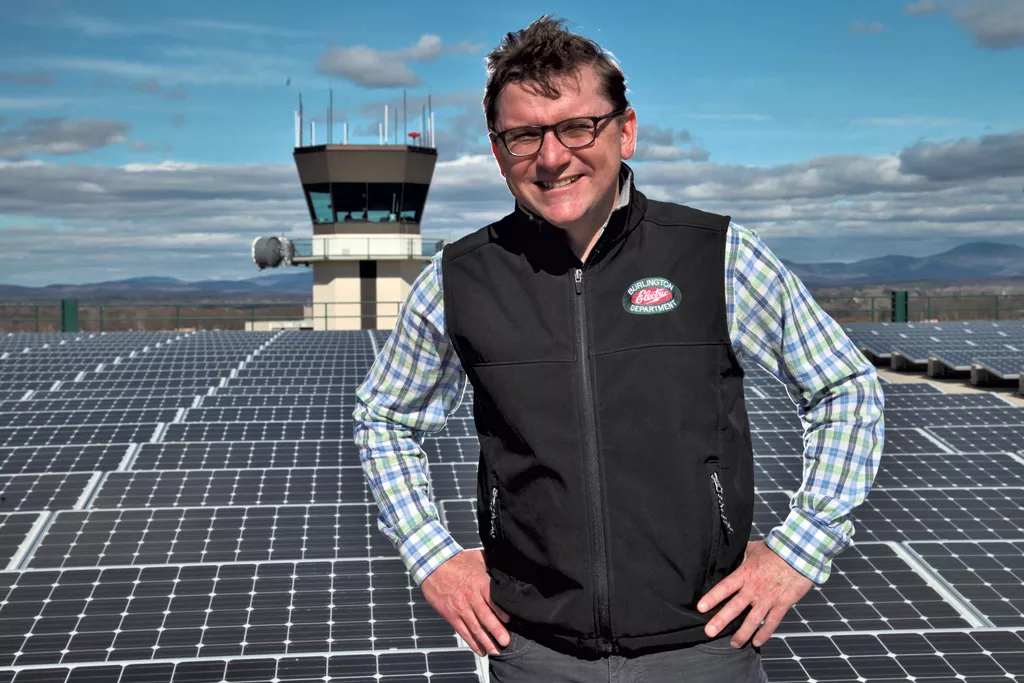 File: Matthew Thorsen
Neale Lunderville
Last fall the Burlington Electric Department made national news when it announced that 100 percent of its power was coming from renewable energy sources. The municipal-owned utility started running energy efficiency programs more than two decades ago, and the city now consumes less electricity than it did in 1989.
The small local utility has still-greater ambitions. During the March confirmation hearing for Neale Lunderville, BED's general manager, Mayor Miro Weinberger told the Burlington City Council: "I genuinely believe that some of the most important work [this administration will undertake] ... is going to happen at the Burlington Electric Department."
Lunderville was equally optimistic, telling councilors, "I see only vast green fields of opportunity for Burlington Electric and for its people."
So given BED's sterling record, how much more can it do?
A lot, according to the man in charge.
At 40, Lunderville already has quite the résumé. He was a top official in the Douglas administration, when he was still in his twenties. Later, Gov. Peter Shumlin picked him to direct the state's recovery effort after Tropical Storm Irene devastated a broad swath of Vermont. Most recently, he guided the rapidly growing natural gas company, NG Advantage, as CEO.
Last summer Lunderville, a boyish Burlington native with wavy hair and a croaky voice, agreed to serve as interim general manager at BED.
He admitted that when he took the temporary gig, he had no intention of applying for the permanent position. He credited an enthusiastic staff and the innovative atmosphere at BED with changing his mind.
Lunderville may still get lured back into politics — hours after Gov. Shumlin announced he wouldn't run for reelection, a local pundit suggested he'd make a strong Republican candidate. Lunderville told Seven Days he's hoping Phil Scott will run, but he will "certainly consider it" if the lieutenant governor does not.
For now, though, he's committed to his current role — and he comes off as a fully converted energy geek. Building on BED's green reputation, Lunderville argued that there's plenty more to do to cement Burlington's status as "one of the most sustainable cities in America." His goals include putting solar panels on thousands of homes and finding a use for the waste energy that escapes the city's biomass plant.
First, though, BED is going after some high-hanging fruit in the realm of energy efficiency. This week, it's teaming up with Vermont Gas to unveil a program that offers unprecedented discounts to get Burlington landlords to upgrade their buildings.
Rental units have been "one of the hardest nuts to crack," according to BED energy services director Chris Burns. For years, the utility has worked with big customers — the 20 largest consume 50 percent of the electricity in the Queen City — to cut demand. Plenty of homeowners have also taken advantage of efficiency incentives offered to residential customers.
The utility has had less luck winning over Burlington's landlords, who control 10,000 rental apartments, or 60 percent of the city's residential properties. It's the same story all around the country, according to BED's Burns. Vermont Gas CEO Don Rendall agreed that this market has been "a challenge to penetrate."
As Burns described them, many of Burlington's rental properties are "old Queen Annes that got chopped" into several units. Historic homes are notorious for wasting energy. Typically they are poorly insulated, with outdated heating systems. And in many cases the person who owns the building isn't paying the utility bills. That means he or she has little incentive to invest in costly efficiency upgrades.
In an effort they've dubbed the Energy Champ Challenge, BED and Vermont Gas are offering Burlington landlords a deal that they hope will be too generous to turn down. After providing a free energy audit, Vermont Gas will pay 75 percent of the cost for weatherization and heating equipment. At the same time, BED will offer a number of free or subsidized electricity upgrades — ranging from replacing light bulbs to refrigerators. Instead of having to deal with the companies separately, landlords can one-stop shop. The upgrades will increase property values, which should make them appealing to owners, Burns said. For their part, renters should see lower utility bills.
"You gotta be crazy not to take advantage of this," said Stu McGowan, who owns nearly 50 properties in the Old North End, almost all of which are painted in multiple, exuberant hues.
Marc Jacobs, a Burlington landlord since 1983, had the same reaction. "I mean, wow, how could you not do that?"
Jacobs and McGowan were early adopters of energy-efficiency measures and have already retrofitted their buildings. The question is: How can Vermont Gas and BED convince the landlords who've been dragging their heels?
In parched California, people have taken to social media to "drought shame" those who waste water. BED and Vermont Gas plan to use those channels and other tactics to do the opposite: extol energy-efficient landlords.
They've hired Gametheory, a local company that designs games, apps and "engagement strategies," to call attention to the program. Participating landlords — who will be the so-called "Champs" — will get a lake-monster-shaped seal to place on their buildings.
Lunderville thinks the lively marketing will win people over. "Energy efficiency is a very unapproachable term, and we want to make it approachable for all Burlington customers," he said.
They're also going to reach out to them the old-fashioned way — with phone calls and snail mail. The goal is to get at least 50 landlords to sign up. Using information from the city assessor and their own billing records, BED will first target those rental properties that consume the most energy.
The efficiency plan has Lunderville's fingerprints all over it, but the new GM emphasized he deserves no credit for BED's headline-grabbing achievement last year of using 100 percent renewable energy; he came on board as the utility was purchasing the hydropower plant that enabled it to meet the goal. Lunderville nonetheless spoke proudly of the accomplishment, saying that it would be "impossible for me to overstate" its significance.
Several environmental experts have suggested otherwise, including Sandra Levine, a senior attorney with the Conservation Law Foundation. "Simply using accounting measures to make claims about clean energy doesn't get us there," she told the Associated Press after BED's landmark announcement.
Levine was referring to BED's buying and selling renewable energy credits, a widely used and accepted practice, but one that had been the source of some questionable claims by utilities.
Using the company white board, Lunderville explained that he wants to wean the city off the credit transactions, not because they are unsavory, but because he sees a change coming in REC markets.
Today, BED can sell RECs high and buy low, which nets the utility roughly $10 million from those transactions annually. That cash infusion is one of the reasons the electric department has been able to avoid raising rates for the last six years. But Lunderville predicts that as more renewable energy projects are created in New England, the supply of credits will increase. That will drive down prices and make it harder for BED to make a profit from its REC sales.
Currently, solar power makes up only 1 percent of BED's portfolio. Lunderville wants to increase that share significantly. The goal, he said, is to get "literally thousands of homes generating electricity so that they are using it for themselves and feeding it back into the grid." He said that will require finding better ways to store solar energy and making sure customers actually recoup the cost of installing the panels.
Lunderville is also interested in resurrecting an idea that has been around for years. BED owns half of the McNeil Generating Station, a large biomass electricity-generation plant located in the Burlington Intervale. Identifiable by its single powder-blue smokestack, the plant supplies roughly 45 percent of the city's electricity.
It also generates periodic criticism from people concerned about the air pollutants resulting from combustion and about the sustainability of current wood harvesting practices. One of the biggest complaints is that only a fraction of the energy from the burned wood is actually converted to electricity; the rest escapes as waste heat.
Multiple studies have tried to determine whether it would make financial sense to capture that energy and distribute it directly to large institutions, such as the University of Vermont, through a district heating system. Working with a citizen-led group called BURDES, or Burlington District Energy Service, BED is building a financial model that seeks to deliver a definitive answer. Lunderville got animated while talking about the project's potential.
But he was also careful to note that BED wouldn't get too bold. Alluding to Burlington Telecom, the municipal telecommunications provider that has only recently dug itself out of a deep financial hole, Lunderville said that the project would be shelved if it's deemed a risk to taxpayers. "We are very sensitive about big projects ... the mayor has been very explicit about that."