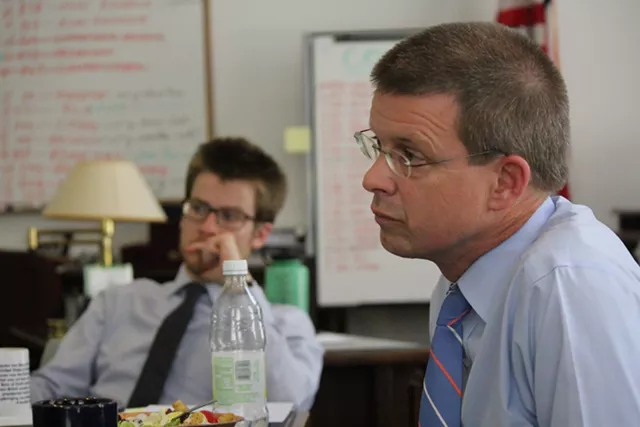 Paul Heintz
House Speaker Shap Smith addresses reporters last Friday in his Statehouse office
As he picked at a salad last Friday afternoon in his Statehouse office, House Speaker Shap Smith (D-Morristown) reflected on his inability to answer a question earlier that day on Vermont Public Radio's live call-in show, "Vermont Edition."
Between bites, Smith told a handful of reporters that it'd been "embarrassing" to admit to VPR host Bob Kinzel that, "I don't know anything about the privacy bill."
The lapse could be forgiven. With eight days remaining in Vermont's legislative session — not to mention Smith's eight-year tenure as speaker of the House — the guy had a lot on his mind.
"I think it had something to do with drones and license plate readers, but I had no idea what it did with regard to those two things," he joked. "And I'm like, 'Bob, why the fuck are we talking about a privacy bill?'"
Like the flip of a switch, Smith's tone turned serious.
"You know? It's just like, we have a $5.5 billion budget out there, right?" he said. "And what are we talking about? We're talking about pot. We're talking about privacy. And we're talking about independent contractors. We're not talking about one-sixth of the state's economy."
Such mini tantrums are not unusual this time of year in Montpelier. As the hourglass runs out of sand, legislative leaders must finally face the decisions they've been dodging for the past four months. In Smith's case, the toughest of those has been whether to legalize the sale of marijuana.
For most of his 14 years in the House, Smith resisted efforts to liberalize the state's drug laws. So when he signaled last summer a new willingness to consider legalization — around the time he joined the gubernatorial race — most assumed his evolution had been motivated by politics. He confirmed that assessment when, after dropping out of the contest last fall, he grew cold to the concept once more.
Last Friday, Smith found himself in a box. He was again eyeing a statewide Democratic primary — this time for lieutenant governor — and he knew he'd be competing against the legislature's most outspoken proponent of marijuana legalization: Sen. David Zuckerman (P/D-Chittenden).
Further complicating matters, Smith had to decide how to handle a looming floor vote on a Senate-passed bill that would legalize marijuana in 2018 and regulate its sale across the state. The bill had been languishing for weeks in a series of House committees, but now the Senate had attached its text to an unrelated bill and sent it back over — forcing the House's hand.
Zuckerman took the opportunity to goad his could-be opponent on Twitter.
"VTers support legalization & I'm sure @ShapSmith agrees people deserve to know where the House stands," he wrote Friday morning.
Smith had had enough. He was convinced that the Senate bill — which passed the upper chamber in February by a vote of 16 to 13 — would go down in flames on the House floor. And letting such a vote go forward, Smith argued, could set back legalization for years.
"I said two days ago that I didn't think the votes were there and didn't think that it was a good idea," he told reporters in his office. "And I still think it's a bad idea."
But he'd decided to put it to his members on Monday anyway.
"People have misinterpreted [the House's deliberative approach] as a desire to stall or kill the bill, and I just don't think that I want that misinterpretation out there anymore," he explained. "So if people want a vote on it, then they're gonna get it."
Smith and his deputies spent the weekend trying to hammer out a compromise they thought their caucus could support. Similar to a version that had passed the House Ways and Means Committee in April, it would instead decriminalize the cultivation of up to two marijuana plants, reduce fines for possession and establish a commission to study legalization. (Possession of up to an ounce of pot has been decriminalized in Vermont for three years.)
But even Smith's compromise was too much for some House Democrats. By Monday morning, the speaker still wasn't sure whether he had the votes.
"I would count this as one of the most difficult issues I've had to deal with in my time as speaker, as far as bringing some consensus to a way forward," he said as he prepared to gavel in the House for its final week in session. "People have such varying views on what is appropriate for marijuana policy that it's almost impossible to get a majority moving in the same direction."
According to Zuckerman, Smith had only himself to blame.
"He now finds himself in a difficult position where he would like to see it move forward, but he didn't prepare the House members as well as they could have been prepared," the senator from Hinesburg said Monday morning.
The speaker didn't have much backup.
Though Gov. Peter Shumlin had identified legalization as a top priority for his final session in office, he was nowhere to be seen Monday at the Statehouse, where he could have pulled members into his ceremonial office to cajole a vote out of them. Instead, he was hobnobbing with U.S. Sen. Patrick Leahy (D-Vt.) and a special guest — U.S. Sen. Cory Booker (D-N.J.), a rising star and vice presidential prospect — at a Burlington forum on criminal justice reform.
"The governor has been working for months to move this issue forward, and he continued working on it this weekend and today," Shumlin spokesman Scott Coriell said, declining to provide details.
By 8:30 p.m., Smith's team had settled on the language of its "decrim" amendment, but it still hadn't wrangled enough votes.
"We're gonna postpone," Rep. Kate Webb (D-Shelburne), the majority whip, told reporters after emerging from a closed-door meeting in the speaker's office. "We're talking about marijuana ... So it's not something that you throw at people at night when they're tired."
Asked if the delay was an admission that he'd failed to convince his caucus, a testy and tired Smith responded, "I don't think I've ever said that we had the votes."
That was put to a test late Tuesday morning, when Rep. Chip Conquest (D-Newbury) stood on the House floor to offer the Smith-approved compromise amendment. But first, Conquest made a motion to strip the bill of the Senate-passed legalization language.
Rep. Chris Pearson (P-Burlington), who had fought for years to legalize pot, made one last stand.
"Why does the legislature feel comfortable sitting at dinner, enjoying a glass of wine and telling us that we may not enjoy cannabis? That is the question constituents ask me over and over," the Burlington Prog said. "Enjoy your chardonnay and frown on cannabis? It doesn't make much sense."
Frown they did. The House voted 121 to 28 against the Senate-passed legalization provision.
Smith, it seemed, was right about his caucus: They just weren't into it.
Mere minutes after the vote went down, Pearson made clear that legalization was destined to become an issue in the Democratic primary for lieutenant governor. A Zuckerman ally, he took to Twitter to tweak Rep. Kesha Ram (D-Burlington), his district-mate and another candidate for LG.
"Surprising to see @KeshaRam vote against legalizing small quantities of #cannabis. What's up?" Pearson wrote.
Rep. Don Turner (R-Milton), the minority leader, made his own attempt to hitch the issue to the coming election season. He offered an amendment that would scuttle Smith's decrim compromise and replace it with a nonbinding ballot referendum asking whether voters, in fact, support legalization.
"You guys wanna know if Vermont wants it legalized?" Turner asked his colleagues. "Put your money where your mouth is. Vote for my amendment. This will give us an opportunity to say to Vermont: We care what you have to say."
It was a clever ruse, given that Smith himself had only last week floated the notion of a referendum. But as Rep. Jean O'Sullivan (D-Burlington) pointed out, Turner wanted his pot question added to the primary election ballot in August, not the general election ballot in November. With fewer people voting — particularly college students focused on the fall's presidential election — a summertime referendum would probably fare worse.
"I can't take it seriously," O'Sullivan said of Turner's proposal. "We are looking at an amendment geared specifically at the lowest-turnout election in the middle of August."
It failed on a vote of 51 to 97, with most Republicans supporting it and most Democrats and Progressives opposing it.
Then the debate took a surprising turn: Rep. Sarah Copeland Hanzas (D-Bradford), the majority leader, sought to divide the compromise bill, which she had been encouraging her colleagues to support, into two parts: One would have the controversial cultivation language; the other would include just the commission and prevention efforts.
It was a clear sign that Smith and his fellow Democrats didn't have the votes to pass even their watered-down proposal — and wanted to send at least something back to the Senate.
As the debate dragged on into the late afternoon, fate — or hypocrisy — intervened to prove Pearson's point. The speaker called a brief recess so that members could take a stroll down the hall and sip Champagne at the retirement party of longtime committee assistant Shirley Adams.
Standing in the Statehouse's Cedar Creek Room, many of those who had just voted against the use of one drug openly partook in another.
The booze seemed to go to at least one member's head: When the House returned to the floor, Rep. Job Tate (R-Mendon) asked to refer the bill to the House Agriculture Committee, arguing that it ought to determine whether the cannabis plant might, in fact, be an invasive species.
"There's a reason we call it weed," he explained.
After the House opposed his recommendation by voice vote, Tate rose again to say, "Mr. Speaker, they call that a 'hail Mary Jane.'"
Smith's own "hail Mary" — to appease marijuana advocates by allowing the cultivation of two plants — fared little better. The compromise amendment for which his leadership team had spent days whipping votes failed 70 to 77.
Rep. Tony Klein (D-East Montpelier) rose to express his indignation.
"Disappointing outcome," said Klein, who is retiring from the House after 14 years. "So much for Vermont's reputation as a liberal state. Continuing to label Vermonters as criminals for small use and possession of weed — that's pot — is backward and outdated policy."
In the end, all that remained in the bill was a commission to study legalization, a directive to focus on prevention and new prohibitions on driving while high. To make it to the governor's desk, even that would have to meet with approval from the Senate in the closing days of the session — no sure thing.
Shumlin, for whom the vote was an even bigger failure than Smith, quickly lashed out in a written statement.
"It is incredibly disappointing ... that a majority of the House has shown a remarkable disregard for the sentiment of most Vermonters who understand that we must pursue a smarter policy when it comes to marijuana in this state," the governor said.
Smith can now turn his attention back to that $5.5 billion budget. But if he ends up running for lieutenant governor, you can bet that he'll have to answer for the House's inaction.
"It was a debate from the dark ages," Zuckerman said Tuesday evening. "I think, overall, [Smith's] effort leading this was too little, too late."