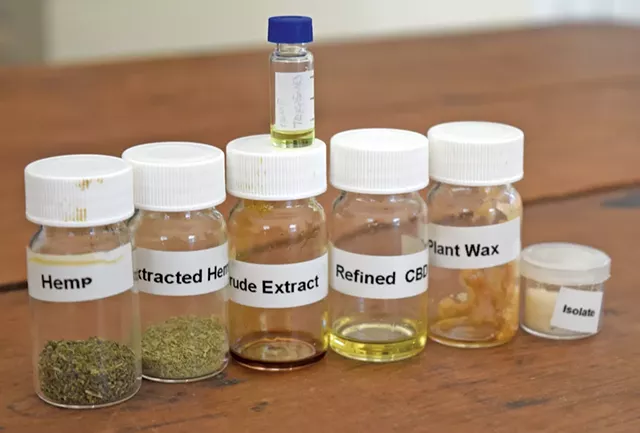 Terri Hallenbeck
Samples of extractions from hemp
The modest yellow farmhouse off Route 2 in Waterbury looks more like a residence than a research facility. But inside the unmarked two-story building is a state-of-the-art laboratory. It's HQ for PhytoScience Institute, a four-person operation whose founders hope to help transform today's haphazardly evolving cannabis industry into a results-producing, science-driven one.
"You walk into this farmhouse and ... into the 22nd century," said Willy Cats-Baril, the company's chief executive officer.
Cats-Baril, 62, hopes studies conducted on the premises will one day allow him to patent cannabis products that effectively treat ailments such as sleeplessness, anxiety and pain. Medical cannabis is advancing by leaps and bounds, but scientific specificity is lacking, he said. He launched PhytoScience three years ago to provide rigorous testing of medical marijuana products.
"Our dream here is to come up with a formula that is like Advil, that is like Tylenol," he said. "You know every pill has what the bottle says it has. You know whether to take one or two or three Advil."
Now Cats-Baril will have a better chance to research, grow and sell his own products, created to his specifications. In September, PhytoScience won the state's fifth medical marijuana dispensary license, beating out four other applicants for permission to operate two outlets, in Bennington and St. Albans.
The company is one of two major labs in the state that cannabis growers use to test the potency of their marijuana and cannabidiol, aka CBD, products. The other, Champlain Valley Dispensary, recently invested in new equipment to process hemp and make CBD oil, said executive director Shayne Lynn.
But Lynn, whose company operates medical marijuana dispensaries and CBD shops in Burlington and Brattleboro, said he doesn't view PhytoScience as a competitor. Instead, Lynn applauded Cats-Baril for bringing scientific expertise to the field, saying that there is plenty of need for it in the medical marijuana business.
Cats-Baril doesn't wake up every day and put on a lab coat. An associate professor at the University of Vermont Grossman School of Business since 1982, he has decades of experience teaching business management practices, including in the health care industry. He also conducted research — on suicide among hospital patients — and founded a company that developed systems for diagnosing back pain.
Now with PhytoScience, Cats-Baril has tapped into a growing business of verifying tetrahydrocannabinol, or THC, and CBD levels in hemp cultivated by registered producers in Vermont. PhytoScience charges $64 to test each sample for a variety of compounds.
While medical marijuana in Vermont has some testing requirements, hemp-based products currently don't. Creating such standards is one of Cats-Baril's main goals.
Joel Bedard, chief executive officer of the Vermont Hemp Company, does some testing in his own lab. But he uses both PhytoScience and Champlain Valley Dispensary for third-party verification. Because of federal restrictions, Vermont medical marijuana and hemp producers can't ship their products out of state for testing.
That means both PhytoScience and Champlain Valley Dispensary play a vital legitimizing role, Bedard said. He anticipates using the new lab's seal of approval on upcoming CBD products bearing the Vermont Hemp Company label.
Bedard said PhytoScience's scientific approach could put the lab in a strong position to compete nationally as legal marijuana spreads to more states — by setting up satellite operations or subcontracting to local operations.
"They're going into full-on clinical research," Bedard said. "I see much more expansion opportunity for Phyto."
Terri Hallenbeck
Eric Kawka working with cannabis-testing equipment
During a tour of the business last month, PhytoScience laboratory operations director Eric Kawka pointed to a chart on the wall in the kitchen of the company's farmhouse facility. It revealed the results of a study to determine the accuracy of labels on CBD products. PhytoScience tested 24 commercially available products from Vermont and national companies.
Of the 15 national brands of capsules, tinctures, cartridges and concentrates tested, 11 were labeled accurately for potency, the tests showed. Three products had fewer milligrams of CBD than the label promised; one had more.
In contrast, of the nine Vermont products tested, only one was accurately labeled. Five had less CBD than promised, and three offered no information at all. The results indicate that producers in Vermont's relatively new CBD industry are still working out the kinks — and that testing is needed.
Kawka, a ponytailed 28-year-old chemist who wore a plaid flannel shirt under his white lab coat, said the potency of CBD oils is highly variable. "What we're trying to kind of encourage people [to realize] is, you need a test," he said. "Maybe people think there's a master recipe. There's never a master recipe."
Because marijuana is illegal under federal and state law, Cats-Baril has partnered for the last four years with the Vermont Patients Alliance, which operates one of Vermont's medical marijuana dispensaries. By working with the alliance, PhytoScience has been able to legally test the drug under Vermont law. Even as Cats-Baril prepares to open his own dispensary, he said that Vermont Patients Alliance would continue to use the PhytoScience lab for testing.
While many others involved in the medical cannabis field have their eyes on eventual legalization, Cats-Baril said he doesn't give the bigger business of recreational pot much thought. "We believe in the mission of the medical cannabis program," he said. "A lot of investors are positioning for legalization. That's not our mission. Our mission is medical."
Cats-Baril is convinced that cannabis can replace some harsher drugs, a hypothesis he wants to prove scientifically.
"My interest is driven by the social problem of opioid use and abuse. It is a social problem of major proportions," he said. "We should be scandalized by what's going on in this country."
Cats-Baril said PhytoScience, funded to date by friends and family, is looking for more investors. But he insisted he wouldn't take just anybody's money.
"We want to keep it among Vermonters," he said. "We believe the Vermont brand is going to give whatever product we generate an aura of purity. We would like to have investors who share that value."
PhytoScience will operate as a for-profit dispensary, a first in the state after lawmakers this year removed a requirement that licensees register as nonprofits. The company plans to open a dispensary in downtown Bennington in February and another in St. Albans shortly thereafter, Cats-Baril said. To get those operations up and running as quickly as possible, he plans to work with existing ones.
Cats-Baril has an agreement to buy a variety of marijuana products from Vermont Patients Alliance and Champlain Valley Dispensary until the spring, by which time he expects PhytoScience to be growing its own plants and producing its own tinctures, capsules and other products. He said he might also turn to those operators for advice on the logistics of a medical marijuana business, which remains illegal under federal law.
But Cats-Baril said PhytoScience also has its own very specific plans for operating the two new dispensaries, which will focus on tracking the effectiveness of individual medical marijuana products. Using its proprietary assessment plan, PhytoScience will ask patients to document whether the item they are using improves their ailments, including what time of day it's most effective and the amount of relief, he said.
"What we think we're going to do is spend a lot of time matching symptoms to product," he said. "The emphasis is going to be on the outcome."
If it bears out, he could determine exactly what levels of THC are effective in treating a specific ailment, then grow a strain of marijuana that yields precisely that amount of tetrahydrocannabinol.
"Having a license allows us to grow our own genetics," Cats-Baril said. "If you find the right combination that helps insomnia, you can grow a cannabis plant that comes as close as possible to that formula naturally."