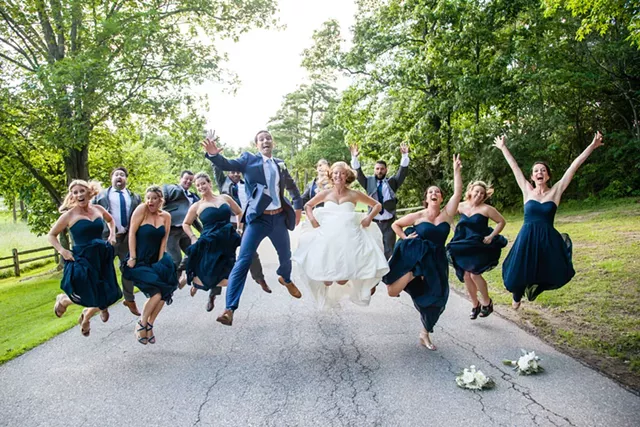 Photo Courtesy of Ben Hudson Photography
Whitney Henault and Josh Narrow were counting down the days until their wedding, scheduled for April 25 at the Catamount Country Club in Williston. The couple, who live in North Woodstock, N.H., had been talking for two years about getting married and planning the event for 14 months, Henault told Seven Days by phone. Then came the coronavirus. And just like that, all early spring weddings — along with every other human gathering — were out of the question.

"I was really upset at first," Henault said. "We were less than 60 days out." But, accepting the new reality, she and Narrow quickly scrambled to secure a new wedding date. "We began calling in late February/early March," she said. "We just happened to switch early, and all our vendors were able to switch, too. In the end it took us two hours to reschedule everything." Their new date: July 11.
Not everyone will be so lucky. Given current official projections for "flattening the curve" of the COVID-19 pandemic, it will be a while before happy couples can make their way to a chapel, resort, inn or barn for their idyllic Vermont nuptials. And those holding out hope for their original booking in May, or even June, might find themselves having to look at 2021 instead.
To be sure, some couples opt to utter their vows for a justice of the peace, two friends and their dog in their backyard, then light up the grill. But for many others, weddings represent a huge investment of time and money. Multiply that by 5,500 — the average number of weddings per year in Vermont — and the math barely begins to convey the importance of matrimony to the state's economy.
Vermont's wedding industry brings in more than $160 million annually — a figure that varies by source and some consider conservative. According to online index the Wedding Report, 5,665 weddings took place in Vermont in 2019. That site indicated the average cost was $28,936, though some weddings in the state easily hit six figures; Stowe-based Nancy Jeffries-Dwyer, owner of NJOY Event Planning, works with couples who drop $100,000 to $400,000 on their very big day.
2020 looked like "a banner year," said Jeffries-Dwyer, who also serves on the board of the Vermont Association of Wedding Professionals. "My entire industry was flooded." Even so, like many in the wedding biz, she was already booking into next year before the world had ever heard of COVID-19.
What none of the wedding-cost estimates can accurately determine are the ancillary expenditures by wedding parties and guests (average number: 140) during their stay in the state — at least one night and often two, three or more. Think hotel rooms, dinner and bar tabs, tips for servers, retail shopping, recreation such as golf, even snacks purchased for the road trip back home.
The collective revenue that Vermont stands to lose from multiple postponed weddings is incalculable. However, there is one good thing: It's still early in the year. Prime wedding season in Vermont is July through October. The financial forecast would be far worse if the governor's stay-at-home mandate were to linger into the summer.
The bad thing? No one yet knows that it won't.
"It's been an exciting time," said Carmine Cole with a wry chuckle. He's the private function director at Hildene in Manchester. The elegant mansion and grounds once belonged to Robert Lincoln, son of president Abraham Lincoln, and the historic estate is a destination for tourists and celebrants alike. Hildene books "about 30 weddings a year, mostly between Memorial Day and Labor Day weekend," Cole said in a phone call last Friday. "Yesterday, eight weddings all at once postponed to late in the year or next year."
At Hildene, he pointed out, "it's almost impossible to go too late because we're an outdoor venue."
Cole, who said he's been in the hospitality business 30 years — three at Hildene — was philosophical about the impact of the pandemic and the unexpected changes to life plans. "It's out of our control; we just have to roll with it and see the positive," he said. But he also acknowledged that "everyone is anxious because they don't know what's happening. It will test the mettle of these couples."
Wedding professionals are in the business of girding that mettle — catering to the concerns of brides, grooms and often their parents. "My job, essentially, is to be a cheerleader," said Jeffries-Dwyer. Even in normal times, her clients can experience turbulent emotions. But now, "All of a sudden it's like a Mack truck [hit them]," she said.
Of 20 weddings she's booked this year, five were in June, Jeffries-Dwyer said. Three of them have rescheduled for September, one canceled and one has moved to 2021. "One of the interesting, creative things we're doing is convincing people that getting married on a Thursday or Sunday isn't so bad," she noted with a laugh. There are only so many Saturdays in wedding season, after all.
At Trapp Family Lodge in Stowe, wedding coordinator Saunie Sirch said that uncertainty caused by the pandemic has left the venue operating "really day to day." Three May weddings are still on the books, she reported last week.
In one instance, "they are all coming from Chicago and have guests from Australia," she said. "They are hanging on to that." In another, "a 100-person tented event, the groom is in the [National] Guard and family is in Canada." In yet another, the bride would be coming from France. Or not. "I think May and June are just not going to happen," Sirch said.
Aside from disappointed wedding parties, she worries most about workers whose livelihoods depend on these events. "The guy who sets up the wedding — he's not going to have a job," Sirch lamented.
Indeed, rescheduling a wedding isn't the only challenge for the multiple vendors — caterers, photographers, florists, bands and DJs, makeup artists, limo drivers, tent companies, and many more — who are primarily self-employed individuals and small businesses. For them, a wedding moved to a future date is lost revenue in the present. And if a vendor can't oblige a rescheduled date, that income is lost altogether.
"Any vendor is trying to get people to not cancel but postpone," said Ben Hudson. The Shelburne-based photographer does family photography — "newborns, engagements and random things" — and shoots about 15 weddings a year. His first scheduled wedding this year, on May 23, hasn't canceled so far. Right now, though, vendors "are getting booked a lot earlier for 2021," he noted.
Hudson predicted the pandemic will leave its mark on the wedding industry "for some time to come." And next year, he added, people might be going for less extravagant events — an additional repercussion for vendors.
Newton Wells is the owner of Stowe-based Peak Entertainment, a business he launched 24 years ago that employs 12 part-time workers. He said 99 percent of his business is deejaying wedding receptions. Like others in the industry, Wells reported that most of his clients have postponed their weddings to later in the year or to 2021. Three "are still planning on their May dates," he said, yet half of his gigs in June have evaporated.
Wells, a board member of Vermont Association of Wedding Professionals who said he knows the state wedding industry "like the back of my hand," surmised that "some of these weddings depend on liquidity. If Mom and Dad just lost 30 percent of their retirement funds, they may not want to spend [the same amount] on a wedding." But he was more optimistic about travel to Vermont once the ban on congregating is lifted.
"We've always catered to the out-of-state, destination wedding," Wells said. "But most [guests] are within a day's drive. That's encouraging; that might bode well for us. It's always been good for Vermont to be in proximity to the large metro areas."
In other words, if people are still nervous about getting on planes, they can pile into the car.
Abbey Duke, founder and CEO of Sugarsnap catering in Burlington, also reported wedding gigs deferred by months. "We've adjusted our payment schedule," she said. "Usually 50 percent is due three months before the wedding. Now, we don't know if they can do it."
Echoing Jeffries-Dwyer, Duke also observed a shift in wedding bookings as demand has grown for later dates. "The joke in the industry right now is, 'Thursday is the new Saturday,'" she said. But more to the point, the challenge is to find dates on which six or seven or more chosen vendors can all agree.
"It's like musical chairs here," said Judy Risteff, founder of the Vermont Wedding Association, which produces several bridal shows a year around the state. She's been fielding calls from anxious brides and doing her best to "get availability" from venues and other vendors.
VWA's March 29 bridal show was not canceled but postponed, Risteff said, firmly exuding positivity. "We're trying to stay as upbeat as possible," she said. "We want to keep those brides coming."
Risteff is not the only wedding professional who refuses to let the pandemic win. "We'll get through it somehow — I think that's where everyone is coming from," said Sirch of Trapp Family Lodge. "This is a time for us to help each other."
Jeffries-Dwyer pointed out that the roaring twenties followed the 1918 flu pandemic. "This is the new roaring twenties," she said. "We are going to get through this, and everybody will want to party."