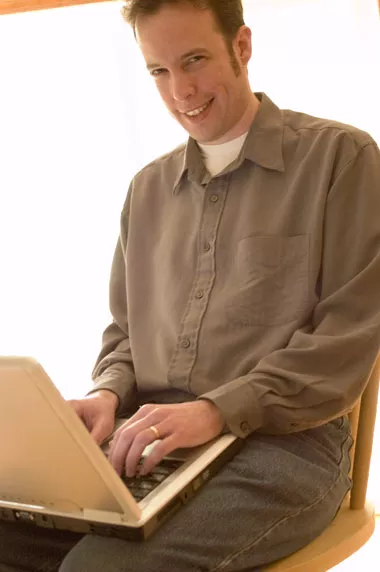 Matthew Thorsen
Steve Benen, at work
Looking for the latest update on mid-term poll numbers or a trenchant analysis of the Bush administration's scandal du jour? Try "The Carpetbagger Report." It's gotten the attention of John Kerry and the Clintons.
Steve Benen's incisive and increasingly popular political blog summarizes and dissects national news from a partisan, liberal perspective. On Sunday, September 24, for example, while much of America was at church, Benen was sitting in front of his computer, writing about George Bush's most recent talk-show appearance.
Even before CNN had posted the show's transcript, he was weighing in. Benan wrote, "George W. Bush appeared on 'Late Edition with Wolf Blitzer' this afternoon and made one of those stunning remarks that could - or rather, should - become a political problem for the White House."
Though the 33-year-old writer draws much of his content from inside the Washington, D.C., Beltway, Benen works from home on a quiet suburban street in Essex Junction. Location isn't holding him back; in the digital age, it doesn't matter where he plugs in his laptop.
As the 2006 elections heat up, this prolific political scribe is hitting his stride, making his living writing for tens, sometimes hundreds, of thousands of readers a day. Now other pundits and notable Democratic politicians are taking notice.
It's a strange turn of events for a guy who started blogging three and a half years ago when he couldn't find a job. "It's definitely surreal," Benen concedes in an evening interview. At 8 p.m., Benen's already had a long day - he's at his computer each morning by 5:30 - but he answers questions so effortlessly and articulately that you'd think he'd just had his first cup of morning coffee.
The lanky, earnest blogger sits in a swivel chair in his work clothes - jeans and a button-down shirt. On the computer screen behind him, the email inbox is open; magazines and stacks of new hardcover books litter his desk. "One of the cool things about what I do is that publishers send me their books for free," he notes.
Benen shares his office with his wife, Eve, who telecommutes to her job with a D.C. consulting firm. The couple moved to Vermont in 2002 from the nation's capital, where Benen earned a Master's in politics from George Washington University and subsequently interned in the Clinton White House Office of Speechwriting. "I did all the photocopying," the self-effacing writer says of his stint at 1600 Pennsylvania Avenue. "I never actually wrote any speeches."
Benen left a job in the communications department of the nonprofit Americans United for Separation of Church and State to come to Vermont. He had hoped to land a position with the state Democratic Party, or possibly with Howard Dean's presidential campaign, but there weren't as many openings for liberal political operatives in Vermont as he had hoped, so he spent a lot of time talking politics at home.
"I'd frequently go on these rants around the kitchen, complaining about one thing or another," Benen recalls. "Eve encouraged me [to blog]. She said, 'You should write all this down. Maybe other people would want to read it.' And I thought, 'Why in the world would they want to do that?'"
On February 24, Benen launched "The Carpetbagger Report." The name refers to a group of Northern businessmen and politicians who moved South after the Civil War; Benen, a native Floridian, is a sort of carpetbagger in reverse.
Benen started with just a handful of readers, but his audience quickly expanded. It's still growing - July was his best month for web traffic, followed by another record-breaking month in August. "Carpetbagger" is now netting around 12,000 readers on an average day. That's not much compared with sites such as "Daily Kos," which draws more than twice that number every hour, but it's enabled Benen to charge for ads. Other opportunities have followed.
In 2004, "Carpetbagger" caught the eye of Peter Daou, who directed blog outreach for the Kerry-Edwards campaign, and edits the "Daou Report," a blog digest at Salon.com. Daou added Benen as an editor at the "Daou Report" in February of this year. In August, when Daou began a leave of absence to work as Hillary Clinton's blog advisor, Benen took his place as editor-in-chief.
Benen also scored a gig as the lead contributor to "Midterm Madness," the 2006 campaign blog at The American Prospect. And he's frequently tapped to contribute material at sites such as the "Huffington Post" and "Crooks and Liars," listed by rankings site Technorati as the Internet's sixth and 11th most popular blogs on the web.
Kevin Drum, who blogs for the Washington Monthly, often asks Benen to fill in for him when he's on vacation. "My readers love him," he says. Drum enjoys Benen's writing, too. "I've been a big admirer of Steve's for a long time," he offers. "He covers practically the entire political scene and always seems able to get straight to the heart of what's going on - and he does it calmly and surgically."
Benen's blogging work has also started leading to print assignments. He wrote a story for The American Prospect a few weeks back musing about reports that President Bush had been reading Camus' The Stranger. New York Times columnist Maureen Dowd ended up quoting from the article in her column.
So what's Benen's secret? He admits his Washington background has been helpful in interpreting the news, but he downplays its importance. Really, he says, his success comes from a lot of hard work. He reads nine newspapers a day - all online - plus half a dozen magazines and countless blogs.
He synthesizes all that information into an average of 10 posts a day on weekdays - more than 5000 words on September 22 alone. And that's just on "Carpet- bagger." Add that to all of his other assignments and you've got a staggering workload; Benen puts in at least 12 hours a day Monday through Fridayand another several hours over the weekend.
"This is not a hobby," he explains. "This is not just a fun little thing on the side where I can share my opinions. I feel like this is more of a professional project."
Benen notes that it's finally started to pay him enough to "supplement" his family income, but the rewards aren't just monetary. He's also started getting phone calls from well-known Democratic politicians, including Hillary Clinton and Kerry.
Benen doesn't blog about these conversations, and he's not eager to give a blow-by-blow account to a reporter. "I hesitate because I'm not quite sure what the ground rules are," he says politely but evasively.
But he will say that the talks are mainly policy-oriented. The pols seem to want him to know where they stand - not surprising considering how instrumental bloggers have become in framing the debate over the issues of the day. "The conversation I had with John Kerry was exclusively about Iraq," Benen recalls. "That day, he happened to have an op-ed in The New York Times about his own plan for Iraq, and we had a very substantive policy discussion."
Former President Bill Clinton has also expressed interest in Benen's work. On Tuesday, September 12, Benen was one of 15 liberal bloggers invited to Clinton's Harlem office.
"It was a wide-ranging conversation," Benen reports. "We talked about foreign policy, domestic policy, politics, communications, the medium. He seems fascinated with blogs, and what we're contributing to the political discourse."
Benen says such experiences make all of his work worthwhile. "There are others who are reading these blogs, and who care about this content. It's not just the activists. It's people in power who care," he says, and who will adjust their opinions based on what's being said. "And that's fascinating," Benen adds. "It speaks to a growing power of the institution of blogs, the medium of blogs. It's exciting to be a part of that right now."