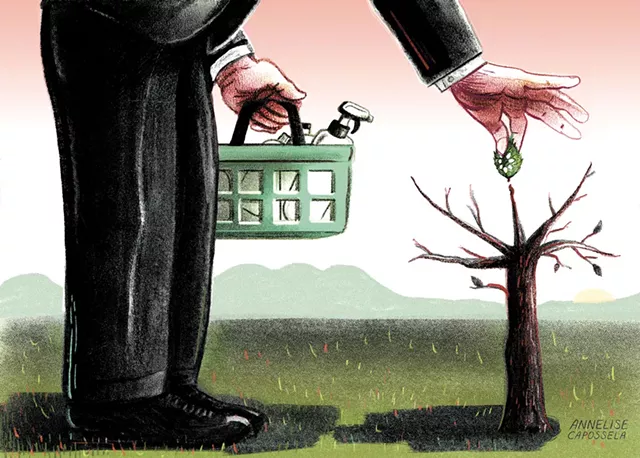 The symbolism was hard to miss last Thursday on Burlington's Lake Street, where a group of Seventh Generation employees lined up in front of the Ben & Jerry's truck parked outside their office. The ice cream company had come to "welcome them to the family," as one bystander in the crowd put it. By "family," he meant the multinational corporation Unilever, which announced on September 19 that it was buying the Burlington-based eco-friendly household products company. Back in 2000, Ben & Jerry's became Unilever's first iconic Vermont acquisition.
In a state that deifies local, it's no surprise that some skeptics — read: commenters on the Seventh Generation Facebook page — aren't cheering the news of yet another corporate takeover of a Vermont company. Some of the state's most promising businesses have gone that way: Green Mountain Coffee Roasters, which rebranded as Keurig Green Mountain, was bought by JAB Holding.* GE Health Care took over IDX Systems in South Burlington. Dealer.com was purchased by Dealertrack, which in turn was bought by Cox Automotive.
Seventh Generation has been a standout employer in Vermont — a green, socially conscious company that treats its workers generously and supports local causes. Huge multinational corporations tend to be less committed to the communities where they operate.
But business types are pointing to the Ben & Jerry's sale as proof that a homegrown company can get bought out without selling out. Are they right? Will Seventh Generation stick around and stay true to its green roots?
Offbeat entrepreneur Alan Newman started the company in 1988 with a mail-order catalog offering energy conservation products. The following year, New York City native Jeffrey Hollender joined Newman and began recruiting investors. When sales began to falter, they developed their own line of environmentally friendly household products, which included beeswax crayons and biodegradable sanitary pads.
In 1992, the two men had a falling out, and, as Newman matter-of-factly described it, "Since he was the one who brought in all the money, I was the one who got to leave." In 2011, the board showed Hollender the door over a disagreement about the leadership and ownership structure of the company.
Today, Seventh Generation has 170 employees and generates about $250 million in annual sales from products including organic cotton tampons, fragrance-free diapers and paper towels made from 100 percent recycled materials.
And while some current and former employees own shares of the privately held company, investment funds control the majority, and their representatives dominate its board. Seventh Generation won't disclose the percentage breakdown, but in 2014, the Wall Street Journal reported that Al Gore's investment fund became the third-largest shareholder by investing $30 million. Other shareholders include San Francisco-based Catamount Ventures and Boston-based Schooner Capital.
Seventh Generation also runs a foundation to support environmental causes, with an emphasis on removing toxic chemicals from consumer products. Since its creation in 2013, the foundation has distributed about $250,000 in grants to Vermont organizations. Last Monday, Seventh Generation employees traveled to Capitol Hill to lobby for a bill that would require makers of household products to list their ingredients, as food and personal care products must; Seventh Generation has done so voluntarily for years.
One hundred and twenty people work in an office that looks out on Lake Champlain. The brick building is sustainable to the extreme — recycled steel, floors made with Bethel slate, walls of homegrown maple. Even the cream in the kitchen is local. During office tours, the first stop is at the "waste diversion station" — a row of recycling containers with one diminutive trash bin at the end.
The elaborate setup calls to mind another famously trash-conscious company. Ben & Jerry's has taken it to another level, building a biodigester that uses micro-organisms to convert ice cream waste into biogas.
When Unilever, one of the world's largest consumer goods companies, bought the quirky ice cream maker for $326 million in 2000, loyal customers were crestfallen. Founders Ben Cohen and Jerry Greenfield weren't happy, either.
Unilever, a public company with headquarters in London, was the product of a 1929 merger between a Dutch margarine company and an English soap company. It's acquired hundreds of consumer product brands and is considered a rival of Proctor & Gamble.
The board of Ben & Jerry's, which had gone public in 1984, won praise for negotiating an agreement with Unilever that established an unusual degree of autonomy.
Unilever let Ben & Jerry's maintain an independent external board that included Cohen and Greenfield to oversee the company's social justice work and brand integrity. It can even sue its corporate parent — at Unilever's expense — for violating the agreement.
Unilever committed to continuing the practice of donating 7.5 percent of profits to the Ben & Jerry's foundation, on top of a $5 million donation. And it distributed $5 million to help minority business owners and another $5 million to Ben & Jerry's employees. The agreement also had safeguards against layoffs. Unilever had to maintain a substantial presence in Vermont for at least five years and couldn't lay off anyone for the first two years.
Even with all those protections, the transition was painful. Several years later, Unilever closed a production plant in Springfield and a distribution center in Bellows Falls, and laid off additional staff at the South Burlington headquarters. About 200 Vermonters lost their jobs as a result, according to Brad Edmondson's book, Ice Cream Social: The Struggle for the Soul of Ben & Jerry's. The independent board clashed with corporate leadership over a number of issues, including the kind of political advocacy in which employees could engage under the auspices of the Ben & Jerry's brand.
Today, however, the acquisition is held up as an example of a "mission-driven" company getting subsumed by a corporation without losing its soul. Under Unilever, Ben & Jerry's expanded internationally, and, as the company has grown, so has its Vermont workforce. Ben & Jerry's recently filed for an Act 250 permit to expand its St. Albans production center, increasing the number of jobs there from 235 to 300. Executives say its social mission is alive and well and has a longer reach.
Did Seventh Generation strike an equally good bargain?
It's hard to know, because the complete terms of the deal aren't being released. But based on what has been disclosed, the arrangement appears to be similar.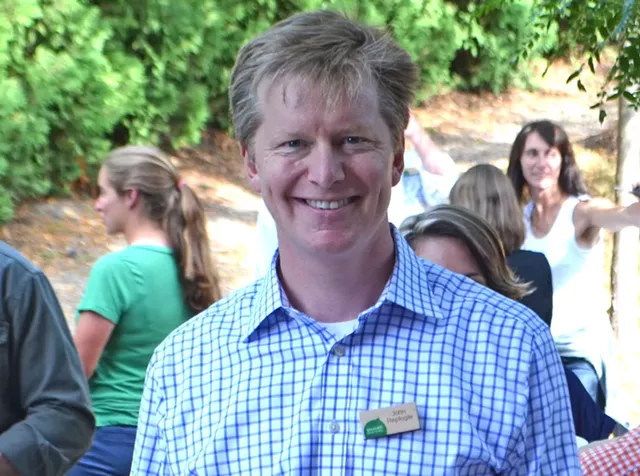 Alicia Freese
John Replogle
As employees ate their ice cream outside, John Replogle sat in a booth in Seventh Generation's cafeteria. The down-to-earth CEO has led the company since 2011. He came from Burt's Bees, which was sold to Clorox during his tenure. Before that, he spent three years as general manager of the U.S. skin care division at Unilever.
Replogle emphasized three points about Seventh Generation's deal: "We'll become a subsidiary, but a semi-independent subsidiary, of Unilever. Two, we're going to be Vermont-based. And three, it's all about values."
To preserve the last of those, Seventh Generation will maintain a "social mission board" similar to that of Ben & Jerry's, he said. Unilever will fund the company's foundation "at a rate higher than we currently fund it, for the next 10 years," according to Replogle, who said he couldn't disclose the actual dollar amount.
Asked if the agreement also contains an assurance that the company will stay in Vermont, Replogle said, "It is written in the agreement. I don't know exactly what it says, but it basically says we will remain a Vermont company." They are looking for more office space in Vermont, he noted.
Replogle listed the advantages of joining Unilever: access to an expansive distribution network, marketing resources, more cost-effective purchasing agreements. He also pointed out that by putting its products on Unilever trucks, Seventh Generation will have a smaller carbon footprint.
Unilever can also help Seventh Generation expand. Currently, 95 percent of its business is domestic. "I'd like to see us in 20 global markets by 2020," Replogle said. And in the U.S., he wants to "truly mainstream the brand," using Unilever's clout to bring products to "consumers who don't know us."
His eventual goal: "Become a billion-dollar brand."
Newman speculated that Replogle could depart after seeing the sale through, but the CEO said he intends to stay.
Two factors could make the transition smoother for Seventh Generation than it was for Ben & Jerry's. Seventh Generation is less likely to push boundaries in its political pursuits than Ben & Jerry's was. And Unilever has become more socially responsible since 2000.
As the world's biggest purchaser of palm oil, it had a lot of catching up to do. After charges that it fueled deforestation across Southeast Asia, Unilever has cleaned up its act under CEO Paul Polman, who arrived in 2009. The company now buys palm oil from places where it's grown sustainably, and it has pledged to become carbon positive by 2030. As corporate overlords go, it is considered fairly benevolent.
The best bellwether may be the reactions of Seventh Generation's two creators. Newman and Hollender, who have feuded over the company's direction, are on the same page this time.
Newman noted that it had always been his intention to take Seventh Generation international. He went on to found Magic Hat Brewing and is now president of a craft brew venture called A & S Brewing.
Although he no longer has shares in the company, Newman has high praise for Replogle, who, he mentions approvingly, is "a beer guy." Earlier in his career, Replogle was an executive at Guinness. Newman added: "In my opinion, John saved the company. He saved the soul of the company, and he saved the finances."
Newman has also been impressed by the approach Unilever took with Ben & Jerry's. "They got off to a rough start, but I know a lot of people at Ben & Jerry's today, and the passion is back, and the mission is back," he said.
Hollender was equally enthusiastic about Unilever. "I couldn't be happier about who they chose to sell it to," he said of Seventh Generation. He praised Unilever's commitment to sustainability and called Polman "one of the most courageous CEOs of any company I know," noting that he's refused to participate in quarterly earnings calls because he doesn't want to focus on short-term growth over long-term investment.
"It's an interesting position for me, because when I was CEO, I was adamantly against selling the business, and I was pretty vocal about that," Hollender acknowledged. He also pointed out that as a Seventh Generation shareholder, he profits from the sale. He said he's not permitted to disclose how much.
Another plus: Unilever asked him to serve on the social mission board, an offer he accepted. "I alone won't set the agenda, but I think that there is a huge opportunity for the company to expand globally, particularly in the developing world, and replace a lot of unsustainable products with more sustainable products."
Polman was in Burlington visiting Seventh Generation during last week's ice cream break — although he didn't partake. In his tailored gray suit, the Dutch executive stood out in comparison to khaki-clad Replogle. Shirtsleeves rolled up, the Vermont CEO showed his new boss around the office. On a tour of the building, the two men paused before a row of plaques recognizing various employees. They were headlined with phrases such as "be a trusted brand," "care wholeheartedly" and "nurture nature."
"These are our values," Replogle informed Polman. In case he hadn't noticed.
*Correction, September 28, 2016: An earlier version of this story contained an error in the ownership history of Keurig Green Mountain.