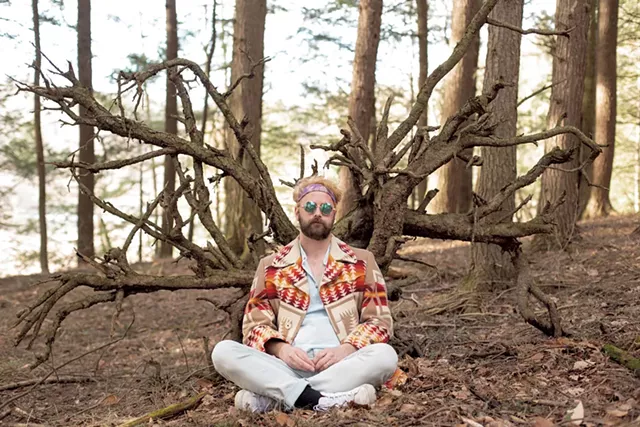 Courtesy Of Brendan Mcinerney
Mark Daly, aka Ernest
"I've always put family and relationships first," singer-songwriter Mark Daly muses on a warm Sunday afternoon. "That's the most important thing to me." The tall, bearded artist sits comfortably in a lounge chair on his deck, his bleached-blond hair glistening in the sunlight. He and his family recently traded the convenience of Burlington for the verdant pastures of Charlotte.
The 33-year-old Vermont native points out his latest home-improvement project in his spacious backyard: a patch of tilled earth and a forthcoming rabbit-proof fence for the budding garden. Daly seems to be enjoying an idyllic life, along with his wife, Lexie, and their nearly 2-year-old son, Alder.
Until late 2018, Daly fronted the psychedelic pop outfit Madaila. In its relatively brief but meteoric run, the band released two albums, The Dance and Traces, and had considerable local momentum. It hosted many extravagant and memorable hometown concerts and had moderate success on the regional and national touring circuits, as well. But Madaila's trajectory changed drastically when Daly, its primary songwriter and creative force, announced his son's impending arrival to his bandmates.
"I'm really psyched to be a dad, and the opportunity presented itself to actually be a stay-at-home parent and be with my son every day," says Daly. "And that was really cool to me. I was up for the challenge."
After about a year of balancing family and band life, including a fair amount of touring, Daly and co. pulled the plug on Madaila. But his artistic juices continued to churn. Now a solo artist (he goes by Ernest, his middle name), Daly continues to make decadent, catchy-as-hell, emotionally charged music. His first release — a mammoth 80-minute, 22-track double album called I'm Gonna Do It (Anyway) — delves into the beautiful mess of thoughts and feelings swirling around his unanticipated transition. He celebrates its release on Saturday, June 22, at the Light Club Lamp Shop in Burlington.
"It seems like that's what I was put on Earth to do," Daly says of writing and performing music. "I've thought about investigating other things and going down other routes, but there seems always to be an underlying tone of: This is what you're meant to do. It's what I'm best at."
Anyone familiar with Madaila will hear the band's legacy in I'm Gonna Do It (Anyway). As a solo artist, Daly continues to utilize dramatic, full-force choruses, playful synth banter, and a juxtaposition of drawn-out vocalizations and rapid-fire lyrics that zigzag through rhythmically intricate patterns. But compared to his previous projects, he adds more club-hopping energy, such as trap beats ("Make Us Famous") and exaggerated pitch correction ("Autotune").
And that's just side A. Side B reels in some of the former's excess and trades it for more contemplative, acoustic-driven pop folk. That's not to say it's a somber affair. In fact, Daly drives home one of the record's most emphatic electric guitar solos halfway through side B in "The Other Side."
Throughout, he waxes poetic on topics such as anxiety, ambition and, of course, fatherhood. Though it's easy to imagine Madaila performing select tracks, such as the funkalicious "Eye Contact," Daly is content with how his new tunes came into the world.
"Right from the get-go, these songs were so personal that it felt like it needed to be a solo record," he says. "Madaila was still together [when I started it], and I felt like I was cheating on the band. Then I was like, 'It doesn't have to be this way. Why should a person have to be tied to one thing?'"
A first for Daly, he tracked and mixed everything himself in his home studio, frequently with a napping Alder perched in the crook of his arm as his free hand banged out chords. Prior to the new album, Daly was no stranger to recording demos. But he'd never personally acted as engineer.
"I'm learning how to do a lot of the things I never had to do in my other bands," he notes. "The business side — even putting my album on the streaming services. I'm figuring out all these new things."
The ambiguity of the album's title is intentional. It can mean many things.
"I'm against a lot of odds — but I'm just gonna do it anyway," says Daly. "I'm gonna do it anyway, even though it's me doing everything, even though, from a business and commercial standpoint, it would've made more sense to just stick with Madaila."
Madaila's demise was, in some ways, reminiscent of how Daly's erstwhile band Chamberlin bid adieu. In the early 2010s, after picking up steam on its home turf, the band was swept away on a huge national tour opening for Grace Potter & the Nocturnals. Though it's unfair to compare the bands and their untimely ends, the déjà vu put Daly in somewhat of a slump.
"There'd be days that I'd be so hopeful, but then other days I'd go into a pretty dark place and feel depressed," he says.
Trying to find equilibrium between one's personal and professional lives is a fairly universal pursuit. But for musicians, whose livelihoods thrive on late-night hours and extended periods of touring, the struggle poses some unique challenges, especially when family enters the picture. While soul-searching during Madaila's later days, Daly turned to some trusted colleagues and musical mentors: Guster's Ryan Miller and Elektric Voodoo's Scott Tournet (of the now-defunct Nocturnals). Both had faced reevaluating their music careers as fatherhood approached.
"Fatherhood is the most massive thing that can happen to you," says Miller. "When you bring somebody into the world, it doesn't matter what you want, really. It's not about you anymore, in a lot of ways. Finding that balance is always really tricky."
"All the bullshit goes out the window," says Tournet. "I used to have all the time in the world to sit there and stroke my chin and ponder the perfect verse and endlessly redo things and go over things. That can be hard in some ways, but I think it's really good. It gives you a kick in the ass."
A double-sided beast, I'm Gonna Do It (Anyway) is daunting. But the album's split structure has a deeper meaning. Given the contrast between side A's pizzazz and side B's restraint, it reflects a kind of dichotomy in Daly's life.
"I can be a really social person and love to be the center of attention," he says. "But I can also be über reclusive."
The record's examination of duality also recalls Madaila's second album, Traces, which pondered the age-old question of nature versus nurture. I'm Gonna Do It (Anyway) explores the push and pull between the head and the heart.
Daly is unsure about what he ultimately wants for his new project. At the moment, he doesn't know if Ernest will take to the road.
"I'm open to doing it again," says Daly. "I just knew I needed to sort of take some space and refind my identity and figure out how this all works. I need to find some balance and some form of tranquility within myself."