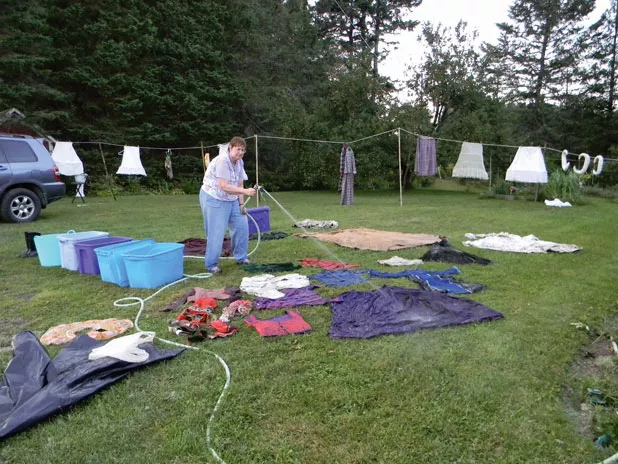 Cleaning costumes after the storm
Without question, Tropical Storm Irene was the story of 2011, almost eclipsing memory of any events that occurred during the eight preceding months of the year. Individual artists, as well as arts organizations and venues, were among those affected by the flooding that Irene wrought. All have their stories, which we're likely to be retelling and updating for months and years to come. In this, the last issue of Seven Days in 2011, we check in with two of them.
*****
On the day after Irene struck Vermont, Queen Elizabeth was a mess — covered with muck from toes to crown. So were all the other costumes in the White River Junction storage room of Revels North, a performing arts group that presents solstice-centric pageants in medieval, Renaissance and Victorian traditions. Though based in Hanover, N.H., the Revels had been storing 35 years' worth of costumes and stage props just across the White River in a Bridge Street facility for the past few years. The space also housed a center for theater craft, shared with other companies in the area, which taught costume and set construction. On August 28, the storm and the river took top billing in an unexpected, historic drama of their own making.
The Revels' set shop and storage spaces were "under seven feet of water," recounts the playbill for the company's recent production of its 37th annual Christmas Revels at Dartmouth College's Hopkins Center — its biggest show of the year. "When the water receded, it pulled costume racks and storage tubs down into thick, slick mud, leaving an image of devastation that is very difficult to erase."
Lois Jackson, who created the Elizabethan costumes, notes that they are particularly heavy — "lots of tapestry, upholstery, velvety, rich-looking fabrics," she says. They were even weightier saturated with water and mud.
Nonetheless, as happened in so many hard-hit communities around the state, everyone rolled up their sleeves, pulled on their boots and got to work.
A team of "Revels responders" showed up almost immediately to pluck costumes out of the mud, assess their condition and take whatever steps were needed to salvage them. The volunteers comprised not only staff and friends of the group but community members who read about the Revels' plight in the local Valley News.
Jackson says she had always treated her costumes — which she rents to Revels and other groups — with kid gloves. After all, some feature lace or beads or fragile fabrics; you don't just toss them in the washing machine. But after the flood, she says, "It was a choice between cleaning them and throwing them out."
And clean them they did: "We power-washed them to get all the mud off," Jackson recounts. Then they filled huge storage tubs with water and dunked the costumes in successive ones until they came out clean. Finally, volunteers spread out all the clothes on the lawn, or hung them on clotheslines, to dry.
"I have to say, I was amazed at how these costumes went through the process with flying colors," says Jackson. "We lost one piece that was not colorfast, but everything else came out of it."
Jackson points out that her bailiwick was just the Elizabethan costumes, however. Ann Fiedler, who manages the storage space, reports greater losses — shoes and leather items, masks, about 20 percent of the other costumes, and "a ton of fabric" used to make them. But she puts a positive spin on it: "We were very fortunate because we got people in there right away," she says. "We went in there and just sort of triaged."
Over its 37 years, Revels North has put on a variety of themed shows, including Victorian, Scottish, French and Scandinavian ones. The costumes for the Northlands show, Fiedler says, "didn't fare well — they had a red dye that ran." And, she notes, "All the makeup stored in there had to be chucked."
But then the Christmas miracles began, a little early this year. News of the Revels' situation quickly spread beyond the Upper Valley. The group operates under the umbrella of Revels, Inc., which is based in Cambridge, Mass. Both Revels organizations were founded by Carol Langstaff of Sharon, Vt. — her late father, John, launched the first one in 1971. There are eight "sister" Revels groups around the country. And they began to send donations — both costumes and money.
"Now we'll be able to build up, buying things for each show," notes Fiedler. "For instance, we had to buy all new shoes for the children" for Christmas Revels. "It's going to take years to build [our costumes] back up."
The group's fundraising effort is called the Revels North Flood Recovery Fund Appeal. Board members and Revels performers pledged $10,000 to match the first 10 grand that came in from the general public. As for their space, both Dartmouth College and a business in Lebanon, N.H., offered temporary quarters to the Revels in which the players could begin to reorganize and prepare for December's performance — based on a tale in which Elizabeth I travels to a manor house outside London and is roundly entertained by the villagers.
Presented over four nights just before the winter solstice, it was a particularly poignant triumph for the revelers, on stage and off. And the queen looked just as regal as ever.
*****
Last September, when we were able to phone gallerist Anni Mackay after Tropical Storm Irene, we didn't talk about art; she was uttering phrases such as "stages of crisis" and "how to maximize the manpower," and conceded that things in her tiny town of Rochester were "a little terrifying." Irene and the flooding that ensued hit Rochester like a grenade, destroying all the roads, taking out the electrical power and completely isolating the village for days. Mackay's BigTown Gallery on Main Street was spared, but she described it as "an island, pretty much, with water on three sides of us." When two nearby houses collapsed and fell into the river, "It diverted the water around us," she explained.
That relative good fortune freed Mackay and her husband, town selectboard member and Green Mountain Bikes owner Doon Hinderyckx, to help others. Sounding a bit shell-shocked, she told us how she had taken on "the responsibility of medical needs" for her town. Remarkably, four local residents were on dialysis, one required insulin and a few needed antidepressants. "It took about 72 hours to coordinate all that with various health facilities," Mackay said. "We had a liver-transplant failure, a blood transfusion, things like that." She called in helicopters from Dartmouth-Hitchcock Medical Center.
As if Irene weren't traumatic enough.
By the time we reached Mackay, the medical crises were over, and she was helping coordinate requests for financial donations — and still, somehow, putting together the exhibit of works by sculptors Duncan Johnson and Hugh Townley that she'd arranged at Select Design in Burlington for the South End Art Hop. "I really feel I have to," Mackay said. "I can't even tell you how panicked I am about business the next two months. They just can't build the roads fast enough."
Today, the roads are back — though not all of Rochester's homes or businesses are. Even so, says Mackay, "A lot of very positive things have happened from the point of view of the community itself." An organization called Green Mountain Valley Business Community has been formed to help the five-town area comprising Granville, Hancock, Rochester, Stockbridge and Pittsfield. And, though there is still "a palpable sense of fragility," Mackay says there is "a lot more energy toward reaching out, creating a dynamic system by which people can be joined with us."
For one thing, the group is seeking state designation as a "scenic byway," filling in what Mackay calls a gap (on Route 100) between Killington and Warren. She envisions having a tourist welcome center in Rochester to "show people what the area has to offer."
Meanwhile, Mackay also managed to get away from the post-Irene fray; she attended the huge festival Art Basel Miami Beach, and visited museums in Chicago and Milwaukee. The trips got her "charged up" about the mission of her own small gallery. Looking at exciting art and successful art institutions enabled her to bring back "the conversation that it's important for art to reach people as much as it can," Mackay explains. "To make the line between high and low art thinner and thinner."
To that end, she curated three simultaneous holiday exhibits: bronze sculptures, and a few prints, by Middlebury artist David Bumbeck; photographs of Irene's devastation in the area by John and Kate Penwarden of Mount Holly, Vt.; and a group show of petite works, priced under $1000, by notable regional artists whom Mackay has previously shown at the gallery. Titled "The Small Great Art Wall," the selection features pieces under 20 inches square by the likes of Ben Frank Moss, Bunny Harvey, Edward Koren and Henry Isaacs.
Mackay, like everyone else in Rochester, hopes to put the place back on the map and into the minds of potential visitors. In her case, visitors who would appreciate, as she calls it, "my little gallery in my little town."