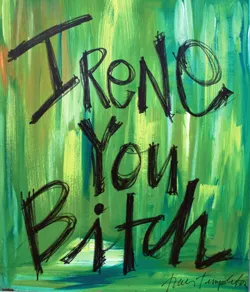 There's been yet another flood in Vermont this week. But this time it's a good one. Vermonters of all stripes have responded to Tropical Storm Irene with a veritable tsunami of benefits to help those impacted by the devastation. In times of need, artists have always been called upon to give of their talents for fundraisers, but this time they're volunteering in droves. And we've never felt so good about barely keeping up. After the terrible stories of loss, we're hearing stories of community spirit, grit and generosity from neighbors and strangers alike.
We'll report on benefits and other ways you can help in Seven Days, and daily on our growing online resource. Here's what we've rounded up this week. Check the calendar and Soundbites in this issue for more events, and if you're hosting your own fundraiser, be sure to send us the info so we can share it.
Commemorative T-shirts are common, but here's one with a singular slogan: "Irene You Bitch." Angelique Lee of Pittsfield — "one of the lucky ones," she says — let us know about Traci Templeton and her daughter, who lost their home in that town. The flood water went up to her second floor, Lee says, "and then Traci went to help save someone else's house." Lee quickly established an account on the "Shop Partner" website Spreadshirt to sell tees depicting the sign Traci made after the storm. There's a picture of her on the site holding up her green, hand-lettered sign next to the ruins of her house — mordant sense of humor intact despite her losses. Supporters can buy a T-shirt in a variety of colors, with either a replica of the green sign or just the slogan in white type, for $20.
Speaking of tees, Independent Vermont Clothing, based in hard-hit Rochester, is selling white bennie shirts with the words "I'M WITH VERMONT+" over the shape of the state, in green. The profits on the $25 shirt will aid the Red Cross' efforts to help Vermonters post-Irene. Available now for pre-order, the shirts will be printed on September 15. There's a $5 magnet with the same slogan, too. And while you're on the site, check out the company's other Vermont-centric tees, totes and buttons, with such slogans as "Make syrup not war" and "I [maple leaf] VT. Tourists who fear there will be no roads to the foliage this fall could at least buy a "Vermont is for leafers" tee.
Still in the clothing and arty-merch vein, Burlington fabric artist Jude Bond is donating 10 percent of her sales on Etsy to "hurricane relief organizations in Vermont." Bond's works include crocheted necklaces, vintage photo art, collages, antique artifacts and more.
Artist Susan Abbott is selling hand-painted photographs of Vermont towns that she created for her blog, Let Me Show You Vermont. The gaily colorized images of iconic roads, buildings, farms and landscapes would be brilliant keepsakes of the state even if they didn't benefit flood-relief efforts. The matted, one-of-a-kind 8-by-10-inch photos are $225 each and appear to be going fast.
Frog Hollow in Burlington is throwing a craft seconds sale this Friday through Sunday, September 9-11, 10 a.m.-7 p.m., to help Vermont artisans affected by the flood. Early holiday shopping, anyone?
Keilani Lime, a staffer at Campus RehabGYM in Burlington, let us know about a silent art auction and concert at the physical therapy facility on Friday, September 16, 5-10 p.m. The goal is to "raise awareness of the environmental and economical damage to Vermont courtesy of our girl Irene," she writes. And, of course, to raise funds to help with flood-relief efforts. "I'm hoping for a $1000-plus night!" Lime adds. Eleven Vermont artists have donated two 5-inch paintings each to the cause. Rutland singer-songwriter Sarah Wallis will perform.
Though most of the Burlington area was relatively unscathed by Irene, locals know that the Intervale was badly flooded — as it was during epic spring rains. That's why the chamber-music group Burlington Ensemble is playing a benefit concert for the Intervale Center Farmers' Recovery Fund this Saturday, September 10, at Champlain College's Alumni Auditorium. Fourteen musicians in various groups, along with internationally renowned violinist (and artistic director of the Lake Champlain Chamber Music Festival) Soovin Kim, will perform two shows, at 7:30 and 8:30 p.m. Minimum suggested donation: $10
Vermont-based actor and eco-activist Kathryn Blume is reprising her one-woman show The Boycott — about, ahem, the climate crisis — at the Off Center for the Dramatic Arts in Burlington on September 22 through 24. Blume says she's teaming up with 350VT, the state branch of the global climate group 350.org, for this show to raise money for flood-affected farmers at the Intervale.
The date September 11 will have new resonance for central Vermont residents who attend "Rise Up Waterbury," a benefit with "food, fun and a silent auction" this Sunday at the Rusty Parker Memorial Park in that beleagured town. To donate items, call Tabbatha Henry at 244-6800.
Shyla Nelson of Vermont's Good Earth Singers is planning a mega concert this Saturday at 1 p.m. at a central Vermont location, still being ironed out at press time. (See website for info.) Called "Voices for Vermont," the fundraiser is "a musical tribute to the state of Vermont" featuring some of its best-known performers — Jon Gailmor, Pete Sutherland, Counterpoint and many others. And, she hints, there will be "possible big musical surprises." Nelson says the event, which is cosponsored by the office of Gov. Peter Shumlin, will be filmed and made into DVDs that can be sold to continue raising funds. Donations will be passed through the United Way to disaster-relief efforts, and also to the Red Cross of Vermont/New Hampshire Valley.
Click here to see the list of Irene benefit events in our calendar.