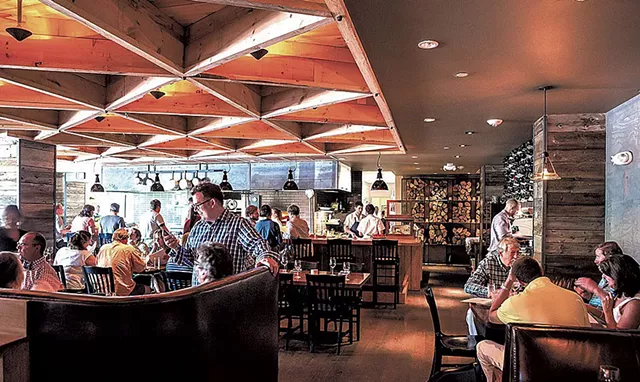 File: Oliver Parini
Hen of the Wood in Burlington
The Burlington location of Hen of the Wood will be closed for at least a month following a fire that started in the restaurant's ventilation system and emerged on the roof of Hotel Vermont during service on August 6.
The restaurant itself was not damaged, and no one was injured by the fire, which was contained to the vertical portion of the ductwork and the rooftop exhaust, co-owner Eric Warnstedt told Seven Days. "It could have been way worse," he said.
The ventilation system is essential to the restaurant's full operation, and ordering and installing the new parts will take time. "The horizontal part [of the ventilation system] that leads immediately out of the restaurant is intact, and [the fire] was super contained; it just happens to be inside six stories of hotel," Warnstedt said. "We are easily out for a month."
Warnstedt and the staff of Hen of the Wood plan to reopen the bar once they get the go-ahead from the restaurant's insurance company, and a few fundraising pop-up events are in the works. In the meantime, management's current priority is finding work for Hen's staff members to ensure them a steady stream of income during the closure.
"Everyone in our world has reached out to see how they can help," said Warnstedt. "We are so grateful to the community, the industry, the Burlington Fire Department and to our partners at Hotel Vermont for their support."