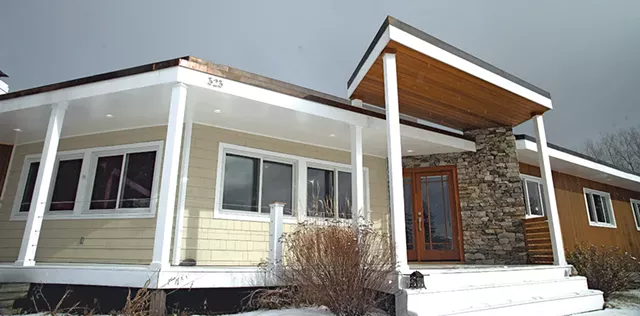 Matthew Thorsen
Exterior rebuilt to echo original 1970 plan
On the night of January 24, 2014, Rich Cook, his wife, Danielle, and their children returned from a dinner out to find their Colchester house on fire. The 1970 ranch-style structure had a midcentury aesthetic and was filled with period furniture that Cook had spent 20 years acquiring, along with a sizable collection of art. That night, while awaiting the volunteer firefighters' arrival, he stood outside in 6 degrees Fahrenheit and watched it all go up in flames.
Some of the structure held, including the bones of the house's main room — a funky hexagonal living-dining-kitchen space with a brick chimney in the center. Cook credits this to the previous owners' decision to raise the room's roof to a height of 17 feet by attaching a second, higher round of drywall to the existing layer.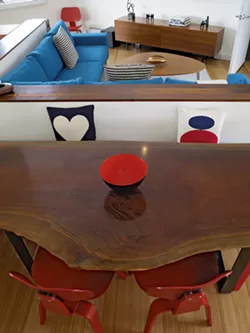 Matthew Thorsen
Hand-finished slab dining table
While the fire destroyed the kitchen where it had started — perhaps in the aging oven's wiring; the exact source was never determined — the double drywall helped much of the remaining room survive. Its contents, meanwhile, were reduced to rubble.
Cook's house is now rebuilt. Unusual for homeowners in his position, he chose not to raze and build new but to retain as much of the original plan as possible. Long a midcentury-design aficionado, Cook saw the value of preserving a living space that was both unique and comfortable. (His brother, who sells high-end vintage pieces on 1stdibs.com, has made a career out of midcentury design.)
Builder Doug Ellwood, vice president of G.W. Savage Corp., which rebuilt the house, agrees the place was special. "Everything has gone cookie-cutter. No one's building six-sided rooms these days," he says with a chuckle.
On a recent weekday, Cook and Ellwood greeted this reporter in the house's trapezoidal entry space, which borders the hexagonal room. Tall and slim, Cook is a father of three and recently (and amicably, he says) divorced. He works from home and also travels around the country as the deputy development director for a Washington, D.C.-based nonprofit.
Matthew Thorsen
A view to the remodeled kitchen
Recalling the night of the fire, Cook says, "It was something else, standing on the corner watching your house burn down." His tone aims at levity but betrays residual shock. Over the next year, Cook carried on negotiations with his insurance company while living with his family in hotel rooms and a rented house and continuing to work full time. He also immersed himself fully in the rebuilding plans.
Today, apart from some oddly shaped trees out back whose burned parts were pruned, there is no trace of the fire. The house is now better insulated and more structurally sound. The Savage crew rebuilt the hexagonal room's joists to bear the weight of its height, which had caused the walls to bow outward. Windows that once lined the back of the hexagon have been replaced by sliding glass doors, which open onto a patio, an outdoor shower and a spiral staircase. The stairs lead to a rebuilt roof deck that has a view of nearby Lake Champlain.
Matthew Thorsen
Non-rectilinear master bedroom
Two wings radiate off the hexagonal center: a hall flanked by two baths and three bedrooms, and a mudroom that connects to the garage and a rear office. These have been entirely rebuilt and designed to the smallest detail. As Cook declares, "If your house burns down, there's no better time to do these things."
Brooke Michelsen, a friend and interior designer, reimagined the structural interior. In the only departure from the original floor plan, she made the previously narrow kitchen roomier and more functional. Michelsen also inserted a pantry into an adjacent space that had been an unnecessary third bathroom, and she reconfigured the two remaining bathrooms. The master bath includes a stunning sculptural tub.
Matthew Thorsen
Master bath with hand-finished wood slab counter and a sculptural tub
Michelsen brought in cabinetmaker Dan Ober to do the custom plywood and white-Formica-surfaced cabinetry, which Cook chose based on one of the Case Study Houses of midcentury architect Richard Neutra.
Michelsen did all this for free. "I felt compelled to help them after all that devastation. My father lost his house to a fire when I was 9," she explains.
The Richmond-based designer worked from architectural plans that were drawn up, also free of charge, by Birdseye design, where Michelsen's fiancé, Brian Mac, is an architect.
Throughout, Cook was deeply involved. When he discovered that the deck stair built to code would have taken up much of the back patio, the homeowner sourced the space-saving spiral stair online. He found specialized boot racks, door hardware and light sources, and even helped carpenter Seth Allen, of Sisler Builders, to finish two thick, irregular slabs of wood for the dining table and bathroom countertop.
Cook has once more accented the interior with midcentury originals: an Eames lounge chair flanked by a Platner side table, low-slung walnut Knoll credenzas and Eero Saarinen pedestal tables. A tripod floor lamp turns out to be a Gilbert Watrous; the fetish item won a Museum of Modern Art lighting competition in 1951 and was in production for a single year. A blue couch and red Krenit bowls stand out against white walls and wood accents. Cook's daughters' room has an imitation Alexander Calder mobile.
"I have a decent eye," Cook admits. A design autodidact, he grew up south of Boston in a home environment that was indifferent to design, he says. But, as a 12-year-old on family trips to major cities, he recalls, "the only thing I wanted to do was go see the museums of modern art."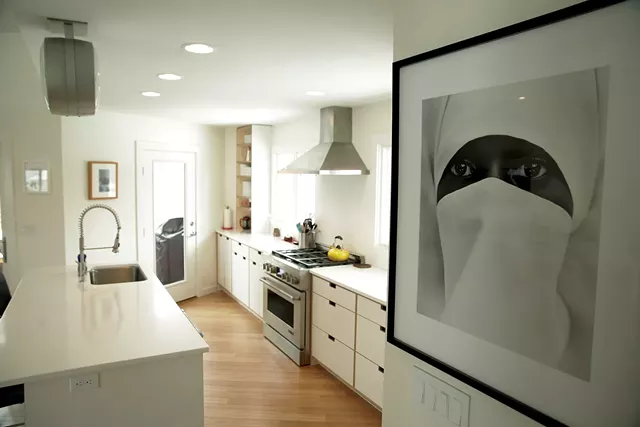 Matthew Thorsen
Chester Higgins photograph
Artwork by a mix of local and internationally established artists accents the walls: a black-and-white framed photo of a black woman in a white headscarf by the renowned African American photographer Chester Higgins; a double-panel abstract painting in pale blues by former Burlington artist Scott Campbell; a small original work by proto-pop artist Robert Rauschenberg; and a framed work by Seven Days/Nest photographer Matthew Thorsen. (He donated a second one after learning the original had burned.) Cook and his daughter created the large, wall-hung sculpture in the entry, an assemblage of wood pieces that recalls, and perhaps pays homage to, Louise Nevelson.
It's strange to say, but the fire couldn't have happened to a worthier homeowner. Instead of building a right-angled McMansion, Cook helped resurrect a modest but inventive midcentury structure, one that continues to fit with its neighborhood and revels in that era's resurgent style.