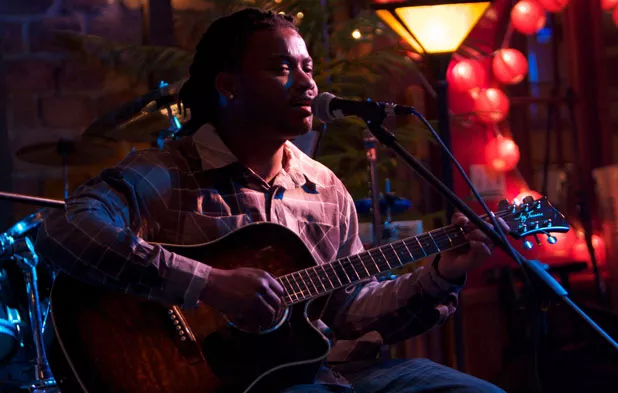 Well, I'm wiped out — and clearly out of jazz puns. Who knew jazz could be so exhausting?
Another Burlington Discover Jazz Festival is in the books, and with it go fond memories of hazy, late-spring evenings spent in various nightspots around town, soaking it — and Long Trail's Jazz Fest beer — all in. And I gotta say, this year was tremendous. Though lacking an iconic jazz name — there was no Ornette Coleman, Sonny Rollins or Chick Corea this year — the program offered a wide array of music, jazz and otherwise. Here are some personal highlights.
Trombone Shorty was as electrifying as advertised. He held the Waterfront Tent crowd in the palm of his hand all night. His take on Rage Against the Machine's "Killing in the Name of" — yes, you read that correctly — was badass. And his circular-breathing demonstration near the close of his set was astonishing. He sustained a single note for what seemed like 10 minutes — I wasn't timing — while the band vamped behind him, before exploding into a fiery "supafunkrock" finale.
The 11-member S.I.N. Medium Big Band, led by Rob Morse and featuring several members of hip-pop outfit Strength in Numbers, played what may have been my favorite set of the week. Morse's compositions were gorgeous, moody and complex, making fine use of the six-person horn section — which included the cornrow-bedecked saxophonist Bryan McNamara. Yep. Dude rocked cornrows.
It was fun to catch Jimmy Cliff at the Waterfront Tent on Saturday. Having grown up on ska, early reggae and rocksteady are near and dear to this critic's heart. At 63, Cliff still knows his way around classic island groove and is a tremendous vocalist. And, really, you can't beat a sunny evening concert on the waterfront.
Just because the 2012 BDJF didn't feature many iconic jazz names doesn't mean it was bereft of jazz legends. Saxophonist Lee Konitz, who helped deliver Miles Davis' landmark Birth of the Cool and performed with innumerable other jazz giants during his 60-year career, certainly qualifies. His festival-closing set at the FlynnSpace on Saturday, though brief, was a fine cap. Konitz and his band were playful and elegant — if a little obtuse at times — shifting moods and tones with veteran savvy and scrambling my jazz-addled brain just enough.
So congrats once again to the fine folks at the BDJF. It continues to amaze me that a town this size can support and embrace a festival of that scale year in and year out. We're awfully lucky. Thanks, guys.
Homeward Bound
Seny Daffe landed in Burlington from Guinea five years ago, carrying a visa that allows foreign artists with unique skills entrance into the United States. Daffe was a member of the local African dance troupe Jeh Kulu and taught African drumming and workshops at schools around the state. He also founded Wontanara, a local band that fused American sounds with West African rhythms and included members of Barika and Japhy Ryder, two bands with whom he frequently performed. In short, Daffe had become something of a fixture in Burlington's increasingly diverse world-music community. And that, apparently, was a problem.
In November, Daffe returned home to Guinea to visit family — his children still live there. When he tried to reenter the U.S., his visa was denied. The State Department decided Daffe's ties to Burlington had become too strong and that he was a risk not to return to Guinea. (You read that part about his kids still living there, right? Just checking. He also owns a house there. Seems to me like a guy who intends to go home at some point. But maybe that's why I don't work for Homeland Security.)
As of this writing, Daffe is still in immigration limbo. He is planning to appeal the decision and hopes to return to Vermont. In the meantime, he remains in Guinea.
This Thursday, June 14, his stateside music pals, Jeh Kulu and Barika, are throwing a fundraiser at Club Metronome in Burlington. Fighting the man is expensive work, so proceeds will go to help offset what may well be significant legal costs.
BiteTorrent
It's the end of an era at Vermont Public Radio: Longtime jazz host George Thomas announced his retirement on air last week. Thomas had been at VPR for almost 11 years and was a fountain of jazz information. His BDJF previews in particular had become required listening for yours truly over the years. Thanks for a great run, George.
Blue Button officially release their debut LP, Love Angry, with a show at Radio Bean this Friday, June 15. The album has technically been out for several months, but since not all of the band members live in Vermont full time — bassist Rebekah Whitehurst (Cave Bees) winters in Austin now — they haven't had a chance to properly christen the new record, which freakin' rawks, by the way. Also on the bill is local art-rock royalty Swale. That band has been promising a new record since the Bush administration, yet still we're waiting. I'm happy to report that the wait will soon be over: The record drops with a release show at the Bean on September 28, 10 years to the day after the band's debut gig. Serendipity.
The next generation of local comics graduates into the real world this week, when students from the Spark Arts Level 2 standup-comedy class give their final dissertations — 10-minute routines — at the Up & Comer's Comedy Showcase at the Monkey House on Monday, June 18. Performers include Cori Marnellos, Bianca Cosby, Chad Cosby, Regi B., Tim Trotochaud, Rickshaw Tom and Timmy Weaver.
From year to year, you never really know what's going on with the Vermont Reggae Festival. Is it on? Is it off? Is it the same thing as that other reggae festival that sorta tried to be the VTRF but really wasn't? Am I already high? It's confusing, and this year is no exception. In a press release last week, festival organizers announced that this year's VRF is happening in Rochester … New Hampshire. That's right, the Vermont Reggae Festival is not actually happening in Vermont. In fact, it's happening closer to Maine than to the Green Mountains. Dubbed the Fountain of Stars — it's "presented" by the VTRF — the fest will take place on August 17 and 18 and feature Midnite, 10ft Ganja Plant, Ossie Dellimore and Vermont's own Lambsbread, among several other acts of regional and national renown. And also, it's in New Hampshire.
This Saturday, June 16, Barge Canal Market on Pine Street is hosting a grand reopening party — Jeremy Smith and Adele Lawrence bought it from previous owner Norbert Ender of Speaking Volumes last March — and, to do it up proper, Smith and Lawrence have enlisted the aid of ace local party planners/EDM collective Mushpost's. Scheduled to appear are songwriters Tommy Alexander, Francesca Blanchard and Greta Frost, as well as indie outfit Hello Shark. In between sets, the Mushpost's Social Club will spin all the down-tempo jazz you can handle. Oh, and the afternoon shindig is free.
Last but not least, from the Dept. of Corrections: Last week's column blurb about Tune-Yards sax man and VT expat Noah Bernstein contained a minor goof. In it, I wrote that the closest TY would be coming to VT would be the Newport Folk Festival. I lied. They'll actually be in Montréal at La Tulipe on July 31.
Listening In
Once again, this week's totally self-indulgent column segment, in which I share a random sampling of what was on my iPod, turntable, CD player, eight-track player, etc., this week.
Smoke Fairies, Blood Speaks
Hot Chip, In Our Heads
Captain Beefheart, Bat Chain Puller
Miles Davis, Birth of the Cool
Lee Fields & the Expressions, Faithful Man