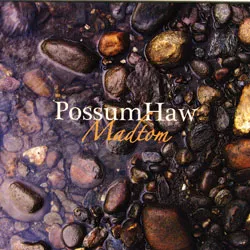 (Self-released, CD)
I have yet to find an acceptable term for old-timey music played by a jam band. On their second CD, Madtom, talented local group PossumHaw prove themselves capable of putting together authentic-sounding old-time string-band music, juxtaposed with jam-rock sensibilities. Perhaps we should call it "jam-timey"?
The group was one of only a few Vermont bands selected to play this year's prestigious Champlain Valley Folk Festival, and they are part of Vermont's new wave of exciting young acoustic musicians.
Primarily composed of two guitarists, a banjo picker and a mandolin player, PossumHaw features strings prominently in their sound. Despite the relatively traditional makeup of the band, the instrumental breaks are sometimes a bit too noodly for my taste — picture the lounge of a UVM dorm circa 1972, with six stoned guys jamming away to "Sugar Magnolia." However, when Colby Crehan takes command, things snap right to it.
The guitarist-pianist has written nearly all the material here and capably sings lead on many tracks — even harmonizing with herself on the Gillian Welch-esque mood piece "Backpage Waltz." Rounding out the singer's compositions, husband and chief harmonizer Ryan Crehan does a solid job with the aforementioned banjo.
One of the CD's outstanding features is that it demonstrates how well the band knows their genres: When a song is meant to sound high and lonesome or bluegrass bop, it delivers. That's not to say that the band plays derivative music, as many of the PossumHaw originals — including the catchy "Stoneysides" and my current favorite, "Young Lynn" — feature compelling stories strengthened by riveting musical arrangements.
Madtom was recorded and mastered at Northern Track Recording in Wilmington, and the album's overall sound is warm and alive. That said, a few minor flaws detract from the overall performance: Ryan Crehan's banjo is at times diluted by too much "fingerpick scraping the string" — a symptom, perhaps, of miking the instrument too closely. Both lead guitarist Charley Eiseman and mandolinist Matt Kolan are fine pickers, and both could have been mixed louder at times to make their presence felt more forcefully, especially during the breaks.
Overall, the mix works well. In particular, the album's second cut, "Come Up and Find Me," makes you want to do just that. All in all, Madtom is a very enjoyable and well-played disc.
PossumHaw show off their jam-timey chops and celebrate the release of their new disc Wednesday, October 10, at Nectar's, with local mountain-blues mavens The Eames Brothers.