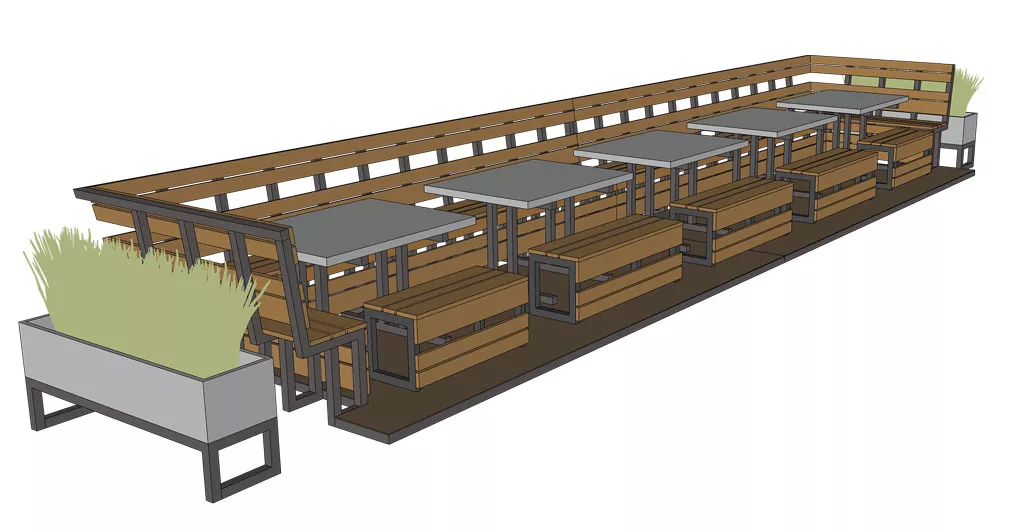 Courtesy of Anomal
Positive Pie parklet
The car-driving public tends to get huffy about the proposed loss of public parking spots. But the denizens of Vermont's capital city are apparently on board with a new "parklet" that will soon occupy two parking spaces in front of Positive Pie on State Street.
Montpelier design and fabrication shop Anomal created the movable extension of the popular restaurant and music venue and aims to install it on Tuesday, September 1, according to Anomal co-owner Chris Kiper. About 20 feet long, it includes an outdoor seating area in the form of a long banquette, five small tables and benches, with container plantings at either end. The extension echoes the work Anomal did for the restaurant's interior.
Positive Pie owner Carlo Rovetto wanted an "industrial-looking space," says Kiper. That is right in Anomal's wheelhouse: "Industrial is kind of our foremost design principle," Kiper says. "We do concrete installations, metalworking and woodworking — the holy trinity of our design." (The company is also known for its tiny-house construction and the metal marquee of Montpelier's Savoy Theater.)
So where's the park in the parklet?
The term refers to human-built areas for people to sit, rest and hang out, which generally borrow space from a street. According to Ashley Witzenberger, executive director of Montpelier Alive, outdoor seating areas lend vibrancy to a downtown. And creating a vibrant downtown is exactly the mission of this nonprofit. The whole parklet thing, Witzenberger explains, was "born from the Montpelier Alive design committee," which had seen and liked similar projects out West three years ago. (San Francisco is credited with creating the first one.) City officials proceeded to hold a series of meetings and eventually approved a pilot project consisting of three parklets for the downtown, covering six parking spots.
The committee was "warned about the parking challenge," Witzenberger concedes. "But most people came around when it was put to use."
She's referring to the first Montpelier parklet, installed on the Rialto Bridge next to Capitol Grounds last year. That commission went to architect Ward Joyce and his students at Vermont Technical College, and it was a genuine public space. "People would meet up there, it encouraged people to talk to each other, and it was very popular during farmers market," says Witzenberger, ticking off the merits of the installation. "It was good for restaurants that have no outdoor seating," she continues. "Musicians liked it, too — they would play for people gathered there."
But, this being Vermont, snowplows rule come winter, and such a structure can't remain in the street. Not that even the hardiest downtowners would want to sit outside when temperatures plummet. Witzenberger says that Joyce and his students hauled their parklet back to VTC, deconstructed it and put it back together again over the winter. It is now installed in a pocket park in the alley next to Charlie-O's World Famous on Main Street.
Positive Pie applied for its own parklet last year, but not in time to get approval at that point, Witzenberger says. Because the pizzeria serves alcohol, it had additional hoops to jump through, she notes.
Asked if locals react differently to a commercially owned parklet than they do to a public, open-access one, the Montpelier Alive director comments, "Some other restaurants are in spots where they can't have them, and it's unfortunate. They're waiting to see what happens. But for the most part there's been good response," Witzenberger says. "No one is really upset."
Many merchants aren't eager to invest in their own parklet, she observes, given that it can only be used for half the year. And the expenses include reimbursing the city for the lost parking revenue. (Positive Pie paid a prorated amount of $600 for its truncated parklet "season," Witzenberger reveals.) But a restaurant arguably has a good chance of making that up in food and drink sales. Accordingly, "We're looking at a space by Three Penny [Taproom]," Witzenberger says, "but the angled parking there made it difficult."
In other words, Montpelier's third park-let will most likely not appear until next year.
Meantime, Anomal's handsome al fresco dining room will be open through October 15.