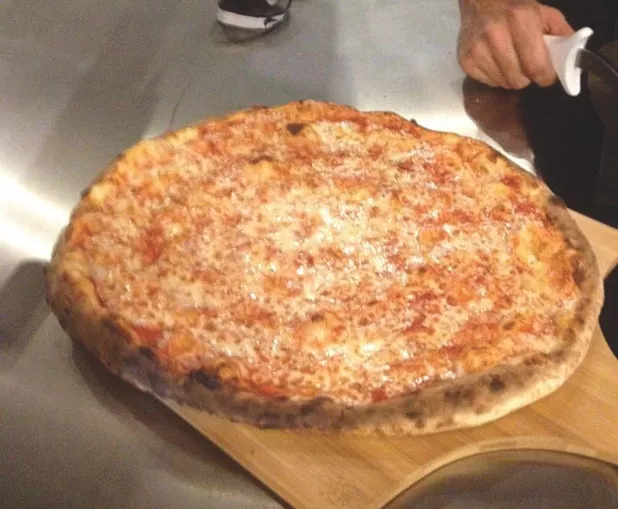 First pizza cooked in the new Hardwick location
Northeast Kingdom pizza lovers have a new destination. Positive Pie opens at 87 South Main Street in Hardwick on Friday, July 20. The 60-seat eatery isn't the only thing new in the Rovetto Brothers International Restaurant Group dynasty. Last Thursday, the family's Stowe restaurant, Piecasso Pizzeria & Lounge, debuted a 900-square-foot addition with a bar and a brand-new menu focused on pizza and small plates.
According to vice president of operations Tom Oliver, the Hardwick location will follow the template set in Plainfield when Positive Pie Tap & Grill opened there in April. The company's famous flatbreads, such as the Carcass and Green Man, figure prominently on the bill of fare. But a more sophisticated menu made sense for the space, which features chandeliers made from antique bottles and an elegant, poured-concrete and smooth-glass bar. It includes small plates that showcase local ingredients, such as pork belly with maple-basil glaze; artisan cheeses; and fries made with fresh herbs and served with smoked-garlic aioli. Chef Erik Larson also created several sandwiches, listed in a section of the menu called "Hardwick Grill." They feature local beef or beans topped with items such as Deano's Jalapenos, Bayley Hazen Blue cheese and prosciutto.
Bar manager Don Horrigan of Hardwick-based Sumptuous Syrups of Vermont created the cocktail menu to make use of fresh produce. Local brews are a big part of the 20-bottle beer list.
With three restaurants opening or reopening in the space of less than three months, Oliver says the expansion is over — for now. "I would like to tweak the operations so we get customer service and quality of the food to full capacity," he says. But the company has given Vermonters plenty of ways to get a piece of the pie.