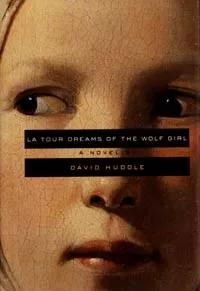 The provocative title of David Huddle's new book, La Tour Dreams of the Wolf Girl, is a little confusing at first. Is "dreams" a noun or a verb? Does it refer to the dreams themselves or the act of dreaming? Huddle, an English professor at the University of Vermont, explores both in his smart and sexy second novel.
The story revolves around introverted art professor Suzanne Nelson and her failing marriage to Jack, a garrulous public relations executive. The two rarely communicate, and Suzanne correctly suspects her husband's "favors," such as cooking dinners and serving her breakfast in bed, are merely empty gestures. Unbeknownst to each other, they're both looking for a way out of their dismal domestic situation. Jack finds comfort in the arms of a former lover, and Suzanne seeks solace in her work.
The "La Tour" of the title is Georges de La Tour, a 17th- century French painter in whom Suzanne has developed a scholarly interest. La Tour is best known for his graceful renderings of religious figures and his profound portraits of street musicians and beggars. His paintings suggest he is a divinely inspired, empathetic man attuned to the suffering of the downtrodden. Ironically, recently rediscovered municipal records have shown a different side of the wealthy La Tour. In his later years he savagely beat a peasant and refused to contribute to the poor during a famine.
Suzanne has decided to write an article that will show La Tour for what he really was — a devious liar, just like her husband.
"La Tour was an old fart," Suzanne confides to her dog. "What little humanity he had was in his eye and his hand, not in his mind or his heart."
As part of her creative process, Suzanne daydreams about La Tour, creating in her mind the artist's final painting sessions with a "wolf girl" named Vivienne Lavalette. Vivienne has a small, triangular patch of coarse, dark hair on her back, of which she is surprisingly still unaware at age 15. The aging, manipulative La Tour pays Vivienne's peasant father to let her model for him. When he discovers the thick hair on her back, he becomes obsessed with her.
As Suzanne's marriage begins to unravel, her interest in La Tour and the wolf girl intensifies, and she slips for hours into their imagined life. Like La Tour's paintings, Suzanne's daydreams have a transformative power. Her fantasies of La Tour and Vivienne as well as forays into her own memories take surprising turns, leading her to question what she knows about herself, her husband and the mysterious La Tour. These stories within stories make La Tour Dreams of the Wolf Girl a finely crafted montage of secrets, lies and often painful self-discovery.
Although the competing narratives have the potential to create confusion, Huddle manages to skillfully maneuver the focus from present-day Burlington to France 300 years ago. Like La Tour, he creates focused, realistic portraits of his characters, choosing to concentrate on select episodes rather than track them step by step through their entire lives. The prose style is light on dialogue, heavy on explanation. This generally works for Huddle, who fills his mostly short sentences with revealing details. He writes of Suzanne:
Quiet though she was, Suzanne always wanted to be close to somebody… On their birthdays, she sends her sisters cards, but they forget hers every year. At Christmas she buys gifts for them and their kids, knowing that she will receive neither gifts nor thank-you notes.
Describing Suzanne's first mental image of La Tour, Huddle writes:
La Tour could ride in his carriage, but today he walks to let the town see how vigorous he is. For this outing he has had himself elaborately bathed and dressed and has selected his newest wig.
This reliance on the authorial voice also allows Huddle to get inside Suzanne's head, a necessity given her inability to verbalize her feelings. He's especially good at conveying the tantalizing tension Suzanne feels but was unable to release during her own nude modeling sessions with an art professor when she was an undergraduate:
Suddenly Suzanne realized that she had an abnormal awareness of B. Trent; it was as if she were wired to him. She knew where he was in the room; she could hear his sonorous baritone murmuring suggestions to this student, then the next.
Less successful is Huddle's tendency to have Suzanne read faces. Remembering a visit to Jack's parents, she focuses on a moment between Jack and herself.
Jack's face told her "So now you see how it is. I can't tell you how ashamed I am of all this and how, in spite of how much I despise it, I can't break away." And she intended her return look to convey, "Yes, I do see how it is. Your mother scares the hell out of me, and so does this apartment. But please don't look to me for help. I'm a coward, too."
The abundance of these "readings" is undoubtedly intentional, related to Suzanne's childhood and to her fascination with art, but still feels a little overdone.
Huddle also neglects Jack, who manages only to realize that he is "a series of masks, a pretender even to himself."
Even so, Huddle, true to The New York Times Book Review blurb on the book's back cover, is "impressively subtle." He makes no overt connections between Suzanne and Jack's story and that of Vivienne and La Tour, but allows echoes to travel freely between them. That both women have been art "subjects," for example, suggests a thematic bond.
Huddle also refuses to judge the actions of his flawed characters, and resists definitive answers to important questions such as why Suzanne and Jack are together in the first place, or why La Tour beat that peasant.
This ambiguity may be frustrating to a plot-driven reader, but the overall effect is much like waking up from a bizarre, though pleasant, dream. You're left feeling like it all made sense, but you're not exactly sure how. This is the kind of book that English majors love — it stands up to close readings and refuses to be pinned down.
In their imposing volume, French Painting: From Fouquet to Poussin, art historians Albert Châtelet and Jacques Thuillier devote a chapter to Georges de La Tour. They praise his ability to transform his subjects, writing that he "commemorated only the rare, serene moments when these poor, stricken souls regained something of their human dignity." This seems to be essentially what Huddle set out to do with his cast of characters — including the artist — in La Tour Dreams of the Wolf Girl. For the most part, he succeeds.
David Huddle will read from La Tour Dreams of the Wolf Girl Sunday, February 10, 3 p.m., at Barnes & Noble in South Burling-ton. He'll be at Bear Pond Books in Montpelier, March 26, 7 p.m.