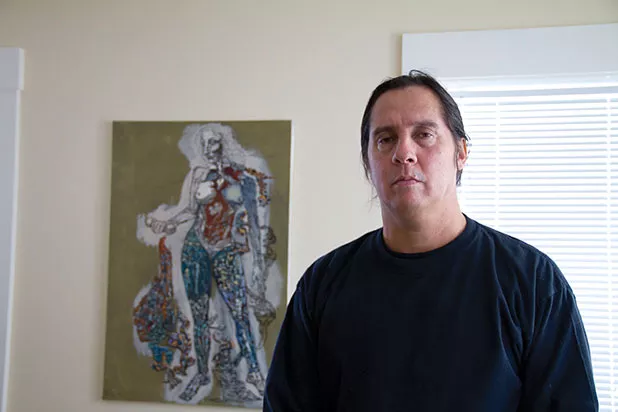 If anyone has a right to be grievously maladjusted, it's Don Rains. His father, a drug dealer in San Francisco's gritty Tenderloin district in the 1960s, hid balloons of heroin in Rains' jacket, hoping the cops wouldn't think to shake down a 6-year-old. His mother, a heroin addict, was killed by her boyfriend when Rains was just 9 years old. He has vivid memories — "like a PowerPoint presentation coming at me in high speed," he says — of addicts at methadone clinics "shaking like wet dogs," of tripping over dead bodies in abandoned buildings, and of gun fights on the streets of his youth.
Yet Rains, now 45, just ended his first term at Dartmouth College and is on a path that defies his turbulent childhood. He's penning his story and hopes to have it published before he graduates in 2013. How he got to the ivy-covered campus in Hanover is worthy of a memoir in itself; a turning point came when he picked up a paintbrush for the first time in 2007.
Rains was living in Stony Creek, Conn., and working on his memoir, he recalls, when the images and feelings that he was beginning to dredge up became too intense for the serene act of writing. So he bought a canvas and some student-grade paints and went at his task with a Jackson Pollock-esque abandon. "It was a safe way to let out the aggression," he says.
At about the same time, an art gallery owned by Dartmouth alumnus Jon Moscartolo opened near his house. Rains invited Moscartolo to his studio to see his artwork. The gallerist recognized Rains' innate talent, and when he learned of the painter's Native American ethnicity, Moscartolo encouraged him to apply to Dartmouth — a school whose mission includes the education of Native Americans. Moscartolo helped Rains get an interview, and, after the applicant took some community college classes in New Haven, the admissions board decided he would make a good addition to the Dartmouth community.
Rains says that settling into his classes was a little strange at first, since most of his classmates are at least 20 years his junior. But many students approached to say they felt inspired by his story. After a short while, he adds, "I blended right in."
Still, Rains doesn't want his example to go unnoticed, and that's where his art and writing come in. He uses those forms of expression as outlets, he offers, and hopes that kids in inner cities will realize they have the option to do the same thing. "Doing this work," he says of writing and painting, "is a good decision, and a way to use energy in a positive way."
This message is not spelled out in Rains' art; his paintings occupy a more spiritual and metaphorical realm, reflecting his "triumph over the chaos in my life," Rains says. In "Helen," for example, he depicts a woman through whose translucent skin course prominent veins. The woman is Rains' mother while high on heroin, and the image is intended to portray "her euphoric state, how she felt she could conquer anything," he explains. Of course, this feeling of power is tragically false, an irony Rains expresses through the woman's surreal, glass-like body.
In "Inner City Public Pool," which shows a boy in battle fatigues gazing into a black hole, Rains relays the fear and bewilderment he experienced as a child surrounded by violence and despair. "I felt like I was looking into a black chasm," he recalls.
Rains knows many other kids are staring into that abyss today. If he could speak to them all, he would emphasize one thing, he asserts: that they may be "limited in circumstance but not in possibility."