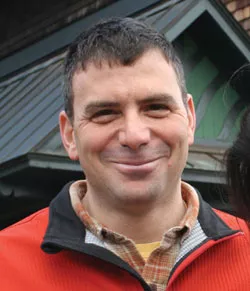 For the past four years, Chef Rick Gencarelli has brought his unique culinary vision to the Inn at Shelburne Farms in the form of tender handmade pastas, house-cured meats, and efforts to cut waste by serving up every part of each pig, lamb and fowl that came into the kitchen. In 2007, he coauthored the highly acclaimed Cooking with Shelburne Farms.
But recently, rumors began flying that the chef was pondering a move. "I was talking about it; that's my problem. The more I talked about it, the more it became a rumor, and it kind of took on a life of its own," Gencarelli says.
Meanwhile, Shelburne Farms' directors announced a plan to restructure kitchen management by cutting Gencarelli's job in two: There will now be one employee in a year-round administrative and culinary position as food service manager, and another in a seasonal dinner chef position.
"Neither position suited my interests at all," Gencarelli says. While he'd considered leaving earlier, the announcement was the final straw. He confirms that he and his family are headed to Portland, Ore., this June — to stay. "So we are leaving . . . The bottom line is that it's kind of time for me to go."
Gencarelli describes Portland as "a little bigger; there's a little bit more going on . . . [and] farm-to-table is strong." Nonetheless, he adds that he'll "miss the food community here. It is amazing."
Asked for his thoughts on the farm's future, Gencarelli says, "I think that because it's Shelburne Farms, it's always going to attract talented chefs. I think the food quality will be fine. I continue to be a friend of the farm," he goes on. "I learned a lot about a whole different style of cooking here that I will take with me for the rest of my career as a chef."
According to Shelburne Farms spokesperson Rosalyn Graham, the resto restructuring is part of an effort to "look at the big picture of how we manage food service here, because, increasingly, food is the medium for our message of sustainability and buying local." She explains, "What we realized is that there needed to be an overarching presence as far as coordinating all of that . . . [and] making the best possible use of our resources."
Graham adds that word of the director of food services job has been spreading throughout the industry, and she expects to see applicants "with exactly the kind of creativity and imagination we're looking for."