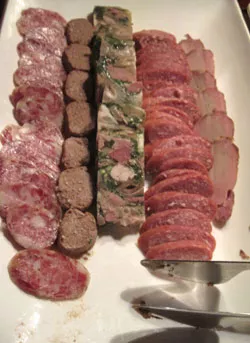 When most diners hear a whole pig will be for dinner, a spit-roasted beast with an apple in its mouth comes to mind. Delicate salads and desserts containing mammal parts are in the minority on meaty menus, but those are just what filled plates at Chef's Table in Montpelier last Friday. The six-course dinner, priced at $35 a head, was prepared entirely by students from the New England Culinary Institute's chapter of Slow Food.
The proceeds from the hearty meal will help send the students to the 2010 Terra Madre conference in Torino, Italy, in October. The biennial international meeting is a sort of Olympics of the Slow Food movement, minus the competitive aspect — and, appropriately, will happen in facilities from the 2006 Winter Games. Chefs, food producers and students will gather to share their skills in hopes of creating more sustainable food communities. According to Jeff Roberts, a director and treasurer of the national Slow Food USA board of directors, NECI sent the largest individual delegation to the last Terra Madre. This year, when the event focuses on sustainability in academics, he hopes Vermont will repeat the feat.
Roberts shared this thought after happily digging into a collection of student-made charcuterie. He was particularly enchanted with the headcheese, pieces from top and tail that ranged from the tender corkscrew to the cartilaginous ear, all held together with natural gelatin and fresh parsley. Other selections included smoky loin, German Thuringer sausage and creamy rillettes, complemented by a selection of house-made mustards.
Many of the small bites came from a pig grown by NECI Executive Chef Tom Bivins and his partner, Bennett Law, on their Bethel farm. The rest was from a pig brought from idyllic Sugar Mountain Farm in West Topsham.
Before the courses listed on the menu began, an amuse-bouche of rice and beans with chicken-fried ham and thinly sliced local raw ramp soffered a scrumptious taste of the South. The communal tables buzzed with delight as cress and sedum salad was placed in front of diners, studded with daylilies cut to resemble almond slices and chunks of jowl bacon, with a huge, crispy round of pork cracklin' on top.
The general consensus among my tablemates, including Roberts, Law and Bivins' mother (visiting from Mississippi), was that the most pleasing dish was a long plate of Swedish potato dumplings stuffed with juniper-braised pork. I imagined gnocchi. Instead, the dish bore a strong resemblance to cha siu bao, though the potato dough was far heavier than the Chinese wheat version. The braised pork therein made a decadent combination with a thick cream sauce, flavored with tiny onions and preserved whole cranberries.
Dessert also included hog hunks, though they had been rendered into lard biscuits, served as part of a rhubarb and wild-ginger cobbler with frozen custard on the side. Following the final course, the seven student cooks visited the dining room to introduce themselves and surprise guests with a gift bag. The meat-fabrication class had frozen individual portions of house-made sausage. A lard biscuit also went home with each guest, along with a single egg tied with a twine bow from Moonlit Meadows, an Icelandic sheep farm in Cavendish.
Next month, the Slow Food chapter will present "Hens in the Hay: Celebrating the Life of a Chicken — Egg to Stewing Hen." Given the delicious value of the pork dinner, I'd cry foul if I had to miss it.