Robert Toms in Hedwig and the Angry Inch
Robert Toms describes the lead in Hedwig and the Angry Inch as his "all-time favorite acting role." That's not just because the '70s-style glam-rock musical — the tale of a transgender rock diva from East Germany who falls victim to a botched gender-reassignment surgery — helped launch Toms' production company, Shoebox Theatre.
"The first time I saw Hedwig, I was intrigued and confused all at the same time," recalls the 46-year-old Alburgh actor, director and producer. He describes John Cameron Mitchell's original off-Broadway cult cabaret as "a story of perseverance and strength. Life deals you a really tough hand, so you either give up or keep going."
Beginning next week, Toms will resurrect not only his portrayal of Hedwig but also the spirit of the venue where he first performed the role: 135 Pearl. Toms owned the now-defunct gay bar at that address in downtown Burlington — across from Elmwood Avenue — from 1995 until its demise in June 2006. For six nights, ArtsRiot will host Hedwig and the Angry Inch at Pop-Up Pearl, a reunion party and music-and-dance festival honoring the Queen City's iconic LGBT nightclub.
Toms, a Queens, N.Y., native, moved to Burlington in his mid-twenties and began working at what locals then called Pearls in November 1993. When he bought the business 18 months later, Toms not only renamed but rebranded the gay bar. He penned a mission statement, which he posted inside the front door, identifying it as a place "free from discrimination, separatism and segregation, to celebrate and become part of a collective consciousness, a place we can all call home."
"I'm a very proud gay man, but I was coming from a point where I wanted the entertainment, the live music, the theater, the DJ community — and to bring in our allied community," Toms explains. "The bohemian set really found a home in 135 Pearl. We opened the doors to everybody and became a big part of Burlington's night life."
For 11 years, 135 Pearl was known both as a queer-friendly hot spot — hosting drag shows, theme parties and the annual post-Pride Parade bash — and as a popular venue for experimental music and theater.
Yet, even with its expanded mission and diverse clientele, Toms says, 135 Pearl struggled. "It was always tough going, trying to run a party 365 days a year," he recalls.
When Toms finally put the business up for sale, the first offer came from Papa John's Pizza. "I told the broker it would be a cold day [in hell] before I sold it to a pizza place," Toms says. But the property proceeded to sit on the market for three years, and Toms endured enough frigid days that he finally caved in and sold it.
Though 135 Pearl closed its doors on June 3, 2006, the Shoebox Theatre lived on. Toms brought Hedwig and the Angry Inch to other Vermont clubs, including Club Metronome and Higher Ground, and to venues in New Hampshire and Montréal.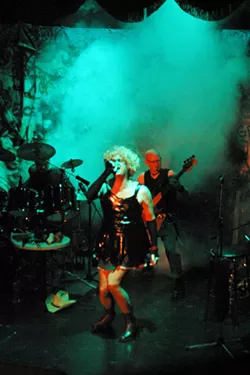 Robert Toms in Hedwig and the Angry Inch
After the show's tour ended, Toms essentially took a six-year sabbatical from acting and directing to help with his husband's tie-dye T-shirt business, New Dye Mensions Dyeworks in Alburgh. He also worked on a series of monologues that he eventually plans to turn into an original musical.
This year's Hedwig production includes a mix of familiar and new faces. Toms returns as both director and Hedwig herself. Shawn Lipenski as Yitzhak and Ornan McLean as the drummer replace Nathan Jarvis and Chris Johnston, respectively. Music director Antara on guitar, Chris Cheney on bass and Adam Wood round out the Angry Inch.
Toms is excited about reinhabiting Hedwig, a role that, he readily admits, he wasn't born to perform. At 6-foot-4 and 220 pounds, he says, "I don't know how many casting directors would look at me and say, 'Oh, there's Hedwig.'"
Indeed, one theater critic in Toronto described Toms' Hedwig as a combination of "a linebacker, Kirstie Alley, Mama Cass and Julia Child." Far from being offended, Toms took the description in stride.
"To me, I thought that was brilliant," he says. "Hey, I'd love to be compared to Mama Cass. I think that's amazing. And when Kirstie Alley is on, she's really on."
Toms has retained ownership of the 135 Pearl name, and he envisions the Pop-Up Pearl event as the first in a series of "parties for consciousness" supporting nonprofit organizations that are trying to raise consciousness and "pay it forward." A portion of the ticket sales for the six-night event will benefit Outright Vermont, Vermont CARES, Pride Center of Vermont and Off Center for the Dramatic Arts. And Toms says he can't think of a show that better reflects those groups' respective missions.
As he puts it, "The thing that I love so much about Hedwig is, to me, the message is about loving yourself in any shape or form you come in."