Sasha Goldstein
Justin Reynolds' shed
When Justin Reynolds became homeless in April 2017, he pitched a tent at a spot in Burlington where he thought no one would bother him. The place was quiet, and he kept to himself. But Queen City cops eventually told him to leave.
It happened several more times, and when Reynolds got sick of it, he built a shed last winter just north of the new Lake Champlain Community Sailing Center, right on the downtown waterfront. He used materials left over from construction sites, affixed a "No Trespassing" sign to the side of the shack and cooked over a small grill outside. He enjoyed a view of the lake, a lighthouse and the Adirondack Mountains beyond.
He returned from work one day to find a piece of paper tacked to the wall. It said he had 48 hours to pack up and get out.
"This is supposed to be a country of equality," Reynolds said last week. "Forty-eight hours is not enough reasonable amount of time for anybody."
Reynolds was one of about 20 people who attended a May 22 town hall meeting for the homeless at the Salvation Army on lower Main Street, convened to discuss the city's camp removal policy. The policy has existed only in various drafts for at least five years, but it has been enforced nonetheless.
Mayor Miro Weinberger says the most recent draft, penned in October 2018, balances everyone's right to use public land. But advocates are calling for clearer rules and more compassion for the homeless who sleep outdoors within city limits.
The issue will remain at an impasse until a federal lawsuit is resolved. The American Civil Liberties Union of Vermont sued Burlington in 2017 on behalf of Brian Croteau Sr. after the city twice evicted him from camps and trashed all of his worldly possessions.
The ACLU of Vermont contends the practice is unconstitutional. Advocates say it's created fear and uncertainty among unsheltered people — those living in tents and places not meant for habitation — a population whose numbers more than doubled in the last year, from 17 to 48, according to data released last week from the "2019 Point-in-Time Count" for Chittenden County.
"This remains the dark, dark shadow over the life of a homeless person living in a camp," Stephen Marshall, a former homeless man-turned-advocate, told the Burlington City Council last week. "They feel under siege. They feel unwelcome."
The Community Health Centers of Burlington's warming shelter on South Winooski Avenue will close for the season on June 15. Thirty-five people remained as of last week, according to Erin Ahearn, the nonprofit's director of homeless health care programs. Only six had a plan for the summer: to go camping.
That's technically illegal on public land in the city — except at designated campgrounds — but homeless encampments are a fact of life in Burlington. Tents are visible through the trees in the South End, in patches of woods off North Avenue and in the Intervale.
Some choose to live rough, while others find it a circumstance of last resort. Burlington Police Chief Brandon del Pozo said that "in almost all cases, we don't give them a hard time."
Some campers beg to differ. Kat, a homeless woman eating dinner before last week's event, said she left town last summer after the police destroyed the Intervale campsite she shared with five people, without any notice. She won't go back to a camp again.
"I don't want to be harassed, and [cops] do that on the daily," said Kat, who declined to share her last name. "They make you feel like trash because you're homeless."
Kat hadn't heard about any camp policy but would support one that gives homeless folks a right to tent.
Courtney Lamdin
Justin Reynolds
The ACLU of Vermont blasted the city's latest draft, saying the version was worse than what had existed before the lawsuit was filed. The draft policy says that, once the mayor approves a camp's removal, residents have seven days to clear their stuff before it is thrown out. The city has no place to store their things, the policy says.
"All we're doing by throwing their property away is making them more destitute," ACLU of Vermont attorney Jay Diaz said. "That's not a way to solve homelessness, for sure."
Marshall, for his part, fired off an 11-page, line-by-line critique of the proposal. The gist: "It protects the city at the expense of the homeless," he said.
Diaz said a "humane and constitutional policy" can still be crafted, even though the lawsuit is still in the discovery phase. Last month, the city filed a motion to quash Weinberger's deposition, scheduled for May 31; the judge had not ruled on it as of Monday.
Diaz was among the participants at the town hall, which was co-moderated by Marshall and City Councilor Adam Roof (I-Ward 8), who chairs the council's Public Safety Committee, which will vet the encampment policy.
The meeting was ostensibly to gather feedback on the latest draft, but instead, the participants spent much of it lamenting the struggles of life on the streets in the Queen City. Most closely guarded the exact location of where they camp.
Others shared sentiments about the city's treatment of homeless residents. Ken Bowler, who's lived homeless for 15 years in Burlington and Portland, Maine, said bureaucracy stymies any real change.
"It's unfortunate that the kindness of human nature is overridden by liability every time," he said. "Nobody wants to sign the bottom line and accept responsibility for a decision, so we suspend it in meetings forever."
Jermee Slaughter, who once was homeless, said a policy shouldn't be that difficult to figure out.
"We either care about these people and we [meld] them into the community, or we don't. That's the discussion," he said.
Roof acknowledged that government can move painfully slowly and said he understands people want assurances that they can camp somewhere without being evicted or arrested: "If I could snap my fingers as one of 12 city councilors and create that environment, I would," he said.
Weinberger said the city's Community Economic Development Office studied options for designated homeless camps several years ago but did not recommend the city move forward. He's pitched the concept of partnering with nonprofits to fund a "low barrier" shelter for the warmer months, given that the CHCB's shelter is only open until June — and only because the city chipped in $60,000 to extend the season beyond April this year.
"It could be an open-air, outdoor facility. It could be some other type," Weinberger said. "To date, there has not been consensus on what that facility should look like.
"I've been unsatisfied with the pace this conversation is going," the mayor added. "This is something I'd like to see developed quickly."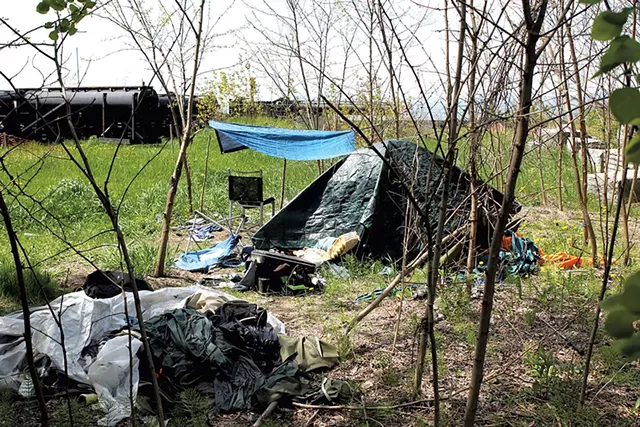 Courtney Lamdin
A camp off the bike path
Diaz suggested Burlington look to Hartford, a Windsor County town of just under 10,000 residents that seems to have figured out a system for homeless campers.
Hartford Police Chief Philip Kasten told Seven Days that his officers work with social service agencies in the Upper Valley. They trek out to camps in plainclothes, get to know the campers and connect them with help. It takes time — sometimes weeks rather than days — but police rarely have to cite anyone for trespassing, even on private property, Kasten said.
"If we can slow things down and give folks the support they need ... it allows them to go on their own terms," he said. "I don't think there's a magic bullet for it, so to speak. With us, we are very fortunate in our community that we have a number of people who are patient with us."
Officers make it clear that camping is illegal, but if campers agree to engage with social services, "we're gonna give you the flexibility," Kasten said.
Hartford is a quarter the size of Burlington, but it faces similar challenges. Shelters are always full. Mental illness often coincides with homelessness. Some campers leave garbage behind. But to Kasten, one thing is clear: Arresting people won't solve anything.
Weinberger thinks Burlington's policy is "thoughtful" because it directs city staff to consult with services like the Howard Center's Street Outreach Team before disbanding encampments. He said he frequently hears from constituents who think the city doesn't enforce the policy aggressively enough.
City Council president Kurt Wright (R-Ward 4) is one of them.
Just a few months ago, Wright called the police repeatedly until they disbanded an encampment near Leddy Park in the New North End. People there were drinking and defecating in public, Wright said.
Wright won't support a policy that makes it harder to clean up camps, and if the city pursues a designated campground, it shouldn't be near residential neighborhoods where children play, he said.
"The ACLU is not looking out for that. That's not what they're concerned about. It is what I'm concerned about," Wright said. "I'm concerned about my constituents having to put up with something that's intolerable."
Del Pozo thinks a good policy "will create expectations and will provide clarity" for the homeless and the general public when it comes to use of public land.
"People advocate for different borders, where to draw that line," he said. "Some of that advocacy has resulted in litigation, so we have to see how that plays out."
Ahearn at CHCB said the policy discussion is a catch-22. The campers who are aware of the policy debate are worried that discussing it draws attention when they'd rather be left alone. But they also want rights, she said.
"It's a really delicate thing," Ahearn said. "I can't imagine what this product would look like, but all reality says, if there's no place to send people, they're going to be [camping], and we shouldn't punish them for it."
Camping will be the reality until officials do more to help the homeless, said Matias Frias, one of the diners at the Salvation Army.
"If the city complains — why we're in the woods or in parking lots or driveways or somebody's front door — house us. You don't like it? House us," Frias said. Otherwise, "stop harassing us for where we're camped out. Because that's the only place we got. We got nowhere else."