Steve Weigl
June 2012 cover
Last June, Kids VT published its first Dad Issue to coincide with Father's Day. It was such a hit, we're doing it again.
Readers might remember last year's Star Wars-themed cover. It won an award for Best Newsprint Illustration Cover at the 2013 national Parenting Media Association conference. We got the idea for the Jedi dad from Kids VT publisher Colby Roberts, who sometimes feels he needs to channel the Force to manage his three daughters and all of their accoutrements.
For help with this year's Dad Issue cover, we turned to Seven Days designer Bobby Hackney, who's part of our shared Seven Days/Kids VT design department. A father of two, he's also the lead singer in the hardcore band Rough Francis. Last December, he organized "The Kids Are Alright," a family-friendly local rock show that Kids VT sponsored. Hackney is also the son of a musician; his father and uncles were in a punk band called Death.
Hackney suggested the cover depict a tattooed rocker dad who's not too cool to cuddle with his kids.
Kids VT's lead designer, Brooke Bousquet, liked that idea. She had a similar vision for a cover celebrating hip dads after watching her marketing-manager husband show off skateboarding moves to their 4-year-old son.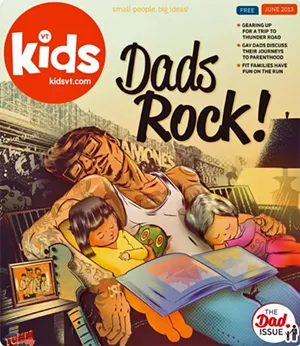 Michael Tonn
This month's cover
Bousquet worked with illustrator Michael Tonn on the concept, and his first draft included a framed family photo showing a mom and a dad with their daughters. But Ken Picard's feature story in this month's issue is about gay fathers ("The Dads Next Door"), so Bousquet asked Tonn to alter the image to portray two dads instead. Now the cover art makes subtle reference to the content inside.
Yep, it takes a village to make a parenting magazine.
And that's just the cover. Inside we're kicking off our annual "Vermont Day-cations" series with two destinations we think dads —and moms — will love: Thunder Road SpeedBowl and Burton Island State Park.
We've also asked dads what meals they like to make ("Go Ask Dad"). This month's "The Art of" is about a local musician-dad who hosts sing-alongs for kids. And teacher Benjamin Roesch contributed a moving "Use Your Words" essay about how, despite his best efforts, he's turning into his dad. Spoiler alert: It turns out he doesn't mind so much, after all.
As always, this issue is filled with tons of activities and ideas for taking advantage of all Vermont has to offer. We hope it motivates you and your kids to get out and enjoy the summer season.
Drop us a line and let us know. It's always good to hear from you.