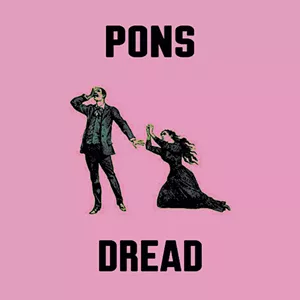 (Self-released, digital)
Dread is one of the most visceral emotions, a Molotov cocktail of anxiety and fear often garnished with depression and self-loathing. And the hangover can last a lifetime. But those who manage to claw their way out from under the suffocating mass of dark feelings are often stronger for it.
Burlington post-punk duo Pons center these concepts on their dizzying EP Dread. After a year or so of living in Vermont, Sam Cameron and Jack Parker, both fresh-out-of-high-school North Carolina natives, have begun to disentangle themselves from the psychic energy of a world of "vastly different ideals and priorities," according to an email. High on the pair's to-do list? Smoke weed and make music. (You'll find good company in the Queen City, Pons.)
Through six electric tracks, Pons pair confrontational punk architecture with glam-rock flair, launching dance-rock assaults on all the bad feels. Their songs lurch back and forth between measured tempos and careening freight-train beats. And practically everything in the world of Dread is fuzzy: fuzzy synths, fuzzy guitars, fuzzy vocals, fuzzy snares.
"Bug" crashes in with walloped, syncopated guitars over brittle tambourine and cryptic, frazzled shouts ("Drop down! / Break neck! / Fly out! Take it!"). By the song's midpoint, the tempo shifts from an even-paced dance-floor dazzler to a breakneck maelstrom of synthed-out turbulence.
Switching gears to sharp, jangly rock, "The Shakes" instantly recalls the detached glaze of New York City rockers the Strokes. (And with a title like "The Shakes," that can't be a coincidence.) Disheartened and disillusioned, Cameron sings, "Wasting all of my time / Don't know who I am / Driving nowhere in mind / I'll take another gram."
Name-dropping one of auteur David Cronenberg's most controversial protagonists, "Max Renn" is full of Videodrome's bleak nihilism yet candy-coats it with bright synth power chords. Never quite finding a secure pace, the song rollicks to and fro, culminating in a wailing call-and-response post-chorus.
"Information" revives early 2000s electro-trash through withering guitar pops, fizz-forward electronic snares and a probing synth bass line. Sharply barked rhetorical questions like "What you got to lose?" ping-pong around this tense-AF cut.
Flirting with country-lite, vaguely Southern-rock vibes, "Family Man" is a wriggling, distorted banger. The song implodes into chaos just past the halfway mark.
Closer "Bronze" froths with pent-up aggression and disgust: "I'm always down / Even when I'm crawling out / And I can't seem to make the cut." After meandering for more than three minutes, the track concludes with a frenzied, cynical swell: "Can't fit in unless you're brain-dead ... Give the crowd what they want."
Cameron and Parker are indeed young and have a lot of living to do. But their ability to artfully capture alienation, anger, apathy and adversity — as well as establish a defined set of parameters for what their band is and how it sounds — puts them well ahead of where they might otherwise be.
Dread is available at ponsbandofficial.bandcamp.com.