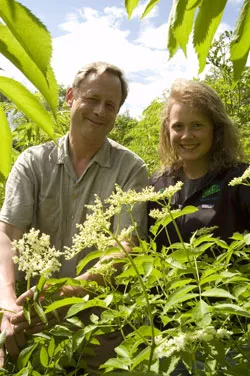 Matthew Thorsen
Todd and Charlotte Hardie
When the thickets burst with summer fruit, we fill our fridges with raspberries and blackberries, but fresh elderberries are hard to find in markets. Maybe it's because it takes a basketful of the small, inky things to yield, say, a respectable batch of elderberry pancakes. Or maybe it's because some varieties of the fruit are toxic before they ripen.
In Europe, you can drink elderberry brandy and even elderflower-flavored Fanta. According to Michael Howard's book Traditional Folk Remedies, eastern Europeans gave the elder tree a sacred status, believing it could keep witches at bay. Anyone who had to destroy one first recited a prayer to the tree's spirit, known as the Elder Mother. A similar tradition in Denmark inspired Hans Christian Andersen's story "The Elder-Tree Mother," which details a cold-stricken boy's voyage to healing in "the warm countries" through the magic of his mother's hot elder tea.
Todd Hardie, of Honey Gardens in Ferrisburgh, wants Americans to experience the benefits of elderberries, too. He points to evidence that the old wives' tale about the power of sambucus (the umbrella name for plants in the elder family) may be true. "Elderberry has the antiviral agents that chemical medicines do not have to get the virus in the common cold," Hardie says. "You can't buy chemical medicines at the pharmacy that are effective against the common cold, unless you can get elderberry. It's very potent."
As his company's name indicates, Hardie's main business is bees, but bees need plants to pollinate, and crops such as elderberries fit the bill. He relates the growth of his apiary in slow cadences that recall the soothing tones of an undertaker but warm up, as he grows comfortable with his interlocutor, to something like a patient paternal figure. Founded 43 years ago, Honey Gardens grew from a hobby to a business when Hardie began to sell raw honey as a homegrown health aid. Health nuts who embraced raw foods in general touted Pooh Bear's favorite as a cure-all, and Hardie is its number-one proponent. "You can use raw honey on wounds," he says. "More and more people and hospitals are using raw honey." As long as it's kept below 120 degrees Fahrenheit — unlike the processed, filtered product in most stores — honey is a natural antiseptic. "It takes the air out of the wounds and brings to it a wealth of healing properties," Hardie says.
Elderberries came into the beekeeper's life when Greensboro orchardist Lewis Hill encouraged him to make a syrup combining the curative qualities of honey and the fruit. Hardie had begun to see sugar-sweetened elderberry syrups, such as the Israeli product Sambucol, at health-food stores. He saw a potential demand, but wanted to go one better. "We were inspired by that product 10 years ago," he says, "and we wanted to do something in Vermont and not have sugar in it. It [his version] had Vermont honey in it, so we were able to make something that was a much higher quality and connect with regional farmers."
According to Hardie, land development and environmental factors have drastically reduced the number of elderberries in the state. When crops dried up, he looked north for providers. Just 15 minutes across the border, in Lacolle, Québec, Hardy came across the 17.5-acre organic elderberry orchard belonging to Sylvain Mercier and Jacinthe Desmarais. The kind couple hosts an annual international elderberry festival on their farm, where growers and medical practitioners can trade knowledge. Hardie lauds their efforts: "The growing of elderberries is important to the small farms of this region. If more people are sensitized to the benefits and good taste of elderberries, it will bring this new crop to greater awareness and give growers another opportunity."
As Hardie and his 19-year-old daughter Charlotte lead a reporter through the family's own small orchard, bees stay on his mind. He winks at the photographer, saying, "I know why you can appreciate bees — 'cause you're so sweet." He isn't above a Jerry Seinfeld-esque pun, pointing out that in the synergy of elder-plant pollination and honey farming, "We just let them 'bee' natural. I know it sounds canned," he protests, when the wordplay draws a grimace, "but it just comes out."
He's quick to point out that today, June 20, is a special one for the hives' inhabitants. "This is the summer solstice. This is a really sacred time for the bees because it's the longest day. The queen will lay the most eggs today, up to 3000." There's a queen in each hive, and Hardie has six of them, so at any given time the apiary is home to 35,000 to 50,000 bees.
Grouped close together, the 6-foot elder trees resemble a snowy miniature forest, with delicate flowers like Queen Anne's Lace. These blooms last for just a week, Hardie notes in passing. In recent years, he says, he has become a practitioner of apitherapy, or bee-venom therapy. Standing with Charlotte amid a massive cloud of bees, Hardie maintains, "Most of the time when people get stung, it's by an aggressive cousin, a hornet or a wasp. Bees are very gentle, but if you put them on someone and hold them there, they will sting the person. The bees also go to where they are divinely guided. It's divine orchestration."
Hardie says he has firsthand knowledge of the phenomenon: "Our daughter Meriwether had bad knees from a sledding accident, and she continued to play ice hockey. So we would go out with the bees, and she'd get stung 24 times and 20 would be on the knees where she needed help, and that happened over and over again. She would always get stung on the knees when she went out with the bees, and her knees are now healed."
"Beekeepers do not get cancer," Hardie goes on. "The immune system is supported and stimulated. It's a real gift to receive this venom from the bees that they so freely give to us." He claims to have cured conditions from multiple sclerosis to three cases of tendonitis — the latter sufferers recovered after a single sting. All of these treatments are free of charge, what Hardie calls "a gift from the land."
Besides honey, propolis — the natural spackle that bees make from the bark of pine and poplar trees to protect their homes — also has curative mojo. Its resin is rumored to be the source of a Stradivarius' sweet sound, and recent scientific papers have linked it to antiviral, antifungal and antibacterial effects. Honey Gardens includes propolis in many of its products, including a topical salve, a natural alternative to Neosporin.
Right now, the bees are enjoying their working solstice in the elderberry flowers. But Hardie's berries and his bees come together a second time when he creates flavored meads. Mead is wine made from fermented honey, and, as Hardie points out, "Good wine is very healthful, especially black-currant and elderberry wine. They both have lots of vitamin C."
Hardie takes his visitors to Honey Gardens' mead-making headquarters, a space shared with Shelburne Vineyards. Mead master Jake Feldman has prepared a tasting of 15 different meads, only one of which — with some likely tweaks — will become a Honey Gardens product.
The meads vary in their ratio of elderberry to honey in the mix, as well as levels of naturally added acidity. For this reporter, the highlight of the tasting — which also features Lake Champlain chocolates, cherries and 2-year-old Shelburne Farms cheese — is the elderflower wine, profoundly floral, but with a pleasant, buttery note.
Hardie says that he wants his "to be the country's best elderberry wine." Andrew Wolf, chief of plant medicine at Honey Gardens, raises his eyebrows at that: "I don't think anyone is putting up much of a fight. It's kind of no contest."
Yes, it may be a while before elderberry-flavored cordials and soft drinks hit U.S. supermarket shelves. (Though anyone who doubts they could should consider the meteoric rise of the pomegranate, based on savvy marketing of the fruit's antioxidants.) For now, Hardie's brews are due for months of careful testing before a formula is chosen at the time of the elderberry harvest in September. When he releases his new wine to the public, the bee man will once again prove that good health can be pretty sweet.