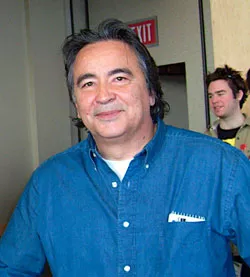 Peter Galbraith, the famous stranger being floated in mainstream Vermont Democratic Party circles as someone who is thinking about running for governor, was a noticeable no-show at the big labor conferences held in Burlap over the weekend. He didn't return our phone call, either.
Not very candidate-like, eh?
The faces of Senators Patrick Leahy and Bernie Sanders and Congressman Peter Welch, however, were seen at the labor events as were those of GOP Gov. Jim Douglas and Progressive Anthony Pollina.
And Tony the Prog made it perfectly clear to "Inside Track" he's not just "thinking about it" anymore. Actually, Pollina didn't have to say a word — his new short haircut said it for him.
"We're in," said Pollina. "We're putting together the campaign. I'm getting out and talking with people. I've been getting around the state."
The previously unsuccessful candidate for Congress (1984 as a Democrat), governor (2000 as a Progressive) and lieutenant governor (2002, again as a Progressive), made it clear he has no intention of running as anything but a Progressive this time, despite urgings from some that he run in the Democrat primary.
However, that will not prevent him from seeking Democratic support, he told us.
"I've continued to reach out to Democrats around the state," Pollina said. "I've called and talked to a lot of members of the Democratic state committee to let them know that I look forward to their support, and to get a sense as to where they're at. So I've been continuing to do that work of reaching out to Democrats."
Let's face it, right now he's all the Dems have.
Pollina said he has also spoken to Galbraith "a couple times" since we saw them together in Burlington's Uncommon Grounds coffee shop last December.
"At this point," said Tony the Prog, "quite honestly, I have stopped trying to figure out what everybody else is thinking or planning to do. We've been through that process, and I've been involved in that process, and I've sat down and had these conversations. But there just comes a time when you're going to have to move forward."
Amen.
Part of his decision to come out of the closet as a candidate, to start raising money and hiring staff, was because of conversations he had with Democratic activists "who said to me, ultimately, somebody's got to get out there and start doing it, 'cause we're losing time."
He declined to names names.
What about running in the Democratic primary?
"You know, I'm a Progressive," said Anthony. "I'm not going to leave the Progressive Party to become a candidate of another party."
Doing so, he said, "would undermine people's faith in me and also in the process, and I wouldn't be too surprised if there were Democrats who would accuse me of being opportunistic in switching parties."
However, Tony the Prog told "Inside Track" he has no problem with Democrats mounting a Pollina write-in campaign in their party's primary.
"What I have suggested is, I would be more than willing . . . in fact I think at this point it's fair to say there are people in the campaign who are planning to mount a [Pollina] write-in campaign in the Democratic primary," said Anthony. "But the idea of leaving one party to join another party for political purposes," he told us, "does not go along with my own principles."
But you did get a haircut, we pointed out to the 55-year-old baby-boomer talk-radio host. It's shorter than it's been in years. Pollina said there was a little regret.
Yikes.
Pollina will also be ending his stint as host of the afternoon talk show on WDEV radio. This week is the Farm Show in Barre. He said he wouldn't "feel that comfortable" with some of the folks walking by thinking it was political.
Jeezum crow. No time to be shy.
Next week, Pollina said, he'll be breaking in new hosts for the one-hour call-in program.
Well, we suggested, Jim Douglas might say there's a darn good chance he'll be available for host duties again after the votes are counted in November.
"Well, we'll see," replied Pollina. "I think if I could do the show as governor, I will do the show as governor."
There's a campaign promise for you, eh? Or is it a threat?
Imagine Jim Douglas, or any governor, being on the radio, taking calls a couple days a week.
"I'm not saying I would do it," said Candidate Pollina, "but I think it would be a fun thing to contemplate."
Whatever you say, Guv.
**********
Is It True? — Pinch me. Did the city council of the progressive People's Republic of Burlington really vote against letting voters express their views on our antiquated marijuana laws on the upcoming Town Meeting Day?
Yes.
It's not like the resolution, sponsored by Democrat Ed Adrian and Progressive Tim Ashe, would have allowed people to legally light up doobies on Church Street. All it said was: Shall the voters of the City of Burlington call upon the Governor and State Legislature to explore an alternative to the criminal system for dealing with small quantities of marijuana?
As you know, thanks mainly to the courageous honesty and outspokenness of Windsor County State's Attorney Bobby Sand, the debate over Vermont's marijuana laws is now getting a public airing. Even the Vermont Legislature is taking a look, considering a bill sponsored by Sen. Jeannette White (D-Windham) and Sen. Hinda Miller (D-Chittenden) that would make possession of 4 ounces or less of grass a civil, rather than a criminal, violation and subject to no more than a $1000 fine.
In fact, the very existence of a bill in the state senate was cited by opponents of Adrian's ballot resolution — particularly Democratic Councilor Bill Keogh, who is also a state representative — as reason to keep it off Burlington's March 4 ballot. It's a state issue, argued Keogh. Let Montpelier handle it!
"I have the greatest amount of respect for Bill," Counselor Adrian told yours truly, "but I would respectfully disagree. The legislature's been dealing with it for the last 33 to 34 years and hasn't done anything!"
He noted there had been a commission in the early 1970s led by Hilton Wick (Wick was a Republican banker) that "suggested the legislature legalize marijuana."
Ah, the good old days, eh?
"Frankly, I would prefer if the legislature did something about it," said Counselor Adrian, a GenX attorney, "but . . . it'll be another 30 years if it's left up to the legislature."
Adrian's marijuana resolution was defeated 7-6. Among the surprising "no" votes were baby-boomer Prog Jane Knodell, who appears to be growing conservative with age, and Indepen-dent Barbara Perry, ditto.
In fact, it was the "no" votes from the boomers, noted the resolution's sponsor, that killed it, while the GenXers were mostly for it.
Interesting.
To at least get something passed, Adrian divided his original resolution. One that merely calls on the city council's Public Safety Committee to "explore creating another option of handling small quantities of marijuana" passed on an 11-2 vote.
Adrian told "Inside Track" he was certainly "disappointed." But, he said, he was "glad that the other resolution passed by an overwhelming majority." Putting his best spin on it, Fast Eddie said the resolution that did pass "will empower the Public Safety Committee to investigate this issue thoroughly and take testimony from both sides."
Still, said Counselor Adrian, the real losers in this are the "voters of the City of Burling-ton, who had their voice taken away."
Stay tuned. This one could come back to haunt one or two of the "no" voters in March, eh?
**********
On the Hemp Front — The shrinking of the Statehouse press corps was evident last Thursday when yours truly was the only reporter in the House Agriculture Committee. On the table was H.267, a bill that would let Vermont farmers grow hemp — not to be confused with marijuana.
Chairman David Zuckerman's committee heard from a Vermont State police lieutenant who gave the expected law-and-order line. Under federal law, said Lt. Warren Whitney, if it has any THC content, it's considered marijuana.
One surprise, however, was the state trooper's "confession" that he had grown up on a dairy farm in Georgia, Vermont, that had hemp growing on it, a vestige of its early days as a World War II cash crop!
Still, Lt. Whitney suggested that if hemp were legalized in Vermont and permits issued, there would be an incentive to plant a couple more valuable pot plants. There would have to be "additional training," he said, for Vermont troopers to be able to tell pot plants from hemp plants.
But a following witness from Saskatoon, Saskatchewan, addressing the Vermont lawmakers by speakerphone, said that had not been their experience in Canada, where hemp is legal and a profitable cash crop for farmers.
"We really don't have a big issue with the hemp growers," said Sgt. Hoover of the Saskatchewan Drug Unit. "It's such a different-looking crop," he told his attentive Vermont audience. "It really doesn't look like marijuana," he repeated. "There's basically just one flower on top, so most people really don't know what it is."
Sgt. Hoover testified, "It would be really easy to spot marijuana plants in the center of a hemp field because there's such a difference in the look. Hemp plants are absolutely filled with seeds and, of course, marijuana are all female plants, so there are no seeds. They want the smokable product," said the Sarge from Saskatoon.
As for smoking hemp to get high, said Sgt. Hoover, "You'd have to smoke 400 pounds of it to even get a smile on your face," a comment that brought a few smiles to the faces of the committee members.
As it is, he said, "Marijuana is huge everywhere up here. Most of our marijuana grows are indoors. A lot better product. Readily available anywhere. Canadian marijuana," said the Canadian cop, with a touch of pride in his voice, "is pretty popular."
The committee also heard from an organic grain farmer from Orwell.
Ken Van Hazinga grows wheat, soybeans, barley, oats, black beans, sunflowers and more on a couple hundred acres.
"It would add to the list of crops," said Van Hazinga, "anytime you can extend your rotation and grow more varieties, it helps your soil health."
It also extends the spacing in the crop rotation, which also improves soil health.
"There's less disease problems," said the farmer, "and it's easier to balance your nutrient requirements."
Van Hazinga also said his next-door neighbor, an organic dairy farmer, was interested in using hemp fibers for bedding.
"Fifteen years ago," said Van Hazinga, "there were few of us growing organic grain in Vermont. Now," he said, "they're beating down my doors."
Interesting.
The committee was still wrapping up testimony on the bill Tuesday as this edition of "Inside Track" hit the deadline.
Stay tuned.
**********
Vermont Leads? — Also on Tuesday, as we went to press, State Rep. Mike Fisher and State Sen. Peter Shumlin, the senate president pro tem, were putting Vermont out front in opposing the Bush-Cheney team's ongoing, illegal bloodbath in Iraq. We're soon to start the sixth year of the war, on March 20!
A bill introduced by Fisher and backed by Shummy in the senate says the constitutional authority for George W. Bush to continue to federalize the National Guard to fight and die in Iraq has terminated.
Amen.
Efforts to introduce similar legislation in statehouses in Maine, Minnesota, Maryland, Wisconsin, Rhode Island and Pennsylvania are also underway.
Imagine if this catches on.
Finally.