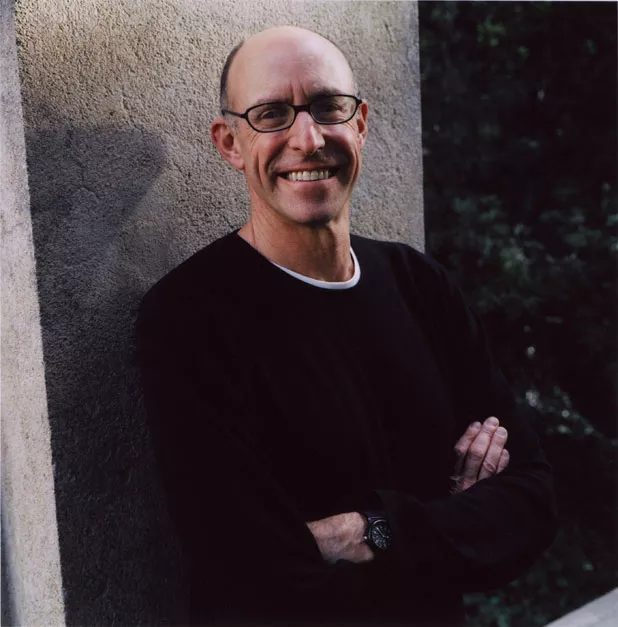 Last week, bestselling author and University of California-Berkeley environmental journalism professor Michael Pollan attracted more than 1600 hot and sticky omnivores and vegetarians to the Ira Allen Chapel, despite the threat of some seriously bad weather. Pollan told his audience, packed into the pews like so many sardines, that Americans spend more time thinking about nutrition and diet than do citizens of any other industrialized country, but still manage to be "among the most unhealthy people in the world." His solution? "Eat food. Not too much. Mostly plants."
Pollan expounds on this recommendation in his most recent book, In Defense of Food: An Eater's Manifesto. His previous book, The Omnivore's Dilemma, which teases out where the various foods in our supermarket come from, made him a household name and a popular champion of sustainable agriculture and sensible food choices that don't sacrifice flavor.
While in town, Pollan toured some of the area's most forward-thinking food-production sites, such as Burlington's Intervale and Shelburne Farms, and got to sample some of its finest products in a private dinner at Penny Cluse Café.
After he returned to his West Coast home, Seven Days caught up with Pollan via email to ask him a few questions about his impressions of Burlington and about the challenges of eating well in the 21st century.
SEVEN DAYS: In your talk, you mentioned that we're about 30 years ahead of the food-production curve. Were you referring to Burlington specifically, or the State of Vermont?
MICHAEL POLLAN: Burlington particularly, but Vermont, too.
SD: What are some of the things we've gotten right?
MP: The appreciation of what you can uniquely do well there, and the support for local farmers, the recognition of the many values of local food, i.e., energy conservation, landscape preservation, community building, etc. The Intervale stands as an important urban model. The percentage of locally grown food in Burlington is as high as anywhere I've been.
SD: Can you name a few other places in the U.S. that are similarly advanced?
MP: The Bay Area, Portland and Seattle.
SD: Although we have some amazing and vibrant ag in this area, it seems important that we not become complacent and rest on our localvore laurels. Is there anything you noticed on your visit that we clearly need to work on?
MP: Not there long enough to know, but developing winter markets, four-season farming, would be the next step.
SD: We've got a few winter markets and year-round farms, so it looks like we're on the right track!
SD: You mentioned that you've been reading about this area for many years. What were your impressions of City Market, Healthy Living, Shelburne Farms and the Intervale? Did they live up to your expectations?
MP: Yes, all . . . lived up to my expectations, and they were high. Between City Market and Healthy Living, you've got the best things about Whole Foods without the worst. Let's hope it stays that way.
SD: I've read that very young children have an ability to select the foods that they need to be healthy, at least until they encounter sugary stuff, at which point they gravitate toward that instead. Given that the American populace is used to having its taste buds tricked by the intense sweetness, fattiness and saltiness of processed foods, have we lost the ability to eat in our own best interests? . . . If Americans find enjoyment mainly in processed foods, and find that whole foods don't taste as good, how can they make healthy headway?
MP: Edible education. We have to teach children in school the pleasures of real food, which are more subtle but ultimately more gratifying than the cheap, easy pleasures of sugar, salt and fat.
SD: One criticism I've heard of your work is that the New York Times articles and books are "preaching to the choir." Do you think this is accurate or specious?
MP: In Defense of Food has reached far beyond the choir at this point - it's being read by plenty of people who would not consider themselves foodies.
SD: What is the government's role, if any, in moving Americans away from unhealthy, highly processed foods? Or must the movement be of the grassroots variety?
MP: We need to vote with our votes for changes in policy (in the Farm Bill, school lunch program, regulations of meat processing, etc.) as well as vote with our forks. There's a critical role for policy.
SD: It seems that food stamps, food shelves and other social programs designed to assist the food-insecure play right into the hands of industrial agriculture and food manufacturers. (Although, at least in Vermont, folks can use food stamps to buy a live goat or sheep, provided they slaughter it before leaving the farm.)
MP: Yes - for the most part our food-assistance programs are designed to help dispose of surplus industrial food, rather than ensure access to healthy whole foods.
SD: What needs to happen in the schools?
MP: This is too complex to go into [here], but we need to teach gardening and good eating - kids should get credit for lunch, just as they do for physical education and English.
SD: I have long maintained that many of the "foods" on supermarket shelves are not actually food at all. Do you think such "edible, foodlike substances," as you call them, should be taxed differently from nourishing foods? Should it be possible to purchase them with food stamps?
MP: I'm not sure if a tax scheme is the way to go.
SD: One of the main tenets of healthy eating in Defense is that the human diet should be based mainly on plant foods. Over the past few years, I've seen numerous vegetarians reintroduce meat to their diets after discovering grass-fed, sustainable sources around Vermont. Do you see this as a bad move? Based on other points in your book about the importance of soil, feed, etc., do you believe that meat raised properly could be just as healthy as plant foods? After all, as you noted, groups like the Masai and the Inuit have been healthy on diets that are rich in flesh.
MP: Yes, well-grown meat is incredibly nutritious food, and should not be overlooked. But meat is not essential to a healthy diet, and too much of it pushes plants out of the diet.
SD: You mention Weston Price Foundation co-founder Mary Enig, but I didn't see anything about the Weston Price Foundation itself. [The WPF advocates a diet rich in meat and milk from grass-fed animals, as well as copious amounts of fermented foods.] What are your thoughts on the "traditional" eating habits proposed by the WPF? Do you think they rely too much on animal products?
MP: They do a lot of great work, but they go further than I feel comfortable [with] in their advocacy of a high-meat diet. We have to consider the environmental and equity issues as well. I'm not yet as convinced as they [that] we can completely exonerate saturated fats, though I'm closer to them than to, say, the American Heart Association. But they've done great work, especially connecting consumers to quality meat producers.
SD: Did you discover the principles of eating well over years, as you did research for books or articles, or did you have an epiphany?
MP: Visiting industrial farms - potatoes in Idaho and cattle feedlots - made me realize I had no idea where our food comes from, and that I owed it to myself, my family and readers to find out.
SD: I would guess that you travel a great deal, at least when you're on book tour. How do you manage to eat the way you prescribe when you're on the road? Is it harder in certain areas of the country?
MP: It's tough, but very often my hosts treat me to superb local meals, as happened the other night at Penny Cluse.
SD: What do you do when ethics compete with desire? For example: You could make do with a nice, sustainable bottle of local cider vinegar from apples that were pressed by hand, but what you really want is to buy an expensive bottle of balsamic shipped all the way from Modena.
MP: We're always making trade-offs, and it's impossible - and unnecessary - to get it right every single time. We do the best we can, balancing ethics, immediate gratification, etc.
SD: Can you describe an average meal in the Pollan/Belzer household? [Pollan is married to artist Judith Belzer.]
MP: Fish marinated and grilled on the barbecue, grilled veggies, salad, a little pasta or wild rice sounds pretty good right now.