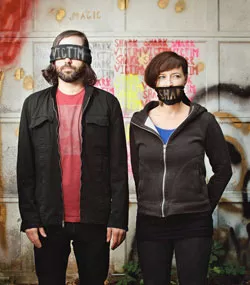 When next we meet, Americans will once again have gathered en masse to honor that most celebrated of quadrennial traditions, that unassailable cornerstone of civil liberty, that beacon of self-governmental freedom: electing a president. We the People will either be living under the regime of a Kenyan-born Muslim communist with a penchant for killing the elderly; or that of an evil, two-faced gajillionaire robot with a disdain for the poor and vaginas. At least, that's the choice as it's been laid out on Facebook. America. Fuck yeah.
Of course, here in the People's Republic, there is little drama regarding the destination of our paltry cache of electoral college points. Undoubtedly, Vermonters will once again cast our lot for Mr. Obama while we anxiously wait to see what Ohio does.
(Really? Fucking Ohio? If the voting system, and thus the fate of the free world, routinely hinges on the whims of places like Ohio and Florida, might that be a good indication that said system is fucking flawed? Fuck.)
No matter where you fall on the political spectrum, the evening of Tuesday, November 6, promises to be tense. Fortunately, our good friends the Dirty Blondes have a remedy to soothe jumpy nerves: rowdy, booze-fueled freedom rocking.
As has become something of an election-night tradition, the Blondes will host a results watching party, Exit Poll, at Club Metronome in Burlington. The show will include a pair of sets by the Blondes, bookending appearances by a number of local favorites — James Kochalka Superstar, Cave Bees, Dino Bravo — as well as two newish acts: a one-off novelty band called Mitt's 47 and Shark Victim.
(Full disclosure: Both the Dirty Blondes and Mitt's 47 have members who work for Seven Days.)
Shark Victim is a side project of Lendway's Michael Clifford and drummer/vocalist Jess Mateik. Guitarist Clifford describes the act, in gestation for about a year now, as "chaos-pop." He says the duo, which is composed solely of drums, bass, vocals and a whole lotta dirty-ass fuzz, has been hard at work this summer on a debut EP tentatively slated for a late-November release. Clifford sent along some rough mixes, and I gotta say, I dig what I heard. It's sorta like Dum Dum Girls run through an organ grinder. It's grimy and punky, but there's a pop cheekiness amid the lo-fi filth that reminds me a little of the Go! Team. I'm looking forward to hearing the finished product. Also, I'm officially mandating the band play a show with Hello Shark some time soon.
Oh, and don't forget to vote and stuff.
It's Your Birthday
They grow up so fast.
This Saturday, November 3, the little coffee shop that could, Radio Bean, turns 12 years old. And, as has become tradition, the cozy café is celebrating by hosting every friggin' band in town. OK, maybe not every band. But there's a lot of 'em — 69 to be precise. (Yeah, yeah, 69. What are you, 12? Oh, right…)
I happened by the Bean last weekend and caught owner Lee Anderson doing his surreal, experimental noise pop thing as Appalled Eagles. Between songs, he remarked to the crowd that he considered the lineup for this year's bash the best in the hipster haunt's history. That includes the 10-year celebration where 100 bands played the Bean's tiny stage.
At first, I thought Anderson was taken by a fit of hyperbole, or at least whiskey. But after perusing the schedule, I'm inclined to agree with him.
(Full disclosure: There's a rumor that one of my old bands may be playing a short reunion set at the party. I can neither confirm nor deny that report. But, in the interest of semi-transparency, you should know that I may be involved with this year's bash in some fashion. That is all.)
What's striking about the lineup isn't the star power, though there's plenty of that. And it's not the impressive number of acts playing. What's remarkable is the variety of acts on display. Here's a lineup where a hip-hop band, Lynguistic Civilians, fits snugly next to acoustic songwriters such as Maryse Smith and Zack duPont. Where raucous bands such as the Toes, Blue Button, Cave Bees and Rough Francis coexist with jazz ensemble the Shane Hardiman Trio and R&B outfit Kat Wright & the Indomitable Soul Band. Where a nationally known commodity, Anders Parker, shares a stage with relative unknowns Lowell Thompson, Joe Adler and Anna Pardenik — and I'm equally excited for them all. It's where a band called Pooloop … well, has a name like Pooloop.
The Radio Bean birthday bash is kind of like an annual checkup for the local scene. It's when we stick out our tongue and say, "Ah," when we tap our knee to check our reflexes, when we turn our head and cou… er, you get the idea.
Based on the talent assembling at the Bean this Saturday, I'm giving us a squeaky clean bill of health.
BiteTorrent
Earlier this year, Vermont was well represented at the Funniest Comic in New England competition at Mohegan Sun Casino in Connecticut. A number of our local funnymen and women advanced deep into the contest and put the rest of the region on notice that Green Mountain comedy is legit — something we've known for a while now. To determine who will represent the state for the 2013 contest, local standups will begin a grueling two-week battle this weekend dubbed the Funniest Comic in Vermont. The preliminary rounds will be held at Levity this Friday and Saturday, November 2 and 3, with semifinals and finals taking place at Club Metronome the following weekend. The top five comics will earn the right to represent Vermont at the big event next February.
Word on the street is that Nuda Veritas is working on a new record that may hit our eager ears in late December. In the meantime, she's focusing on playing live, including this Wednesday, November 7, at Club Metronome, with loopy Brooklyn psych-rocker Shana Falana and fellow Brooklynites the decidedly shoegaze-y Crawl Babies.
Big Heavy World is rolling out a new concert series this week called Rocket Shop Live at Main Street Landing Performing Arts Center. Each episode of the monthly series, streamed live via the Radiator, will feature one songwriter and one band playing live in Burlington. The show is preceded by a panel discussion with local music biz movers and shakers. This Wednesday, November 7, the series gets under way with performances by the Beerworth Sisters and songwriter Keeghan Nolan.
Last but not least, Abby Jenne and the Enablers recently began a weekly residency at — wait for it — the Olde Northender in Burlington. When asked how the Tuesday night series at one of the Queen City's most infamous dives came to be, Jenne played coy, writing, "I've got high friends in low places." No shit. You can catch the band at the ONE every Tuesday until further notice.
Listening In
If you haven't been tuning in to the second season of Seven Days' music podcast, "Tour Date with DJ Llu," this week would be a damned good time to start. In her latest episode, Llu sits down with Bobby Hackney Jr., who tells the story of the proto-punk band Death, which is in many ways also the story of his own band, Rough Francis. Locals are likely to be familiar with that tale, but it's worth revisiting, especially with Hackney, a terrifically engaging storyteller. (One more full disclosure: He also happens to be employed at Seven Days.) Plus, the episode features exclusive sneak peeks of tracks from RF's upcoming album. Check it out this Wednesday, October 31, at 7d.blogs.com/tour_date.