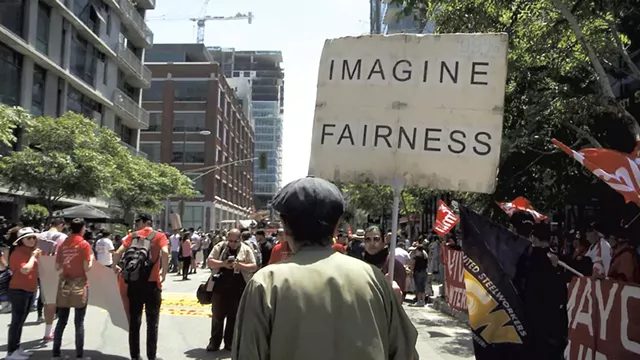 Waking the Sleeping Giant: TheMaking of a Political Revolution
In 2014, before people across America began to "feel the Bern," University of Vermont ecological economics professor Jon D. Erickson pondered the possibility of a documentary about Sen. Bernie Sanders (I-Vt.). He had a series of conversations with Sanders' policy adviser Jacob Smith about the stirrings of a resurgent progressive movement, and the pair decided to team up on the film project.
Not surprisingly, Sanders flatly rejected the idea of a behind-the-scenes documentary chronicling his every move. "I think, for the better, it morphed into something that was really about the movement and the people behind the movement at the grass roots, on the front lines," Erickson says. "These were the people who were at the heart of what [Sanders] was calling a political revolution."
Waking the Sleeping Giant: The Making of a Political Revolution will have its Vermont premiere on May 26 at Main Street Landing Performing Arts Center in Burlington. The film picks up Sanders' trail in February 2015 — when he was still weighing a presidential run — and concludes with Donald Trump's inauguration as president and the following day's Women's March on Washington.
While Sanders may be the star of the show, the documentary is an ensemble piece. Also featured are Black Lives Matter activists in Los Angeles, the organizers of the nonviolent protest group Democracy Spring, and a grassroots candidate from an impoverished county in West Virginia who ran for state office with just $30,000 in campaign contributions.
During the course of filming, Erickson says, he saw early warning signs that eventual Democratic nominee Hillary Clinton's campaign was in serious trouble. He cites interviews he conducted at political rallies with people who said they would support Trump if Sanders didn't secure the nomination — despite the two candidates' drastically different brands of economic populism.
"What they were voting on was establishment versus anti-establishment. I think that's what it came down to," Erickson observes. "People were just desperate for someone who was going to go into Washington, D.C., and shake things up. And, for better or for worse, that's what they got."
On the flip side, Erickson thinks the progressive movement was galvanized by Trump's victory and is stronger now than it would have been if Clinton's centrist platform had prevailed. He contrasts the political attitudes he sees in today's students to the initial fervor of millennials during the Obama administration, which dissolved into political apathy.
"Young people are realizing that it's going to take, to some extent, direct action beyond just railing on Facebook or going to a march and making a pretty sign," Erickson says. "It's actually going to take getting out and resisting what could be a truly fascist kind of regime that's taking over our government."
A Progressive Horror Film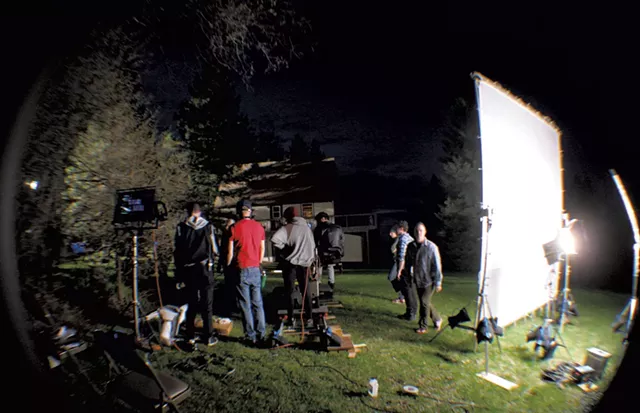 As a horror film buff, Brooklyn, N.Y., resident Christopher Wells has seen his share of blood and gore. So when the opportunity arose to write and direct a feature-length horror film, he decided to take a different approach.
"I wanted to make a film that was unpredictable and had character development," Wells says. "I'm kind of over the whole jump-scare thing."
The plot of The Luring, which is currently in production in the Lyndonville area, concerns a man who returns to the vacation home where a murder occurred when he was a child. Though Wells, a Long Island native, shares a Vermont connection with the protagonist (the film's primary set is a vacation home his mother owns), he says he has warm memories of his time in the Northeast Kingdom. He previously directed a documentary about his father, the St. Johnsbury-based romantic-realist painter Roderick A. Wells.
Producer Brian Berg, who met Wells during a flag-football game in Brooklyn, says that he, Wells and producer Sandy Ayesh self-funded the film's trailer for "a few tens of thousands of dollars." Based on the strength of that trailer, they raised about $200,000 for the feature.
The production uses several notable Northeast Kingdom locations, including Kingdom Taproom in St. Johnsbury and Missisquoi Lanes in Lowell. Berg notes that about a third of the film's cast and crew are Vermonters.
"We didn't want to be the two guys from Brooklyn coming up to Vermont and kind of living in our own Brooklyn bubble," he says.
The Luring shoot will wrap on May 14. The post-production process is expected to take three months. The filmmakers plan to submit the finished movie to festivals in the fall, with the hope of landing a distribution deal.
For Wells, who founded the Brooklyn-based video production and commercial photography company Kaleidoscope Pictures in 2003, the chance to direct a narrative feature has been worth the wait.
"I've been waiting a long time to be in this position, so I feel right at home. I'm in my element," Wells says. "I was driving home yesterday from set, and I thought to myself: This is the happiest I've ever been."