Sasha Goldstein ©️ Seven Days
Memorial for Abubakar Sharrif outside Piesanos
Updated at 5:31 p.m.

A Burlington man who was stabbed to death early on Sunday was killed while breaking up a fight inside a downtown pizza shop, according to court documents.
Police say Von Simmonds, 40, killed Abubakar Sharrif around 3 a.m. on Sunday during a larger brawl inside Piesanos on Main Street. Simmonds was arrested on Thursday afternoon and pleaded not guilty on Friday to a charge of second-degree murder.
During the fight, which neither Sharrif nor Simmonds appear to have started, Simmonds walked behind the pizza counter, took a long chef's knife from the kitchen and used it to stab Sharrif once in the heart, according to a court affidavit that draws on security video from inside the restaurant.
Sharrif could be seen on video attempting to "break up the fight by trying to push people apart," Burlington Det. Corporal Erica Schaller wrote in court papers.
Sharrif knew the three men at the center of the altercation, acting Police Chief Jon Murad said on Friday. But authorities don't think Simmonds knew anyone involved, including Sharrif.
"We don't know why" Simmonds entered the fray, Murad said during a press conference.
Derek Brouwer ©️ Seven Days
Von Simmonds, on video, during his arraignment
Simmonds, who is on federal probation for an earlier conviction for distributing cocaine, was arrested on Thursday afternoon at a transitional housing shelter in Burlington's Old North End. On Friday morning, he was arraigned by video from Northwest Regional Correctional Facility in St. Albans, where he is being held without bail pending further court proceedings.
Police are investigating potential charges for the other men involved in the fight, Murad said. They included Abdirahman Mohamed, 20, Ibrahima Bangoura, 20, and Jervon Montgomery, 25, court papers allege.
The physical fight between those three men began in front of the pizza counter, according to the affidavit. As they came to blows, Simmonds allegedly picked up a metal table and hoisted it over his head. Mohamed pushed Simmonds back and the table fell to the ground. Simmonds then picked up a chair and carried it behind the pizza counter, where he retrieved a chef's knife.
Carrying the knife and the chair, Simmons returned to the fight and slammed the chair down on Bangoura. Sharrif fell to the floor while trying to intervene, the affidavit says. As he stood up, Simmonds grabbed Sharrif by the jacket and pulled him around. Simmonds is then seen on video thrusting the knife into Sharrif's chest, the affidavit says.
The knife went through one of Sharrif's lungs and severed the left ventricle of his heart, killing him, a state medical examiner concluded.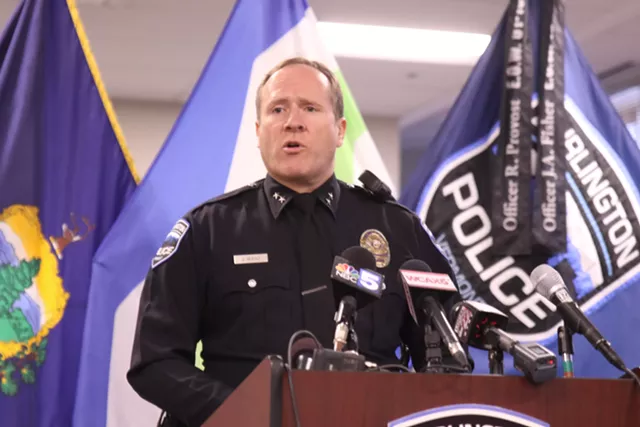 Derek Brouwer ©️ Seven Days
Acting Police Chief Jon Murad speaking on Friday
Police identified Simmonds using tips from the public and security footage from several sources. They have not recovered the knife, Murad said.
Mohamed and Bangoura were charged in separate gunfire incidents that happened downtown last year.
Outside Piesanos, friends of Sharrif have created a memorial to him, featuring candles, flowers, and messages.
He is the fifth person murdered in Burlington this year.