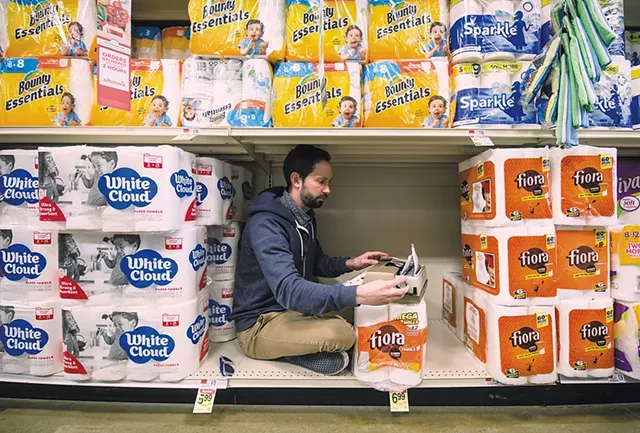 Luke Awtry
Conor Lastowka
Conor Lastowka knows what you think about self-published books. "The Spiritualized guy did this whole album in his bedroom, and people are like, 'It sounds amazing!'" says the South Burlington-based comedian and writer. He's referring to Spiritualized auteur Jason Pierce's 2018 album And Nothing Hurt, which was widely lauded for being self-recorded. "Whereas a self-published writer is like, 'I wrote this whole book and edited it!' And people are like, 'It must suck!'"
Lastowka, 37, speaks from experience. He's the author of The Pole Vault Championship of the Entire Universe, a strange, funny novel that resides in the realm of science fiction/comedy hybrids inhabited by the works of Douglas Adams or Christopher Moore in his nerdier moments. Owing in part to the book's outlandish premise — involving a misfit teenage girl, her con-artist grandfather, marauding aliens and, yes, an intergalactic pole vault competition — Lastowka couldn't find an agent or publisher that would touch it. The novel barely registered when he self-released it in January 2018.
Now, Lastowka's oddball novel has found new life as an Audible Originals audiobook. The cast features a cavalcade of comic talent, including comedians Paul F. Tompkins, Janet Varney and Eliza Skinner; "Mystery Science Theater 3000" host Mike Nelson; and musical parody icon "Weird Al" Yankovic voicing a school principal.
Lastowka is tall and lean and has a dark beard flecked with gray; he has an endearing propensity to say "Oh, brother" when posed tricky questions. As an author of offbeat sci-fi, he's not a star. But he is a senior writer and producer for the comedy website RiffTrax, which makes him a known entity in comedy circles, particularly those that orbit Nelson and his long-running TV show.
Nelson founded RiffTrax along with MST3K alums Kevin Murphy and Bill Corbett, who both turn up in the voice cast of Pole Vault. Like MST3K before it, RiffTrax specializes in adding funny commentary to movies. The website's stable of wisecracking writers and voice actors lampoons everything from the cut-rate sci-fi and horror on which MST3K built its cult following to long-forgotten educational videos to current blockbusters.
"Our slogan is that we don't make movies, we make fun of them, which sounds more negative than what the experience is," Lastowka explains. "You're not criticizing; you're trying to make it funny, whether that's taking the voice of a character or questioning the logic of the plot. It's a weird, specialized form of writing."
"I liked his writing immediately, and he keeps getting better," says Nelson of Lastowka. The two met while working at a film colorization company in San Diego, where Lastowka lived for 12 years before moving to Vermont in 2015. (His wife works for Shelburne-based EatingWell.) When Nelson started RiffTrax, he poached Lastowka.
"He has particular obsessions that amuse the hell out of all of us, in a good way," says Nelson, describing Lastowka's comedic style. "When you see a joke about the TV show 'ALF,' particular video games or corgi dogs, you know it's probably Conor."
Pole Vault is Lastowka's second novel. In 2013, he self-published Gone Whalin', which has an equally goofy and tough-to-market premise: A modern-day burnout college kid wakes up on a 19th-century whaling ship every other day. (Think Moby-Dick meets H.G. Wells' The Time Machine with a dash of Animal House.) Lastowka also coauthored (with Josh Fruhlinger) a two-volume compilation called [Citation Needed]: The Best of Wikipedia's Worst Writing.
"Comedy/sci-fi is a niche I find myself enjoying," says Lastowka. But he concedes it's a tough niche to fill.
"Even with the built-in audience from RiffTrax, it's hard to get people to read a book," he says. "It's hard when it's about whales, and it's hard when it's about pole vaulting."
Nelson, an author of several books and graphic novels, is sympathetic to the hurdles — or, in this case, crossbar — that Lastowka had to clear to get his book into the world.
"I wrote books that don't fit neatly into any category, as well," Nelson says, "and I kind of wish that I had self-published."
Publishers are typically loath to invest marketing dollars in lesser-known writers, he adds, leaving them to their own devices when it comes to making actual sales. "They publish the book and then hand it back like, 'Good luck selling that!'" says Nelson. "Which I find interesting, because it's like, 'Well, why did you buy it?'"
"I wrote a book about whaling and time travel, and no one would touch it," says Lastowka, explaining the genesis of Pole Vault. "So I thought, Next time I want to do something that might have more broad appeal." He pauses and grins before adding, "Pole vaulting was not that."
Pole Vault grew out of an obsession with micronations, he says, referring to bits of land whose inhabitants declare sovereign countries without receiving recognition from international governing bodies. The most famous real-life example is the Principality of Sealand, a platform roughly seven miles off the coast of England that currently has a population of 27.
"It's almost always white men," says Lastowka of the residents of these "nations," "and they declare themselves the undisputed ruler of Microtonia or whatever."
In Pole Vault, Cornelius Everglades — voiced by Nelson in the audiobook — attempts to exercise dominion over his island nation. His granddaughter, Kara, the book's 15-year-old protagonist, initially believes him dead, because her family has gone to great and ridiculous lengths to hide his existence.
"She's a smart, slightly sardonic kid who is trying to navigate her weird adolescence. She doesn't 100 percent fit into the world," says Varney, who voices Kara. She's a RiffTrax writer and performer whose voluminous film and TV credits include "You're the Worst," "Stan Against Evil" and the Nickelodeon cartoon "The Legend of Korra."
Cornelius' reappearance throws Kara's world into turmoil. "It becomes really clear why they've hid his existence when he reappears," Varney says. "And she gets swept up into his world, but she has this protective shell that I very much understand, because that's how I was when I was younger."
Cornelius enlists Kara to help legitimize his fledgling micronation by hosting the Olympic Games through an elaborate, deceitful scheme. And all the while, aliens are speeding toward Earth bent on global domination.
"Who could have expected that the way those stories align is with an Olympics of sorts, where one person is trying to attract tourists to his really-not-great tourist attraction and another group is trying to establish dominance over the human race?" asks Varney.
"When you say it out loud, it's like, 'Of course no one would want to publish that. It's absurd!'" says Lastowka. He jokes, "But introducing aliens was a coldly calculating attempt to pitch it as a sci-fi thing."
But pole vaulting?
"A lot of Olympic events are absurd," says Lastowka. "Like, how did you start doing this? Why is shot put the thing you decided to spend your life perfecting?"
As it turns out, the sport makes for compelling comedy.
Lastowka's book landed at Amazon-owned Audible after an Audible producer read it, spurred by a RiffTrax tweet.
"He reached out on Twitter and asked if I'd ever thought about making Pole Vault into an audiobook," recalls Lastowka. "And I was like, 'Yeah, I've also thought about making it into a Steven Spielberg movie.' But then I looked at his Twitter bio and realized he was someone who could actually make that happen."
Converting Lastowka's novel into an audiobook meant condensing the original by more than 25 percent. That included massaging the story from an R-rated one into the equivalent of a PG-13.
The book was trimmed even further — from six-plus hours to about 90 minutes — for a live reading at last year's SF Sketchfest, a comedy festival in San Francisco that Varney cofounded and produces. That performance featured several of the audiobook's cast members, as well as a few ringers, including "Conan" sidekick Andy Richter.
"There was audible laughter," says Lastowka of the Sketchfest reading, "which is all you can really hope for when you put on a comedy show."
Lastowka, who edited the book version himself, says he enjoyed the process of collaborating on a leaner version with the audiobook's director, Eric Martin of the parody podcast This American Wife.
"Killing darlings is never an easy thing to do, especially in comedy, which is so subjective," Lastowka says. "But I looked at it as an opportunity that will only happen under these terms, because I have no leverage." Then he quips, "The book is basically now like a director's cut of the audiobook."
Now, Lastowka says he'd like to work on a project specifically geared to the audio format.
"Pole Vault wasn't written to be an audiobook, so it's heavy on narration," he explains, citing the considerable work of narrator Skinner. "It would be an awesome experience to do something for the audio medium, like a radio play, and not have to whittle it down."
In the meantime, Lastowka's misfit tale of bumbling aliens, a spunky teen, her rogue grandfather and niche athletics is a good bet to win over new fans.
"In the Upside Down, this is an actual B movie that they probably would have riffed on through 'Mystery Science Theater 3000,' because it would have taken itself extremely seriously," says Varney, referring to the alternate reality from "Stranger Things." "Luckily we have Conor, so it's hilarious from the get-go."