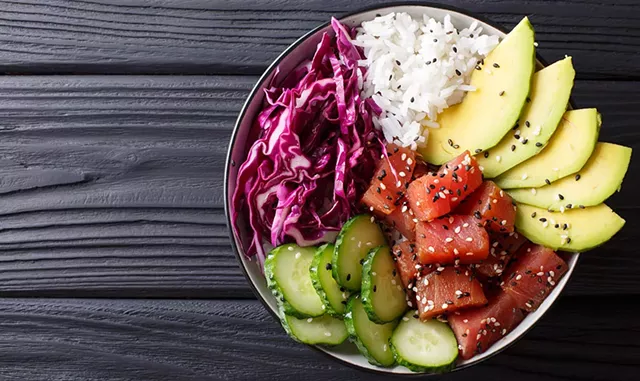 The Scale Poké Bar, a restaurant that specializes in poké bowls, is expected to open on March 15 at 373 Blair Park Road in Williston, said Neil Farr, who owns the business with his wife, Perry.
"My wife and I have been together for seven years," Farr said. "For six years, we've been working on developing a restaurant plan."
In its basic form, poké is sliced raw fish — often tuna — with seasoning. As poké bowls have gained in popularity, their ingredients have changed and expanded, and Farr's restaurant will reflect those innovations, he said.
The Scale Poké Bar will offer signature meals such as Spicy Tuna (ahi, sriracha aioli, pineapple, scallions and more) and create-your-own bowls with options including salmon, cooked shrimp, beef, chicken and tofu. Those proteins will be served on a choice of bases such as white rice, brown rice, zoodles (zucchini noodles) and mixed greens. Bowls will come in three sizes, from snack ($7.99) to big enough to share ($15.99), Farr said.
Farr, 35, is a graduate of Colchester High School and the Culinary Institute of America in Hyde Park, N.Y. He previously worked at Reinhart Foodservice and Sky Burgers, the erstwhile Church Street restaurant, where he was kitchen manager.
Open daily, the Scale Poké Bar will occupy the space that housed the Williston location of Pingala Café. That branch closed on Friday, February 2.