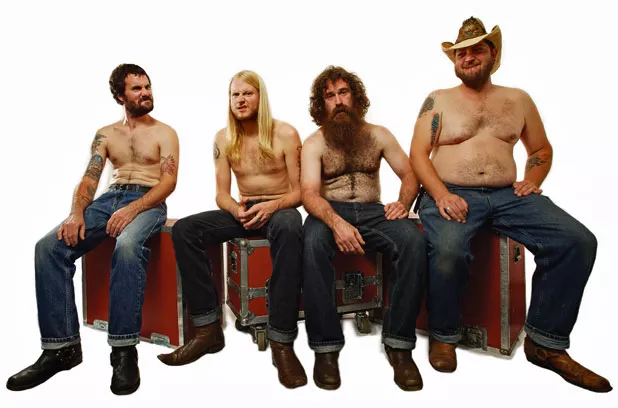 Well, folks, this is it. With fall officially about a week away, the summer of 2012 — which felt both endless and all too brief — is set to expire. And with it, another remarkable season of live music in and around our cozy lakeside hamlet is about to fade like the evening light. But we're not quite there yet. And thanks to Grace Potter and her gangly band of Nocturnal emissaries, there remains one summertime blast to be had: Grand Point North.
If you missed last year's inaugural GPN (the festival), here's a quick recap: It was fucking sweet.
A slighty longer recap: From big-name headliners such as Taj Mahal, Fitz and the Tantrums and the Wood Brothers to a cameo by country star Kenny Chesney — who is surprisingly short — to impressive sets by GPN (the band) themselves, the fest was a banner weekend in a summer full of them.
Part of what made the festival so uniquely enjoyable was the inclusion of local bands alongside the marquee acts. Say what you will about GPN's music as they continue their ascent to pop stardom, the band's interest in and commitment to Vermont music always has been genuine. They could have ignored the local scene and no one would have batted an eye. That Grace and company went out of their way to handpick and feature homegrown music at their signature event speaks volumes.
This year's fest, at Waterfront Park in Burlington again, features an intriguing cross section of local talent. The slate this Friday, September 14, begins with electro-pop ingenue tooth ache., who has generated a fair degree of blog buzz in the last year or so. Her songs are almost too understated, with ghostly vocals shimmering amid a haze of tremulous beats and loops. She makes you work. But if you pay attention — and I strongly recommend you do — tooth ache. rewards with beautiful, compelling, singular music in the Queen City scene.
Following are Portland, Maine's Brenda, a hook-centric indie band whose members spend enough time in Vermont to be considered honorary natives. Brenda are also a favorite of Wilco's Jeff Tweedy, so they've got that going for them, which is nice.
Ryan Power is next. It's been a good year for the local indie messiah: He snagged some Pitchfork love — plus similar fawning elsewhere in the blogosphere — and produced roughly 3457 local indie-rock albums. If you've never seen Power live, do yourself a favor. Disco-rock diva Heloise Williams rounds out Friday's electro-centric, locavore menu, backed by the estimable DJ Disco Phantom.
If you don't already have tickets for Saturday, September 15, um … maybe look into kayak rentals to bob around in Burlington Bay? Likely owing to appearances by the Avett Brothers and Galactic, Day 2 of GPN has been sold out for a while. If you're lucky enough to have tickets, show up on time for once, OK? The local portion of the show takes a decidedly rootsy turn, beginning with preeminent BTV ginger-rocker Bob Wagner. Here's hoping for an overcast day, Bob.
With a pair of new albums in tow, alt-country songwriter Bow Thayer is next. I've been a fan of Thayer's since I saw him play with his old band, the Benders, at an Irish bar called the Burren in Somerville, Mass., some 10 years ago. He remains a personal favorite and, for my money, is one of the most underrated Americana songwriters in Vermont.
Local pop prince Gregory Douglass follows. Given that Grace has appeared on Douglass records in the past, I wouldn't be surprised if she makes a cameo here. That's total speculation, but it would sorta make sense, right? (No pressure, Grace.)
Speedwestern originators Waylon Speed round out Saturday's local set. Their latest record, Valance, is on my short list of the best local albums of 2012 — yes, I'm already thinking about that. And is there a more ass-kicking live rock band working in Vermont right now?
BiteTorrent
But wait, there's more! Thanks to the curfew on the waterfront — because the folks who bought the condos adjoining the park apparently have really early bedtimes and also didn't realize they bought homes next to a giant, friggin' outdoor concert venue — there are a number of official and unofficial GPN after-parties. On Friday, September 14, Nectar's and Higher Ground cohost a solo show by GPN guitarist Benny Yurco in what's kind of a homecoming for the former Turkey Bouillon Mafia-oso. The following night, Saturday, September 15, Galactic reprise their earlier GPN performance with an all-star jam at the Higher Ground Ballroom featuring a number of special guests from the festival. Also on Saturday, live EDM trio Moon Hooch, a sleeper hit at this year's Burlington Discover Jazz Festival, play an unofficial after-party at Signal Kitchen with DJ Disco Phantom.
I had a blast at the Art Hop last Friday — thanks, Wave of the Future! Also, if you can believe it, I had some thoughts about improving our annual arty soirée. Here's one of them: I know closing Pine Street to vehicle traffic is unpopular with a certain police department, but could we at least do something with the crosswalks — such as adding a few — so that navigating the street after dark doesn't feel like a giant game of Frogger? Maybe hire a crossing guard or two if you're going to have thousands of people — some of questionable sobriety — meandering through traffic at night? Or, even better, how about we artsy 'em up with glow paint and make them art installations? Just spitballing here … and trying not to get run over.
We've been waiting for the new album from Burlington art-rockers Swale for, well, about a decade now. In a recent email, Swale's Eric Olsen confirms the band will finally release said record later this month with a blowout show at Radio Bean on September 28 — 10 years to the day after their debut show, also at the Bean. In the meantime, Swale warm up with a set supporting spooky indie-folk outfit Mount Eerie — fronted by ex-Microphones lead man Phil Elverum — at North End Studio A in Burlington on Thursday, September 13.
Last but not least, BTV expat Jeff Howlett's documentary on the protopunk band Death, A Band Called Death, scored raves at the Los Angeles Film Festival this spring, shining more light on the group's remarkable story. (If you're unfamiliar, Google it. I'll wait.) Since the band's remaining members, Bobby and Dannis Hackney, live in VT — as do the sons of Death, Rough Francis — we'd been wondering when local audiences would get a chance to check out the doc. Wonder no more. The film will make its VT premiere at the T-Rex Theater at Essex Cinemas on October 20 as part of the Vermont International Film Festival. Death will give a live performance, and a Q&A session, after the screening. No word yet on whether No. 1 Death fan Mos Def will be there, but a guy can hope, right? Tickets are on sale now at retrievertickets.com.
Listening In
Once again, this week's totally self-indulgent column segment, in which I share a random sampling of what was on my iPod, turntable, CD player, eight-track player, etc., this week.
The xx, Coexist
Animal Collective, Centipede Hz
Cat Power, Sun
Construction Joe, Construction Joe
New York Ska-Jazz Ensemble, New York Ska-Jazz Ensemble