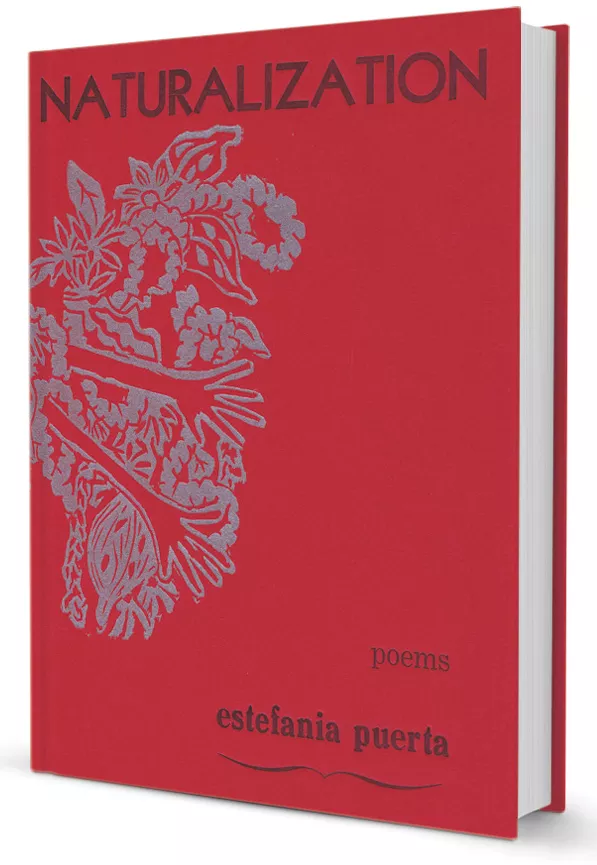 Naturalization by Estefania Puerta, Honeybee Press, 60 pages. $10.
"What about genocide? Is that not a haunted book we carry?" asks poet Estefania Puerta at the beginning of her first collection, Naturalization, published by Honeybee Press. Honeybee, the Queen City's purveyor of local artisanal literature, has published books by several Vermont-based poets, including Robert McKay, Edie Rhoads, Nicholas Spengler and the press's founder, Benjamin Aleshire. (Aleshire often decamps to New Orleans, where the press is now partially based.)
Honeybee began publishing books in 2011, funded in part by a grant from the Vermont Arts Council and the National Endowment for the Arts, and has released five titles to date. Though each edition — crafted with hand-sewn binding and antique-letterpress covers — is remarkable for its distinctive voice and agile writing, the agitated verses of Naturalization buzz louder than anything else in the press' hive.
At the outset, Puerta, who describes herself as a Colombian raised in a Bostonian context (and who now lives and works in Burlington), alerts us to her concerns. She opens her collection of the horrifying and the beautiful (and the horrifyingly beautiful) with a quote from French feminist writer Hélène Cixous: "Death, slaughter, indifference, to be able to arrive alive a woman in front of an orange full of life, we must be able to think of six million cadavers."
All 34 of Naturalization's poems confront experiences of the human body, especially the female body — the hurt it can bear, the sickness that can occupy it, the life it can engender and the way it can persist in living despite or beside the specter of genocide — a word Puerta uses in a broad, figurative sense. She recently told Seven Days that none of the poems refer to any specific massacre, but rather to "the great tragedy ... how many lives and facets of ourselves have died and gathered into a mass of 'something we once were.'"
In the title poem, as in many others, Puerta faces that mass of "something" that feeds life: "On a rain soaked Wednesday afternoon / ... hotdog vendors sell the last intestines, / the bowels of other animals / who fucked and shat before us..."
Puerta's writing is sensuous, unflinching and sometimes livid in its consideration of bodies. In "Good-bye Friends," she offers a litany from an infirm speaker whose body surrenders "because it hurts when I eat / because I have this hand broken / ... because I cough until sunrise," yielding to the martial law of mortality.
In "Nariño" (which is the name of both a town and region of Colombia), we meet a man walking the streets in a general's coat with a cane "that must have been found in a landfill." Puerta writes, "He has nothing to eat / His eyes are filled with misery / His pockets engorged with nothing."
Readers searching for comforting poems or descriptions of Vermont scenery should look elsewhere: Puerta's work makes assertions, issues commands, accuses and taunts. For example, in "Here," she begins, "this is the chauvinist parade / welcome to the testicles ... here is the cum. / here is the spit. / here is the ow."
In a prose passage near the book's end, Puerta's feisty verse addresses an unspecified regime: "I have given you all my tongues (and yet we keep making more, keep accumulating saliva), I have given you all my bodies (and yet we keep adding flesh), I have given you all my futures (how many wombs now?)." She continues: "To tie all the broken bones together with sturdy bones, to bruise meats, to give quick births to something that still needs its organs, this animal is horrifyingly beautiful and goes through many molting phases."
Puerta thwarts any readers trying to extrapolate references to geopolitics from such language. The "animal" in the above passage, she says in an interview, "represents a living creature that breathes in silence, but I would side more on it being representative of resistance. But really, it is also about love and how two or three or a million people can love one another and create this tertiary force that breathes and eats on its own."
Readers may find that Puerta's voice and verse recall the torments explored by other celebrated Spanish-speaking poets such as Federico García Lorca and Nobel Prize-winning Juan Ramón Jiménez. Puerta's poetry also confronts the curses of humanity and describes the inescapable darkness of human consciousness, when, for instance, she declares, "We make love that / can cause metal to melt into / our own caskets and crosses."
But Puerta is not campaigning to be the literary daughter of these celebrated poets. Instead she allies herself, when pressed to do so, with other female artists, such as Cixous and Frida Kahlo. In their spirit, she confronts life-and-death tensions — capturing, for instance, the duende of a woman capable of giving birth. She describes one of the "Marias" — the young homeland females — "laughing and crying / occasionally placing palm to womb to feel the Incha [the fetus who may grow into a fist-pumping soccer fan] who will replace her."
Strident, righteous, Puerta's Naturalization reads like a script that could be enacted — even danced to — by a troupe in the Bread and Puppet Theater vein. Every poem in this collection carries an awareness of the miraculous, mortal, mortifying body — the sum of which knowledge, as Puerta's title suggests, is the process one undertakes to become a citizen of the damned/blessed nation called Humanity.