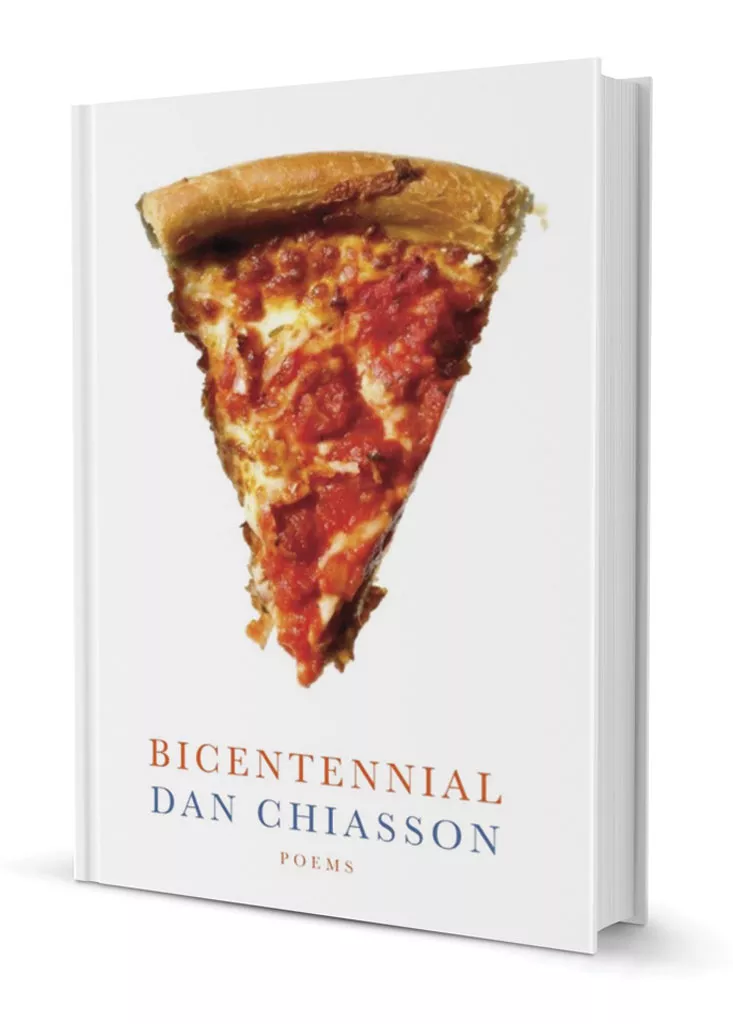 Bicentennial: Poems by Dan Chiasson, Knopf, 96 pages. $26.95.
Burlington native Dan Chiasson, a frequent contributor to the New Yorker and a professor at Wellesley College, has just published his fourth collection of poetry, Bicentennial. There's an apt pun in that title, given that Chiasson grew up "by Centennial" — Burlington's Centennial Field, home of the Lake Monsters, that is. (He swears the wordplay is accidental.)
While locals will find Chiasson paying tribute in Bicentennial to familiar spots such as Battery Park and Colchester Avenue, these poems do more than recall his Burlington boyhood. The book's real tribute is to paternity: to a national fatherland, to America on its 200th birthday, to a father who was largely absent from Chiasson's life, and to his own fatherhood, with poems evoking and dedicated to his sons.
Chiasson told Seven Days in a recent email that one of the precipitating events of the collection was his father's death in 2009. The resulting poems portray a dad who was not only absent but also geographically distant — a father who was farther. When Chiasson imagines his dad living in Alaska in the final lines of "One on One," he does so not with self-pity or pathos, but with humorous remove: "I was tiny to you, like all things far away. / But you were tiny too, and plus you were cold. / You look like a bumblebee in your tiny snowsuit."
A recipient of laurels including a Guggenheim Fellowship, Chiasson approaches his poems with an inventive mix of high art and low, the equivalent of wearing a bow tie and cummerbund with blue jeans and Chuck Taylors. Throughout the book, his allusions run the gamut from tits to Titian, from the Grecian oracle to Ore-Ida, from a ride on a Ferris wheel to the arrival of a pizza pie.
Speaking of pizza, there is, Chiasson explains, a rationale for that mouth-watering slice on the book cover. Like his poems, he suggests, pizza is a hybrid: "Pizza is corruption of Europe, deeply American in ways that American poetry also grew by corrupting European forms."
Sure enough, Bicentennial's poems recycle "old country" poetic techniques, including rhyme schemes such as the villanelle. Chiasson reworks those forms into casually direct, hip poems that tackle, among other topics, the perplexing experience of grieving a father he hardly knew in the era before he himself became a dad.
Chiasson, who earned his doctorate in English from Harvard University with a focus on autobiography in modern poems, says that as he began writing the book, he realized he'd reached a point where he'd exhausted his stylistic moves. He decided that "it was time to confide." Treating the reader as confidant, Chiasson gives us a ride on the Ferris wheel of his childhood — a recurring image and theme. He portrays his former self as a boy he calls the "Cognoscente of Centennial Field," then as an adolescent who's the self-professed "perv of Colchester Ave." Still other poems show us the adult Chiasson as a father who sees his own father's "features idle inside / And thicken" his sons' cheekbones.
While Chiasson certainly "confides" aspects of his childhood to the reader, the book is no tell-all memoir. Despite his disclaimer about running out of stylistic moves, he still has a full arsenal of them, including his sly humor, which he deploys at every turn. It all seems designed to lead us to the final poem, "Bicentennial," much as fireworks on the Fourth of July begin as isolated pops and eventually erupt into a grand finale.
This irresistible seven-section, 168-line poem was inspired by the 1976 Bicentennial celebration in Burlington's Battery Park. In it, Chiasson returns to each motif previously mentioned in the collection — Paris, lovers' bodies, hippies, liberty — and detonates them, and then some. He describes developing his earliest sense of "belonging to a country" as a 5-year-old lying in bed. From there, the poem gathers momentum, drawing us into a panorama featuring the Sisters of Mercy at Trinity College, the National Guard, the Rotarians, Chiasson's future sons and, most poignantly and suddenly, that tall man with the poet's cheekbones.
With this concluding, jubilant poem, Chiasson does what neither nature nor government nor even slippery memory can: He brings someone back to life through the power of his words. Among the crazy, happy patriots celebrating by Lake Champlain in this evocation of America's 200th birthday is that persistent absence suddenly made present — the author's founding father.