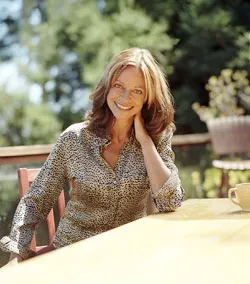 Think college kids today are self-conscious? "Call us the apathetic generation and we will become that," wrote Joyce Maynard in her 1972 New York Times Magazine essay "An Eighteen-Year-Old Looks Back on Life." "Say times are changing ... and you make a movement and a unit out of a generation unified only in its common fragmentation."
To many people in those turbulent years, Maynard sounded like the voice of her generation. She dropped out of Yale and began an ill-fated affair with the much older J.D. Salinger — a liaison she would chronicle in a 1998 memoir. In the intervening years, Maynard worked in journalism, raised three kids and published the novel To Die For, among others. On Saturday, September 26, she'll read from her new novel, Labor Day, at the Burlington Book Festival. It's about a kid whose single mom finds unexpected solace in the company of an escaped convict.
Probably the most famous names lined up for the BBF this year are brother-sister progressive-gadfly writing team Amy and David Goodman (the latter a Vermont resident) and former U.S. Poet Laureate Rita Dove, who kicks things off with her reading Friday evening. She's preceded by the festival's official dedication to local woodcut artist Mary Azarian.
But part of the fun of the BBF — besides hobnobbing with local scribes such as Castle Freeman Jr., Brad Kessler, Amy Seidl, Stephen Huneck and Elizabeth Bluemle — is the incentive it offers to start reading new writers. Take New Orleans resident Amanda Boyden, a former trapeze artist whose young adult novel Pretty Little Dirty is celebrated — or notorious — for its depiction of two girls' lives going seriously astray. Mother Jones praised the socially conscious realism of her second novel, Babylon Rolling, which portrays a year in the life of one New Orleans street pre-Katrina.
Boyden's husband and fellow BBF attendee, Joseph Boyden, paints a very different milieu: His two award-winning historical novels, Three Day Road and Through Black Spruce, are about native Canadians finding their place in the early 20th century.
Locals may already know the name of Julie Otsuka, who retold the harrowing story of Japanese-American internment camps through fictional characters in When the Emperor Was Divine — it's the 2009 selection of the Vermont Reads program. Another BBF guest, Jennifer Haigh, tells smaller-scale but acclaimed tales: Her latest novel, The Condition, is about a family struggling with a daughter's diagnosis of Turner's syndrome.
The second full day of the BBF is devoted to kids' lit and a series of poetry readings in the Main Street Landing Film House. This year, a gaggle of quirky, Québec-based children's and YA authors is slated to make its way south. Among them are Scottish-born P.J. Bracegirdle, author of the middle-grade Joy of Spooking series, which sounds like a more literate take on Tim Burton tropes; and Lori Weber, who's penned YA books called Klepto and Tattoo Heaven; her latest is If You Live Like Me.
If you like seeing verse in action, Saturday afternoon is the time to roam Church Street, as Burlington College students surprise shoppers with "public displays of poetry." The more sedate readers in Sunday's Grace Paley Poetry Series include former poet laureate of Maine Baron Wormser, Mark Twain Award winner Tony Hoagland, Burlington writers David Cavanagh and Daniel Lusk and NEK poet Carol Potter.