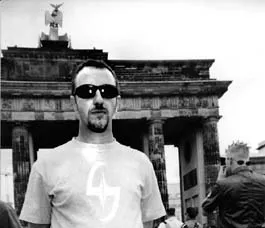 You can hear the beat before you open the door, pulling at you from down the block. You're already dancing in place as you pay the cover. You show your ID, or get frisked if it's an all-night party, hop from foot to foot as you wait impatiently to get where the action is. Your heartbeat begins to match the rhythm of the bass, and then you are in. It's hot, dark and smoky, and the air is damp from sweating bodies. None of that matters. All you care about is the relentless pounding of the music and the energy flowing like a river.
When you get your groove on at a rave or party or club night with underground electronic sound, it is a communion of sorts, presided over by a deejay preaching to the converted. Tweaking knobs and sliding the faders, a deejay is not much to look at — a pumping hand is all you get in terms of stage antics. But you're there for performance, not personality, and you generally follow the ritual: Face the deejay when you dance; don't strike up a conversation with another dancer; share your water with others; and look lost when the lights finally come up and the music ends.
"I think it really opens up your mind, and when it's played loud enough, it takes over your thoughts," says Ben Barlow, promoter of Club Metronome's popular Sunday Night Mass. "It draws you into another world."
But more than just putting on one record after another, it's up to the deejay to read the crowd and anticipate what they want to hear. A good deejay will keep the dance floor full. A really good deejay will take the dancers on a journey, giving them an experience they'll never forget. Dave Ralph is one of the latter.
A recent transplant to Miami, the beloved British deejay and producer is so good he's been taken under the wing of Paul Oakenfold, arguably the best-known British deejay to tour America. Ralph shares the ability to discover new music — he brought the German whiz Paul Van Dyk to the U.K. for the first time.
Ralph has spun for a couple million people simultaneously — at Berlin's annual party-in-the-streets called Love Parade — and released a mixed CD inspired by that performance. He's had deejay residencies all over the world, and draws thousands to the most prestigious nightclubs. Like Higher Ground? The relatively small, non-urban nightclub hosts him this Saturday night.
"I think it's going to be amazing to see such an internationally recognized deejay in such an intimate space," says Josh Brown of Lifted, the posse responsible for Ralph's gig. Indeed, for fans of electronic dance music, Ralph's appearance is something akin to The Rolling Stones dropping in. Lifted, which brings regular dance parties to Higher Ground, will give the uninitiated an opportunity to experience the best in the business.
Even in expert hands, though, electronica isn't for everyone. "I used to hate this music," confides Patti, a.k.a. Chris Patterson, a prolific local deejay. "I used to think it just sounded like noise."
The machine-made repetitive sounds, often devoid of even a vocal sample, could be the soundtrack from a sci-fi B-movie in which aliens have taken over the planet. Don't call it "dance music," though; it's not in the same category as the Euro-pop and Top 40 re-mixes usually played in bars. "The popular, commercial stuff is sugar-coated, easy to swallow and drink beers to," explains Patti. "This music is much more complex. I'm not saying one is superior to the other, but it definitely is an acquired taste."
The driving music used to be strictly underground, but after years of bubbling up to the surface in North America, it has begun to manifest more and more in popular culture, from TV commercials to program theme songs. But electronica is still a relatively weak presence — if little to no MTV play is a gauge.
"Coming from Britain where it is so huge, here we still have something underground," offers Little Martin, also a British ex-pat and the resident deejay at 135 Pearl. "It's pop culture there, and therefore there is a lot of reaction against it, like with disco here."
As with other types of music, the electronic catalogue has several distinct genres and sub-genres. House music is descended from disco. Classic, more accessible, often with vocals, its musical offspring include hard house, progressive house, tribal house, even handbag house — a mess of close relations who look alike but all have their own flair.
Still in the "kid" category, "drum-and-bass" is pretty self-explanatory; it can be mellow and jazzy or dark and angry or anything in between, like a teenage girl straying into sophistication or rebellion. Jungle is the older, angrier brother — brooding, complex, a lot of fun to dance to. And on the edge we have breaks, or breakbeats, with a steady tempo but changing rhythm. This would be the strange child who is probably off at art school. Techno, minimalist and hard, is the one who plays with a chemistry set and dreams of being a mad scientist. Happy hardcore, with frenetically paced beats and cheery chipmunk-style lyrics, is the mutant kid locked in the attic.
Ralph's style, which has evolved over the years, is described as "lush, progressive trance." A musical rollercoaster, trance is usually defined by rapidly changing tempos, soaring drum rolls and poignant moments of stillness followed by a joyous return to the full sound. Trance is hyper and quite possibly A.D.D. There are even more styles, but these comprise the electronic nuclear family.
Burlington has already witnessed a slew of good deejays, both local and from out of town. In the past, Roberto Renna and Craig Mitchell were responsible for bringing in that talent and founding the local electronic scene. "Roberto was definitely more into the big-name deejays," says Patti, "people who had never been through here and probably never will be again."
When Renna and Mitchell moved away, there were several one-off parties, some all-night affairs, some of them "outlaw" raves. But there was still a void, and two years ago Lifted stepped in to fill it — first with monthly events. Brown and Jeff Roomey, his business partner at Capacitor Design Network, with help from Higher Ground's Alex Crothers and a few others, provided "an excuse to bring in some out-of-town talent, showcase the music and design some really neat flyers," Brown adds. Flyers are the primary promotional method, and they've evolved into their own art form, with fonts, images and layouts specific to the medium. Capacitor has made a name for itself with high-tech design in the music-industry — including the packaging for Ralph's Love Parade CD.
Lifted supports local deejays, such as Zack Eberz — who opens this Saturday's show — Tricky Pat and Cousin Dave. The group also has brought in some bigger names from cities, such as Kid Koala, DJ Food, Liquid Todd, Rob Paine, Josh Wink and Rob Playford. Dave Ralph's rare appearance marks Lifted's 20th event.
"When a big-name deejay comes," says Little Martin, who plans to attend the show, "they bring with them fresh ideas, fresh tunes, and are just coming from such a different environment."
The show may bode well for the future of Vermont's electronic scene, which is still small and centered around Burlington. But if the music remains inaccessible to the masses, that's all right with devotees. More than just beats and samples, it is an attitude, a good feeling, a vibe. It takes you away and, if you're willing, makes you feel up-Lifted.